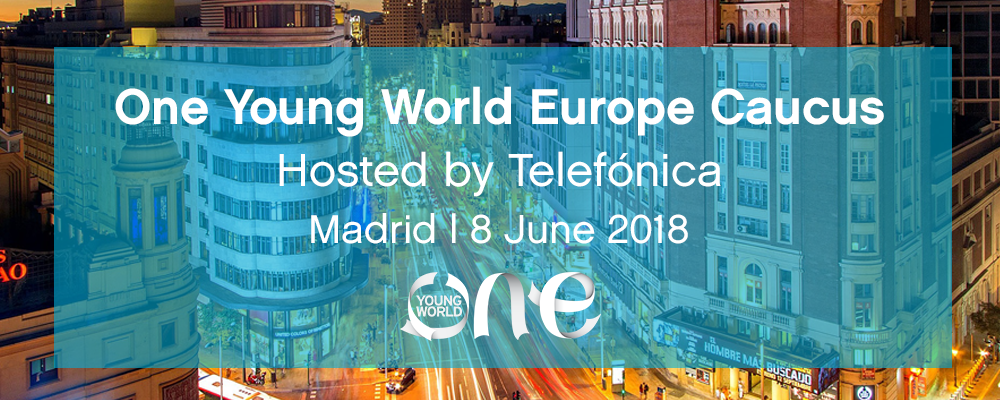 One Young World invites you to join the second European Caucus of 2018, taking place in Madrid, Spain.
Caucuses provide an opportunity for young leaders to connect face to face, explore opportunities for collaboration and gain insight into a range of emerging issues.
This event is now at capacity.
When & where:
Friday 8 June
15:30 - 20:00 
Wayra, Fundacion Telefonica. Calle Valverde, 2B. Madrid
There will also be an activity arranged on Saturday.
The agenda:
15:30 |  Meet & Greet at Wayra
16:00-16:40 |  Keynote from Juan Martiarena, a young entrepreneur in the pursuit of happiness.
16:40- 17:30 | Roundtable: Women in leadership.
Beliza Coro, OYW Ambassador

Arancha Díaz-LLado, Telefónica

Gloria Juste, Endesa

Beatriz Rodríguez, DAC Beachcroft

Laura Lacarra, OYW Ambassador & Founder of Mulleres Tech  
17:30- 18:00 | BREAK
18:00 to 18:30 | Interview with Antonio Espinosa de los Monteros, Founder of Auara, an NGO that invests 100% of its profits to bring clean water to some of the 700m people in the world that do not have access to safe drinking water.
18:30- 19:20 | Tech for good: how can it empower people? 
José María Ortega-Hernández, OYW Ambassador

Javier Carro, LUCA  

Ignacio González-Blanch, Profuturo

Francisco Rojo, VR for good
20:30 | Dinner & Drinks
About the caucus:
During the event, Ambassadors and their guests will have the opportunity to network, collaborate and listen to leading thinkers on a range of topics.
Please note this event is only open to OYW Ambassadors. Ambassadors are allowed to bring 1 guest - they must register ahead of time. Unfortunately due to capacity limitations, non-Ambassadors will not be able to attend if they are not a registered guest.