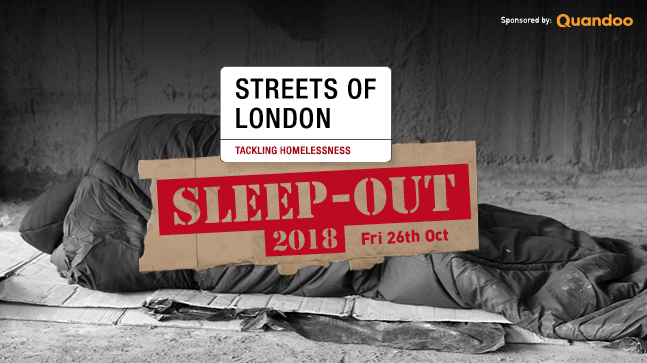 "We'll be sleeping out under the stars to raise money to help homeless people. The money you raise will help to fund projects across the capital that give people the support they need to get off the streets for good.
You'll also safely experience some of the challenges that homeless people have to face every night. Of course it's nothing like the reality of being homeless, but it's an act of solidarity and a great tangible way you can get involved if you'd like to help.
We'll be sleeping out in the heart of Westminster, just a few minutes' walk from the Houses of Parliament. All you'll need is a sleeping bag and a sleeping mat (or cardboard). If you'd like to, bring a group of friends along too so you can take part as a team and help raise even more."
When: Friday 26 October
Location: 
The Sleep-Out will take place in a private courtyard within 15 minutes' walk of Westminster underground station. They'll be in touch with participants in the run-up to the event to provide the exact details.
We'll be sleeping out under the stars on paving, in a safe and secure environment, to raise funds and awareness for people experiencing homelessness.
Timings: 
Arrival will be between 8pm - 8.45pm on Friday 26th October. If the weather allows it, we'll have a musician performing somewhere (unamplified) until about 9.30pm, to add a street busking feel! Quiet/sleep time will be between 10pm and 6am. The event will finish at 6am on Saturday 27th October and people will depart between 6am – 8am.
About Streets of London:
Streets of London funds specialist support for people who are homeless in London, and raises awareness about homelessness. We put on exciting live events, including charity concerts which give music fans the opportunity to see big-name acts performing in intimate venues for a great cause.