Our Global Summit
The annual One Young World Summit convenes the brightest young leaders from 190+ countries and 250+ organisations, working to accelerate social impact. 
Delegates participate in four transformative days of speeches, workshops and networking. Throughout the Summit, Delegates are counselled by influential political, business, and humanitarian leaders such as President Mary Robinson, Didier Drogba and Professor Muhammad Yunus.
Once the Summit is over, Delegates graduate as One Young World Ambassadors, returning to their workplaces and communities with the means and motivation to make a difference. Since 2010, One Young World Ambassador projects have impacted the lives of over 41.56 million people.
To find out more about how to attend the One Young World Summit either in person or digitally please follow this link.
Who will be speaking at the 2023 Summit:
Commemorating the 25th Anniversary of the Good Friday Agreement
The 25th anniversary of the Good Friday Agreement is a momentous occasion for Northern Ireland. The 1998 peace deal, brokered by the British and Irish governments, brought relative peace to the region following the so-called 'Troubles' conflict.
The peace process has been a blueprint for other conflict societies, such as Colombia, navigating their way through peace and reconciliation, enshrining the importance of compromising despite differences and through mutual understanding.
One Young World is proud to be part of the official commemoration of the Agreement, by bringing young leaders from across the globe to Belfast. It has never been more important to draw on examples of the challenges of attaining and sustaining peace. The Good Friday Agreement provides essential lessons for young peacebuilders.
One Young World Delegates will hear from key architects of the Good Friday Agreement, such as Former Taoiseach Bertie Ahern and member of the Northern Ireland Women's Coalition Monica McWilliams, amongst others.
Past Summits Have Featured:
Professional Development
One Young World is a powerful professional learning and development tool that provides an unparalleled opportunity to learn from global leaders across the business, social, and humanitarian sectors. Through bespoke Q&A sessions, speeches, and workshops, you will gain valuable insights on how to best leverage your skills to advance the social causes you care about.
Build Your Global Network
Beyond the Summit, you'll gain lifelong access to a community of over 15,000 individuals. As a part of this community, you'll have access to funding opportunities, educational resources, mentorship, and speaking engagements. Our in-house community team will remain in touch with you, keeping you up to date on opportunities to boost your platform and maximise the impact you can have on the world.
Impact Acceleration
As the most international youth conference in the world, One Young World offers a unique chance to connect and network with over 2,000 young leaders from 190+ different countries. You'll have the chance to learn from your peers, share your own initiatives, and even collaborate on new projects. In addition, gain insight directly from some of the world's leading corporates, showcasing their initiatives in the Community Garden.
Promoting Leadership
Alongside access to four-day of content delivered by world leaders and industry experts, One Young World's leadership award programmes -  including Politician of the Year, Journalist of the Year,  and Entrepreneur of the Year - recognise and promote the valuable work of impactful young leaders.
One Young World In Numbers
200
+
speakers featured throughout the 2022 Summit
2000
+
delegates participated in person and remotely
190
+
countries represented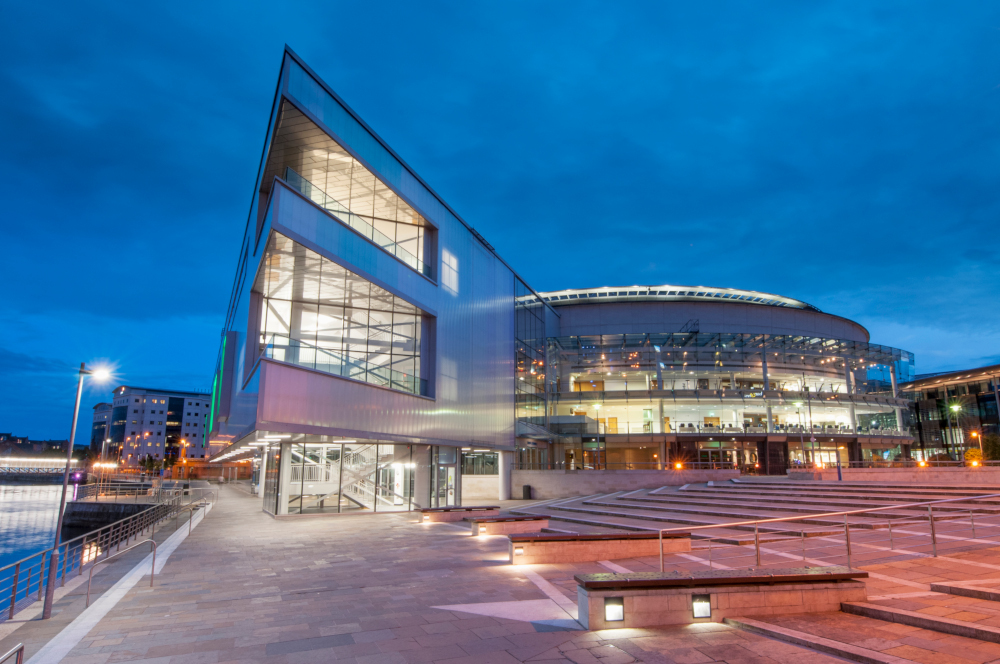 2023 Summit Venues
The One Young World 2023 Belfast Summit will be held at various iconic venues across the city and digitally on our Summit platform:
SSE Arena Belfast - Northern Ireland's premier entertainment venue.
 

ICC Belfast is an experienced and ambitious international convention centre at the heart of Belfast - one of Europe's most accessible, vibrant and flourishing cities.
 

Evening social programme on Tuesday 3rd October will be situated within the historic Cathedral Quarter of Belfast.
 

Evening social programme on Wednesday 4th October will be hosted at Community Dine Arounds across prominent Belfast venues. 
 

The Closing Ceremony will be held at the ICC Belfast and across The Titanic Quarter, summarising a week of learning, networking and personal legacies.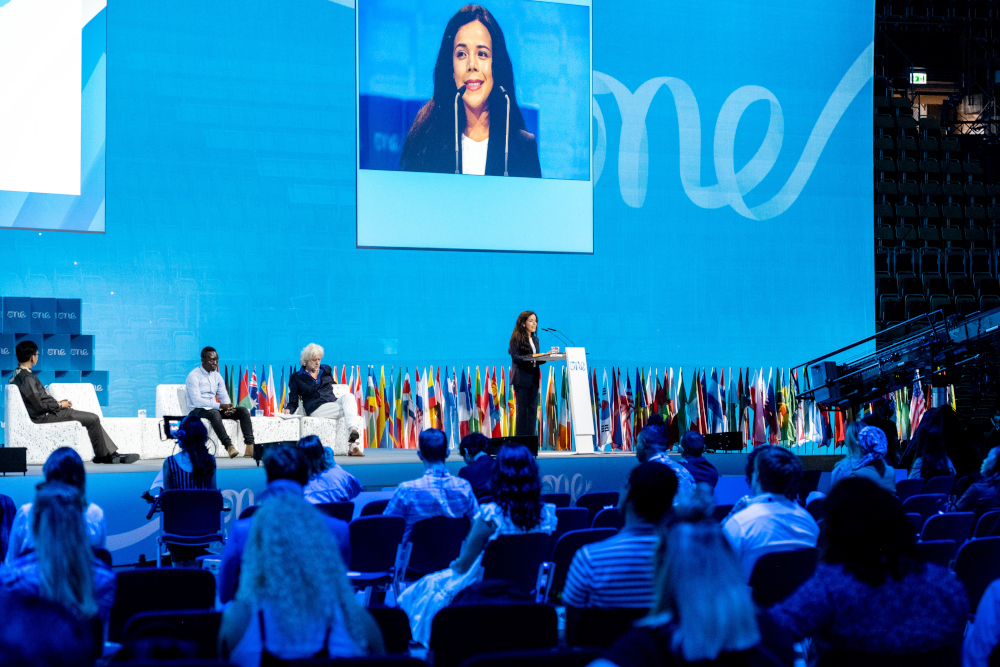 Agenda
Monday, 2 October - Evening Session
Tuesday, 3 October - Morning Session:
Plenary Challenge - the Food Crisis

Entrepreneur of The Year Award Ceremony 
Tuesday, 3 October - Afternoon Session:
Plenary Challenge - Education
Wednesday, 4 October - Morning Session:
Plenary Challenge - Climate Emergency

Politician of the Year Award Ceremony 
Wednesday, 4 October - Afternoon Session
Plenary Challenge - Mental Health
Thursday, 5 October - Morning session
Good Friday Agreement and the Northern Irish Peace Process
Thursday, 5 October - Afternoon Session
What's next for young people in Northern Ireland?

Plenary Challenge - Peace and Reconciliation

Journalist of the Year Award Ceremony
Thursday 5th - Evening Session 
Read more about our Global Consultation Process that has helped inform our 2023 Agenda ⟶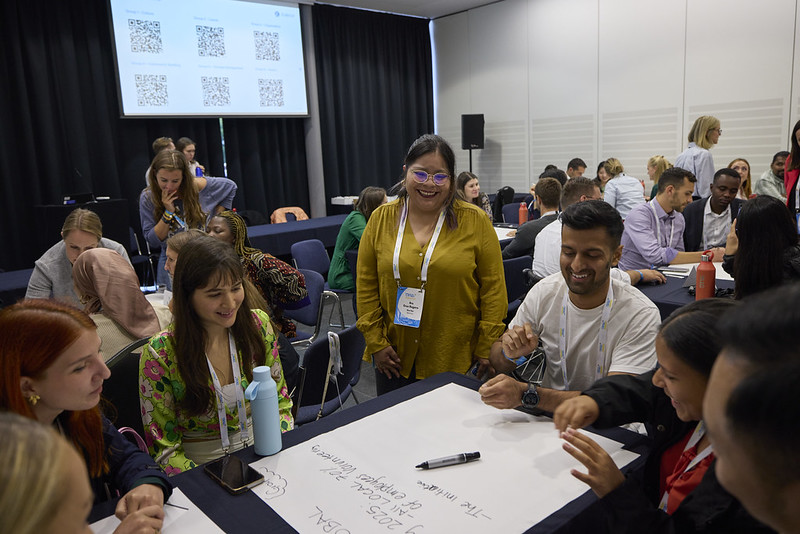 2023 Summit Workshops
Our Summit workshops provide Delegates with expert insights into the issues and topics they are most passionate about. Workshops offer practical skills, techniques, ideas and processes which Delegates can implement in their own projects and initiatives for change. 
Belfast Volunteering
Volunteer with us in Belfast
In order to deliver a successful Summit, One Young World needs volunteers just like you! There is a huge range of roles that mean you can be involved in the Summit and make a difference!
As a One Young World volunteer, you will be required to be flexible in your willingness to take on your assigned role, and you may be assigned to multiple roles throughout your placement. Your role will be allocated based on your availability provided in the application form as certain tasks will be taking place at various points throughout the Summit.
If you are a flexible, dedicated and passionate individual then we are looking for you to help make Belfast 2023 our best Summit yet.
Belfast at a Glance
Embrace a Giant Spirit. Meet the new Belfast, one of Europe's most vibrant and exciting destinations, brimming with culture, award-winning attractions and home to the friendliest people you are ever likely to meet.
A city bursting with energy, ambition and optimism, Belfast is moving forward at an unprecedented rate. Over one billion pounds has been invested in infrastructure over the past decade and major development and regeneration projects have transformed our tourism, transport and digital sectors. Belfast is now recognised as a vibrant destination in which to live, work, study, visit and invest.
Now an ambitious city, having emerged from decades of conflict due to the courage and resilience of its people; the city and its people understand the importance of leadership. 2023 marks the 25th anniversary of the Belfast Good Friday Agreement. With 43% of its population under 30 years old, the city has a generation of talented, responsible and civically-minded young people who are driving positive social change for a better future in Belfast.
From the birthplace of the Titanic to Game of Thrones film locations, peace tours and street art, you'll find plenty to do in Belfast.
Start your adventure today and experience Belfast from home ⟶
Get a Taste for Northern Ireland
Get a taste for Northern Ireland and experience the amazing food, sights and history the region has to offer on one of Event Partners Ireland's bespoke tour packages.
#OYW2022 Manchester Summit Highlights | One Young World
The 12th Annual One Young World 2022 Summit took place in Manchester, United Kingdom, from 5 - 8 September 2022. The Summit brought together over 2,000 young leaders from 190+ countries who gathered in person and digitally, empowering and developing the world's most impactful young leaders to build a fair, sustainable future for all.