Championing Mental Health Equality: Elvis Martin's Fight for Non-Permanent Citizens
About 53% of people with mental disorders

in Australia do not receive professional mental health care.

Although subsidised health insurance gives access to mental health services, there are gaps in the system, leaving out support for non-permanent residents. 
Our Ambassador, Elvis Martin, is the first Person of Colour and the youngest person to hold the position of Deputy Chair at the Mental Health Peak Body in Victoria, Australia. 
His primary focus is engaging diverse communities and finding effective ways to help people facing mental health challenges.
Elvis's advocacy is rooted in his experience of struggling to seek mental health support when he arrived as an international student in Australia.
Inadequate and expensive mental health support for international students, refugees, and asylum seekers
Elvis initially had little knowledge of the issues surrounding homelessness, mental health struggles, and family violence. After coming out to his loved ones as being part of the LGBT+ community, his life took an unexpected turn. It led to him moving from living in a luxurious apartment in Melbourne to living on the streets.
"There's not enough promotion of mental health support and services available for young people. And, when I finally found support and services, it was not accessible to me because of my visa status," says Elvis. And he is not the only one.  
A concerning reality in Australia is that individuals who are not permanent residents, including international students, refugees, and asylum seekers, face significant financial barriers when seeking help with their mental health, even those experiencing extreme distress or crisis. For instance, those contemplating suicide must be able to afford AUD 624 insurance to access the required support, says Elvis. 
International students pay health care insurance annually in Australia for free medical and health services throughout their visa. However, support may vary or be insufficient because of hospitals and insurance companies.
After his family disowned him, Elvis faced homelessness, mental health challenges, sexual assault, and family violence. In times of hardship, he realised the lack of promotion and availability of mental health care services tailored to young people. 
The situation is more dire for refugees and asylum seekers. When they have no bridging visa, they are reluctant to access support. It feeds on the fear that they will be deported if not found in the system, which can further affect their mental health and well-being.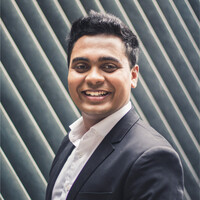 ""Simply because we have opinions, ideologies, and beliefs in our country doesn't mean that we should torture the people who are already suffering", adds Elvis. "Refugees and asylum seekers don't just uproot their lives. They don't leave their childhood home cities, education, and community for fun. They genuinely move for a second chance to live a safe life and grow their family in a safe space." "
Breaking Language Barriers in Mental Health Support 
Elvis is working to ensure non-permanent citizens can easily access mental health care, regardless of their visa status. He intends to work closely with different organisations and different government departments on how to provide support for international students, refugees, and asylum seekers experiencing mental health challenges.  
"I believe that when a person walks into a support service, whether after a suicide attempt or a severe mental health challenge, we need to have support strapped around them," says Elvis.  
Elvis's role at the council widened his platform to advocate for mental health. One impactful campaign he worked on was called "It's Okay to Complain". The campaign aimed to structure healthcare settings to empower people from refugee, asylum-seeking, and minority communities to seek support without any hesitations.  
The campaign promoted the Mental Health Compliance Commission as a safe space for sharing concerns. It was conducted in multiple languages, ensuring inclusivity and diversity. The campaign focuses on language accessibility and translates mental health documents into 20 languages. By eliminating language barriers, individuals who do not speak English fluently can access vital support services without hesitation or concern.
The Power of Advocacy to Transform Policies and Laws Related to Mental Health 
Besides his involvement in the Mental Health Peak Body, Elvis actively participates in the Mental Health Royal Commission. The Commission was founded in 2019 to examine shortcomings in the mental health system in Victoria, Australia. It addresses the overall occurrence of mental illnesses and suicides in the region.  
Elvis works closely with the Royal Commission, contributing his insights and expertise and providing him with a more significant and influential platform. With a budget of AU$8 billion, it promises to bring transformative changes. He provides insights into effectively reaching diverse communities within the mental health sector.
"How can you connect with them [refugees] and make them aware of existing services? And how can they access it? And, not just that, I also want them to have a say and a role in the sector," adds Elvis.
Furthermore, his current position allows him to stay updated on the development of new laws and policies related to mental health to actively influence the formation of a new commission, set to commence operations on September 1, 2023.  
"Right now, I am doing things that are in my power, including things that are not in my power," says Elvis. "I'm knocking on the doors, persuading the mental health commissioner, and regularly talking about these concerns."  
You can show support and learn more about Elvis Martin's work through his LinkedIn profile here.