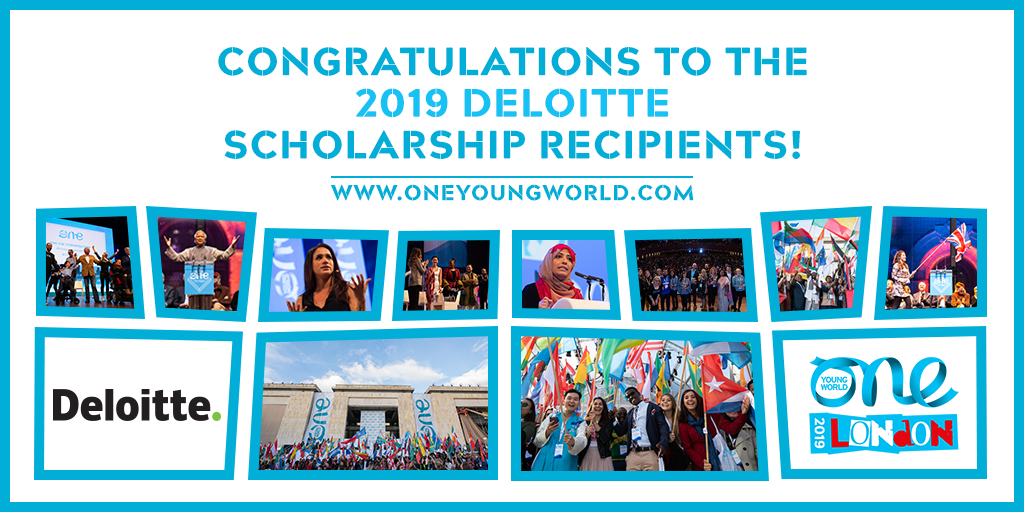 Education is the cornerstone of sustainable development. There are currently 1.8 billion young people (aged 10-24) worldwide, and over half of this population will not have the skills necessary to participate in the emerging global workforce. The United Nations' Sustainable Development Goals (SDGs) clearly recognise the necessity of closing this gap, as the international community more explicitly addresses the challenges of quality and equity in education.
Deloitte, a longstanding partner of One Young World (OYW), is committed to preparing 50 million people to succeed in a rapidly changing global economy by 2030. They are applying their core skills, experience, and global reach to make an impact through education, skills development, and access to opportunity, in line with SDGs 4 – Quality Education and 8 – Decent Work & Economic Growth.
In line with their mission, Deloitte launched the Deloitte One Young World Scholarship 2019 to enable 10 outstanding young leaders to attend the One Young World Summit in London, the United Kingdom on 22 – 25 October 2019.
This scholarship is intended for young leaders focused on improving the education, skills, and access to opportunity for people in their communities, countries, or world at large. The scholarship sought candidates who have demonstrated a commitment to:
Improving access to education, skills, or employment opportunities for those that may be left behind by the rapidly changing global economy. For example, for women and girls, or disadvantaged youth.
Creating skills development or lifelong learning opportunities for people to prepare for the future workforce, including in areas where there are talent shortages.
Accelerating entrepreneurship, new types of employment, or providing opportunities for people to overcome traditional barriers to employment.
Congratulations to the 2019 Deloitte Scholarship recipients.
Gideon Seun Olanrewaju, Nigeria
Education Policy Analyst/Chief Executive of Aid, Rural Education Access Initiative
Gideon, a UNESCO ESD Young Leader, Theirworld Global Youth Ambassador and Chevening Alum, established AREAi in 2014 to create quality alternative and informal learning and empowerment opportunities towards bridging the gaps between education and employability for school-aged out-of-school children, particularly girls and women in some of Nigeria's most remote communities. With about 16,000 beneficiaries reached, AREAi projects to reach 1 million out-of-school children over the next 10 years. Gideon also serves as Chairperson of the International Youth Coalition for Education.
Aditi Lachman, South Africa
Civil engineer
Aditi Lachman is a civil engineer, effecting positive social change in her industry, and beyond. She transitioned from volunteering with WomEng to working full-time as Lead Programme Coordinator in 2016, where she has overseen programmes that have impacted over 25,000 girls and women. 
Alexia Hilbertidou, New Zealand
Founder, GirlBoss
Alexia founded GirlBoss at 16 to empower young women to embrace STEM fields, leadership, and entrepreneurship. GirlBoss is now a 12,500-strong army of young women with programmes implemented in 100 schools in New Zealand, Australia, and the Cook Islands.
Surya Karki, Nepal
Founder, United World Schools Nepal
Surya, a Masters Degree graduate as a Schwarzman Scholars, established United World Schools Nepal to teach the unreached and provide free, high-quality schooling to thousands of Nepali children. So far, with his team, Surya has built 28 schools and serves a community of 3,500 children. 
Shreya Mantha, USA
Founder, Foundation For Girls
In December of 2014, Shreya established Foundation For Girls, a youth-led social venture to change the life-trajectory of girls-in-crisis. Girls are surrounded by a "circle of care" and educated with skills to be financially savvy, digitally capable, and empowered leaders with a healthy mind, body, and spirit. Four years later, with 65 coaches, 2,050 girls have been set on a path to independence. Shreya is a rising freshman at Stanford University. 
Lea Batal, Lebanon
Founder, Kiron Open Higher Education 
Lea is the Founding member & Country Director for Kiron Open Higher Education Lebanon, an NGO supporting refugee and underserved communities to access higher education through online courses. She is managing an extensive network of universities, NGOs, and governments. At the French Agency of Development, she also co-designed a response to the refugee crisis in the Middle East.
Andres David Beltran Munoz, Colombia
Head of International Cooperation, United Way Colmbia
Andrés is the Head of International Cooperation at United Way Colombia, a Foundation that fosters education innovation to create high-quality learning opportunities for underserved communities and reduce school dropout rates. Last year, they benefited around 175,000 students and more than 6,300 educators across the country. 
Hannah Purkiss, United Kingdom 
Director of Operations, IntoUniversity
Hannah is the Director of Operations at IntoUniversity, an early intervention widening participation charity which runs local learning centres in some of the UK's most deprived areas. She is responsible for the operational management and success of 30 learning centres based in 12 UK towns and cities. 
Maike Striffler, Germany / Uganda
Acceleration Lead & Co-Founder SINA, Social Innovation Academy
Maike Striffler joined the Social Innovation Academy (SINA) as a Co-Founder and Acceleration Lead in 2019, enabling disadvantaged youth and refugee communities in East Africa to unleash their potentials to become self-reliant and create social enterprises. 
Paola Elguezabal, Mexico
Chief Operating Officer, Robin
Robin is a platform focused on financial literacy for kids, dedicated to teaching children about the value of money, budgeting, savings, loans and investing in an engaging way. They gamify these topics, making them interactive and exciting. As one of the fast-growing education startups in Latin America, Paola is looking to take Robin across Central and South America.
Deloitte refers to one or more of Deloitte Touche Tohmatsu Limited ("DTTL"), its global network of member firms, and their related entities. DTTL (also referred to as "Deloitte Global") and each of its member firms are legally separate and independent entities. DTTL does not provide services to clients. Please see www.deloitte.com/about to learn more.
Image