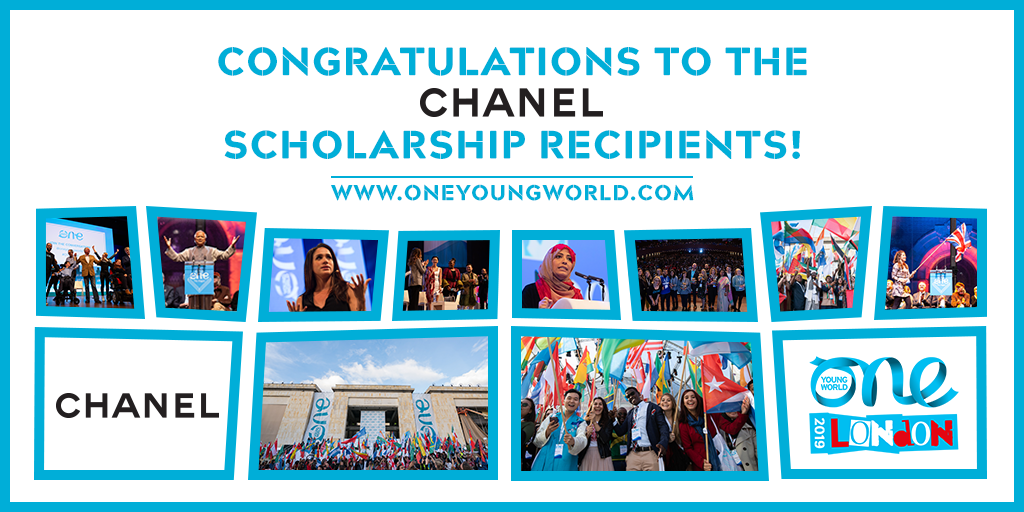 CHANEL is one of the world's most influential and enduring luxury brands. If CHANEL is first and foremost focused on creation, CHANEL is also about being a human-driven company, committed to creating long-term value for the brand and for society. As an iconic brand, their influence far exceeds their business activities. Working within the industry and beyond, they seek to use this influence to define and promote a more ambitious approach to sustainability and social challenges.
CHANEL aims to develop impactful and socially transformative actions through a variety of initiatives involving its best ambassadors: its people.
In 2019, CHANEL will participate in the One Young World Summit with a delegation of 25 internally-selected young leaders. CHANEL will also offer scholarships to 15 external delegates who are setting the example to make their communities, countries, and organisations more sustainable and socially responsible. Launched earlier this year, the Chanel One Young World Scholarship has identified and will support 15 exemplary change-makers to participate in the One Young World Summit 2019 in London.
This scholarship is particularly intended for young leaders at the forefront of organisations and movements that make an impact in at least one of the following areas:
Climate Change
Sustainable Retail
Social entrepreneurship with handcraft & savoir-faire
Human rights
Advancing the role of women in society
Congratulations to the 2019 CHANEL Scholarship recipients:
Tasneem Omar Ava, Bangladesh
Founder, SynergyGlobal.co

Tasneem's social startup Synergy Global.co empowers marginalized women, leveraging global ethical fashion industry. her work has been recognized as one of the Top 5 global social startups by HULT Prize Foundation and Top 12 startups from the Commonwealth by HRH Duke of York. Tasneem, as a Young Leader at EDD-2017, TEDx speaker, YSIF awardee-raised awareness about modern-day-slavery and SDG-8.
Monica Florina Boța Moisin, Romania
Founder, Cultural Intellectual Property Rights Initiative
Monica is an intellectual property and fashion lawyer. She authored the TEDx Talk "Cultural Fashion: Transform the Fashion Industry From Villain to Hero" and founded the Cultural Intellectual Property Rights Initiative, a global network enabling cultural sustainability and fashion as a form of education and promotion of cultural heritage.
Jazmin de los Angeles Fallas Kerr, Costa Rica
Director of Initiative for the Empowerment of Vulnerable People, BoaPaz
Jazmin is the Director of Initiative for the Empowerment of Vulnerable People at BoaPaz, recognised as one of the 500 most responsible companies in Latin America. She has been named a Creator of Digital Change, a Latin American Leader, and one of the Top 25 under 25 of the Internet Society.
Elizabeth Zalanga, United States
As a student of global studies, sustainability studies and applied economics, Elizabeth has worked with several nonprofit organisations in Minneapolis-Saint Paul on policy and advocacy to reduce disparities for youth from underserved backgrounds. She was recently named an Emerging City Champion by 8 80 Cities and Women's Foundation of Minnesota Innovator, and served as a U.S. delegate to the 2018 Youth 20 (Y20) Summit and the 2018 G(irls)20 Summit in Argentina.
Oluwafunmilayo Ayobami Oni, Nigeria
Founder, Iranwo Foundation
To provide economic opportunity for women in Nigeria, Oluwafunmilayo Oni established the Iranwo Foundation. Iranwo trains women in textile design and entrepreneurship and provides microloans for them to establish businesses. To date, they have enabled women to sell textiles in 22 countries.
Sani Muhammad, Nigeria
Founder, Bridge Connect
Sani launched the Bridge Connect Africa Initiative in 2018 to promote gender equality, education for women and girls, and awareness of sexual violence and reproductive health in northern Nigeria. Bridge Connect's #SpeakUp campaign and policy activism have impacted thousands of women.
Vanessa Nsona, Malawi
Executive Director, Dorovee
Vanessa Nsona is the Executive Director of Dorovee, an eco-friendly social enterprise working with women in marginalised communities. Dorovee trains women to craft fashion accessories with recycled materials. Vanessa also mentors young girls in Malawi on skills development and entrepreneurship.
Kishore Gopal Reddy, India
Co-founder, Youth for Sustainable Impact
Identifying environmental challenges combined with fashion/textile industry as an opportunity to create decent jobs, Kishore co-founded Youth for Sustainable Impact. YSI educates and trains youth and women to develop handicrafts and apparel in sustainable ways with innovative technology.
Reyasat Chowdhury, Bangladesh
Founder/CEO, Shuttle
Reyasat founded Shuttle to address one of Bangladesh's biggest challenges – transportation for women. Each day, Shuttle provides safe, convenient rides for more than 1,000 women, enabling them to commute to work and university and reach their full economic and educational potential.
Tehreem Fatima, Canada
Regional Leader, Girl Up Campaign
Tehreem has worked with the United Nations Foundation's Girl Up Campaign since she was 15 to ensure that each day is a step closer to gender equity. She has led campaigns for Indigenous Canadian women, advocated for women in politics, and organised funding drives for schoolchildren in Guatemala.
Ronelle King, Barbados
Founder, #lifeinleggings
In 2016, Ronelle founded the viral movement #lifeinleggings, which later formed the grassroots organisation Life In Leggings: Caribbean Alliance Against Gender-based Violence. As Director, she is committed to combating rape culture in the region, and changing the regional statistic of physical/sexual violence] from 1 in 3 women to 0 in 3.
Farhad Wajdi, Afghanistan
Founder, Ebtakar Inspiring Entrepreneurs of Afghanistan
Farhad is the founder of Ebtakar Inspiring Entrepreneurs of Afghanistan, an NGO that empowers underprivileged women to pursue social enterprises. He also co-founded the Nawaht Consultancy for education for sustainable development. In 2018, the European Commission named him an EDD Young Leader
Harriet Kamashanyu, Uganda
Founder, Rhythm of Life
Harriet runs a social initiative called Rhythm of Life in Uganda. It aims to break the vicious cycle of mother-to-daughter prostitution and provide health care accessibility and economic empowerment opportunities to girls and women in the red-light districts. Early this year March 2019 – Harriet was honoured with the SHE DECIDES GENDER EQUALITY AWARD.
Apefa Adjivon, Canada
Founder/Executive Director, The Pearl Project
Apefa is the Founder and Executive Director of The Pearl Project, a mentorship program for young women that partners them with like-oriented mentors from similar backgrounds. She has been named to the Canadian 30 under 30 for Sustainability and the Youth Advisory Group for UNESCO's Canadian Commission.
Dina JAK, Australia
Business Development Manager, Sew et Laine
At Sew et Laine, a French sustainable textile social enterprise, Dina is responsible for the incubation, boost-up & training programs, as well as the coworking écosystem and the textile fablab (aimed at supporting young entrepreneurial start-ups to become both successful and sustainable). Dina also raises awareness about the need to create tomorrow's sustainable textile industry, while also working on the residency program, that supports disadvantaged youth to learn about ethical fashion.