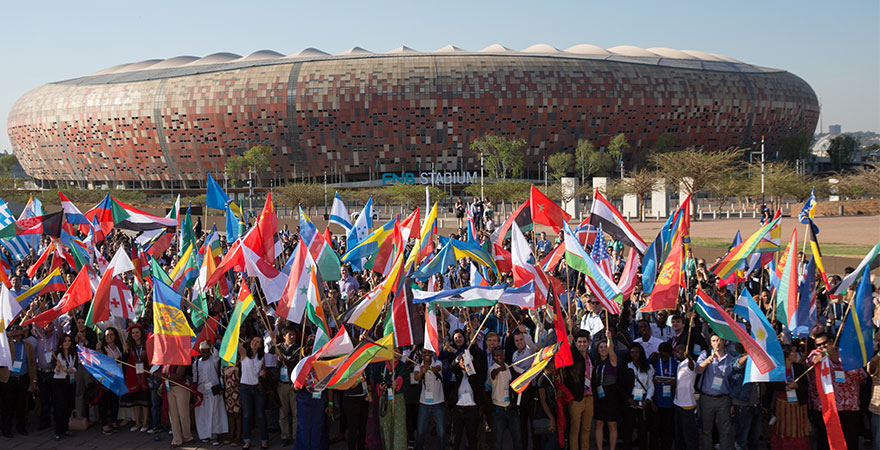 Shortlisted from over 500 applicants, the ten outstanding South African finalists for two scholarships to attend One Young World Summit 2017 Bogotá are:
Shivad Singh, 22, Johannesburg
Farai Mubaiwa, 22, Johannesburg
Dimpho Nonhlanhla Lekgeu, 22, Pretoria
Kenneth Fullerton, 30, Johannesburg
Mfundo Radebe, 20, Durban
Nkosana Nkolomba, 26, Johannesburg
Skhulile Ndlovu, 27, Johannesburg
Phuti Moja, 27, Polokwane
Pearl Maphumulo, 28, Johannesburg
Bhongolwethu Sonti, 26, Cape Town
The announcement was made today at Thomson Reuters in the presence of H.E. Dr. María Eugenia Correa Olarte, Ambassador of Colombia in South Africa. On tour from Valledupar, Colombia in celebration of Colombian Independence Day, a traditional 'Vallenato band', Eibar Gutierrez y La Banda Eterno Abril, performed alongside South Africa's own Colombian Linaje Dance Company performing Cumbia and Garabato dances.
Sneha Shah, MD of Thomson Reuters Africa says of One Young World and Thomson Reuters' global partnership: "It is one of the best platforms I have seen of this type, and the network our people develop is unparalleled."
The Summit takes place 4 - 7 October in Bogotá, Colombia. In welcoming the South African delegation, the Ambassador of Colombia said her country is proud to host the Summit, that "Bogotá is waiting for you with open arms" and that the Summit will provide an opportunity to "make the world's young people aware of their responsibility, their commitment as a new generation to help change the world."
One Young World's South African Local Organising Committee comprises:
Elegance Gozo (Emerging Talent Lead, Vodacom)
Catherine Peter (Director, A.N. Other Consulting Co.)
Jo Pohl (Non-Executive Director and Consultant)
Geoff Rothschild (Chairman, Control Risks Southern Africa)
Sneha Shah (MD, Thomson Reuters Africa)
Avinash Singh (Head, Policy, Advocacy and Regulatory Relations, Barclays Africa Group)
Malibongwe Xaba, OYW Coordinating Ambassador, South Africa, Lesotho, Swaziland
The SA and Kenyan LOCs are proud to support One Young World and aim to ensure a dynamic delegation to Bogotá and sustainable engagement with the alumni (OYW Ambassadors) community. Those interested in supporting more of the scholarship finalists or in sending outstanding young members of their communities or organisations to the Summit, are urged to get in touch.  The two scholarship winners will be announced by 21 July.
The South African delegation will join 1,300 Delegates from 196 countries, representing all industries and sectors.  Delegates are aged 18 to 30 and show evidence of commitment to creating positive change in their communities and organisations. In addition, South African scholarship candidates must demonstrate a clear, long-term commitment to ethical leadership and a corruption-free society.