One Young World is delighted to announce the winners of the inaugural One Young World Journalist of the Year Award.
Created to identify and promote the world's most impactful journalists, the Award honours five young leaders - aged 35 and under - who have been judged on the positive social impact of their work. These young leaders fearlessly and boldly inspire others through their work. They have changed the way stories are reported and empower others by giving them a voice.
These five young leaders were selected by a panel of respected international journalists and broadcasters from a shortlist of 15 young journalists from around the world.
Ilia Calderon, Emmy® award-winning journalist, Co-anchor of Noticiero Univision and Co-host of Aquí y Ahora, commented on the Award:
"Modern history could not be written without the presence of journalism. Young journalists serve as a necessary window to see those challenges within our society, and their storytelling is critical for historical change."
The winners will be presented with the Award at the One Young World 2021 Summit taking place in Munich, 22-25 July. 
The Winners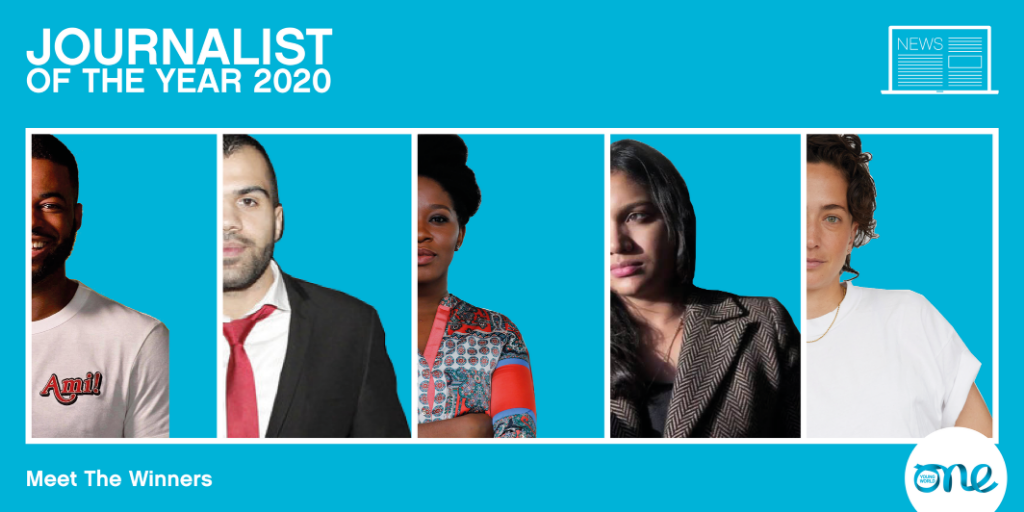 Ben Hunte, 28, United Kingdom
Ben is the BBC's first LGBT Correspondent, reporting on stories of sexuality and gender. Since starting the role in 2019, Ben has uncovered how black male victims of sexual abuse are 'ignored' by the government, and fronted coverage celebrating 50 years since the Stonewall Riots.
As one of the BBC's youngest correspondents, Ben's journalism has already been nominated for awards, including by the Royal Television Society, PinkNews and British LGBT Awards. In 2019 he was awarded an 'Alumni Laureate Award' by the University of Nottingham, where he studied a Neuroscience degree on a full scholarship. Ben previously launched and presented the BBC's first TV programme and digital service for children in Africa.
Hamoud Al-Mousa, 27, Syria
Hamoud is a Syrian journalist, human rights defender, and activist. He co-founded Raqqa is Being Slaughtered Silently, which is an organisation that exposes the atrocities committed by the Bashar Al-Assad regime and ISIS in Syria.
Al-Mousa started non-violent protests and demonstrations against the Syrian regime in 2011 and was arrested by the regime three times in 2012. After ISIS took control of his hometown, Raqqa, in January 2014, he escaped to Turkey and started RBSS "Raqqa is being slaughtered silently" with his friends to show the reality of life in Raqqa under ISIS rule to the rest of the world. Their smuggled video footage and images for which they risked their lives have been shown on every television network and print media including CNN, BBC, Al-Jazeera, MSNBC.
Kiki Mordi, 28, Nigeria
Kiki is an advocate for gender equality and LGBT rights in Nigeria. Her work with BBC Africa Eye, "Sex for Grades", uncovers sexual harassment in West African schools. She serves as an investigative data researcher on the Special Investigative Panel for Nigeria's National Human Rights Commission on Sexual and General Based Violence across the country.
In 2019, she produced a documentary titled "Life at The Bay" that uncovers the struggles of women living in Tarkwa Bay Island. She hosts and produces a Human Rights Radio Programme called, "Chapter Four" on Women Radio in Lagos.
Neha Dixit, 34, India
Neha is an independent investigative journalist covering politics, gender, and social justice in South Asia. Her investigation on 1,200 extrajudicial killings by the Indian police led the Office of the High Commissioner for United Nations Human Rights to issue a notice to the Indian government acknowledging the custodial torture by Indian police. 
She is currently battling criminal and defamation cases in the Indian courts for her investigations. She has been regularly subjected to physical attacks, life, and death threats for her work. She has won over a dozen international and national journalism awards in 13 years of her career, including the Chameli Devi Jain Award for Outstanding Woman Journalist (2016) and the CPJ International Press Freedom Award (2019).
Paola Ramos, 32, United States
Paola is an Emmy-winning host and correspondent for VICE and VICE News, as well as a contributor for Telemundo News and MSNBC. Ramos spotlights the voices of marginalised communities, breaks down stereotypes and mobilises people towards civic engagement. From telling the stories of the asylum seekers that are stranded at the US-Mexico border to highlighting the mental health crisis young Latinas are undergoing in the U.S, Ramos is at the frontlines of the issues that are defining our communities.
Ramos received an Emmy in 2019 for Outstanding Newscast or Newsmagazine in Spanish for her work with Telemundo. In 2017, she was the recipient of the ASTREA Lesbian Foundation for Justice "Fuelling the Frontlines Award" as well as Harvard's  "Latinas Unidas Award."