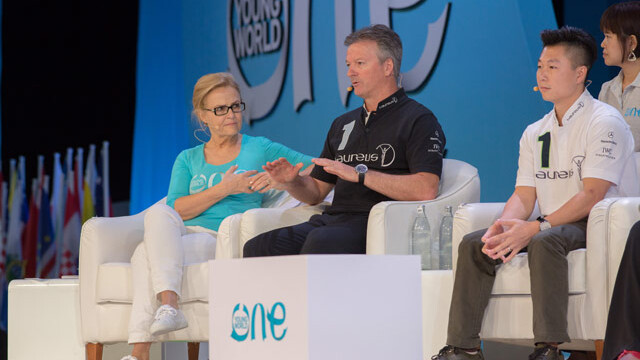 Steve Waugh
Former Australian Cricket Captain
[[[video-0]]]
Steve Waugh retired in January 2004 as the most successful captain in the history of Test cricket, with 41 wins in 57 Tests. In his career, he scored 10,927 Test runs at an average of 51.06, including 32 centuries, at the time putting him second in the all-time list of century makers.
His highest Test score was 200 against the West Indies at Sabina Park in April 1995. The team which he created won successive World Cups in 1999 and 2003. In his last match a record final day crowd of more than 27,000 at the Sydney Cricket Ground roared their appreciation all the way to the end of the amazing contest between Australia and India and for nearly an hour beyond as Waugh was chaired round the ground by his team-mates at the end of his 168th and final Test match. In his time as captain, Waugh fashioned Australia into arguably the greatest team of all time. A batsman who mixed mental courage with natural ability, it was Waugh's contribution as a captain that has seen him become a legend of the game.
Waugh's brand of leadership revolutionised captaincy. Habitually bowling first when winning the toss, run-rates in excess of four runs per over, eliminating draws as a possible result, doing away with caution - these were hallmarks of Waugh's captaincy. Recognition of Waugh's achievements has also come through the Laureus World Sports Awards. Three times in five years the Laureus Media Selection Panel nominated Australia for the Laureus World Team of the Year Award and in 2002, following their world record winning run of 16 Test matches, Australia were awarded the Laureus Statuette by the members of the Laureus World Sports Academy of which Steve Waugh has now become a member.
Over the years, Waugh has also shown that he believes in using sport as a means to help the deprived and the underprivileged and he has backed those beliefs in India in a determined and practical way at Nivedita Bhavan, a home built to house the children of lepers in Udayan, Calcutta. He has been helping Udayan since an aid group took him there in 1998, making regular visits and helping raise funds and donating his own money. "Steve is not only a great cricketer but also a great human being," founder Reverend John Gregory Stevens said. "I have seen him holding leprosy patients with no qualms."
Waugh served as a Counsellor in One Young World Summit: 2015 in Bangkok.