Coordinating Regions:
Central America & Mexico: Costa Rica, El Salvador, Guatemala, Honduras, Mexico, Nicaragua, Panama
Caribbean: Antigua and Barbuda, Bahamas, Barbados, Belize, Cuba, Dominica, Dominican Republic, Guyana, Grenada, Haiti, Jamaica, Saint Kitts and Nevis, Saint Lucia, Saint Vincent and the Grenadines, Suriname, Trinidad and Tobago
South America: Argentina, Bolivia, Chile, Ecuador, Paraguay, Peru, Uruguay, Venezuela
Colombia: Colombia
Brazil: Brazil
Lucero Muñoz
Bogotá, Colombia
Psychologist, Specialist in International Cooperation and Project Management for
Development with a master's degree in Research and Psychosocial Intervention in
Communities of the Autonomous University of Barcelona. Focused on the Development of Non-Profit Organizations, Project Management. Passionate about the development and strengthening of communities, development youth, work with multidisciplinary teams. Experience in volunteering Management, event management and in social enterprises.
She was previously the Coordinating Ambassador for Colombia of One Young World, with a network of more than 200 Colombian ambassadors who are currently generating a positive impact on the development of the country from the different SDGs. In parallel, she is the Executive Director of the Catalina Muñoz Foundation, a non-profit organization that provides habitat and development solutions
community through public-private partnerships and volunteer management corporate and youth to improve the quality of life of vulnerable populations in Colombia.
Isabel Menendez Villa Rio
Puebla, Mexico
My name is Isabel Menendez, I´m 30 years old originally from Puebla, México. I studied International Business Management in the México, and for 8 years I have been working for Audi Mexico, recently as a Technical Assistant of the Vicepresident of Human Resources and Organisation.

I come from a very international family which has allowed me to grow up in an environment in which different points of view are always shared and accepted. This also encouraged me to travel around the world and learn different languages to get to know and understand different cultures and backgrounds.

Some of my interests besides traveling, are reading and doing sports such as Tennis, Crossfit, Flag football, among others. But most importantly I am a person who loves to be surrounded by people and being able to help and connect with them.
Kurba-Marie Questelles
Port of Spain, Trinidad & Tobago
Kurba-Marie Questelles is a Peace and Security Specialist and a certified Restorative Justice Practitioner who has previously briefed the United Nations Security Council. She is a qualified Trainer of Trainers with areas of expertise in crime and violence prevention, peace education, and youth development. Kurba-Marie serves as a Climate Reality Leader, the outgoing curator at the Global Shapers Port of Spain Hub, and a proud member of the Queen's Commonwealth Trust network.
In 2019, she was inducted as a 30 Under 30 Emerging Caribbean Leader by the Institute of Caribbean Studies in Washington D.C. Her areas of interest include youth development, National, regional, and international peace and security.
Naila Magalhães Ferreira
São Paulo, Brazil
Transforming people's lives is my passion and driving impact to generate transformation is my purpose. I love using my strengths to create a better world and mostly, to inspire others to do the same.

I am the one that "makes it happen", from a surprise birthday party to a big project that impacts the lives of many people. I love connecting what I have best and my values: energy, planning, and passion and responsibility, authenticity, and trust.

I love to get involved in diverse projects that generate transformation: people development, diversity & inclusion projects, organizational culture transformation activities, social impact projects.

This is me and I am ready to transform our world, and what about you?
Daniel Zapata Castro
Pereira, Colombia
Colombian, peace builder and manager of sustainable development projects. Industrial Engineer and master's degree in human and organizational development management with extensive experience in leadership and youth participation in national and international social organizations such as the Scout movement and Global Shapers Community.
Ambassador of One Young World since 2021 when attending to Munich as winner of the National Award for Young Talent of the presidency of Colombia, thanks to the application with projects of social impact towards the Victims of the armed conflict and signatories of the peace agreement in Colombia, and enviromental impact through the citizen strategy of collecting and recycling cigarette butts.
He is currently the coordinator of the social management project for the integral reincorporation of Taparales, supporting the process of more than 100 signatories of the peace agreement". 
Barbara Beltran Torres
Lima, Peru
Barbara Beltran is the One Young World Coordinating Ambassador for South America. She is the founder of G.R.E.E.N Dreams (ES:Misión Sostenible), an educational space that addresses climate change and sustainability issues created with the participation of Latin American indigenous communities. It offers an innovative platform to guarantee high-quality education and support the local economies.
She works as a professional speaker for the World University Service Germany. She visits schools and universities and raises awareness about the importance of the SDGs and sustainable development in Latin American countries. She also works as a UNITE 2030 mentor for young changemakers engaged with the SDGs. Barbara was born and raised in Peru, with 17 was awarded to study in China and recently graduated with a Double Master Degree in International Business and Business Administration in Germany and the United Kingdom.
Jason Pareja Jauregui
Lima, Peru
Jason Pareja is a Peruvian engineer with a track record of incubating and delivering strategic projects and new business ventures in the technology, telecommunications, and banking industries. Currently in the role of Digital Product Manager at B89, the first Peruvian bank, creating digital solutions that boost financial inclusion nationwide.

He is passionate about the use of technology as a catalyst for sustainable development and social progress. He is also an advocate for Quality Education, inspiring public school students to think big and follow their dreams with "Vive Tu Futuro", an NGO that up to date has worked with +5,000 students and teachers so far. One Young World Coordinating Ambassador for Latin America. UN Youth Assembly Delegate. World Bank Youth Delegate. Young Leaders of the Americas Initiative Fellow.
Previous Coordinating Ambassadors
Maria Villela
San José, Costa Rica
Maria Villela is a catalyzer of young leadership and a promoter of conscious leadership. She first became part of the One Young World leadership team in 2016, first as the Coordinating Ambassador of Mexico and Central America, and then the Managing Ambassador of Latin America and the Caribbean from 2017 to 2022. Her purpose is to inspire young people to take action and start building a better tomorrow in the 5 sub-regions under her management. Maria studied English and Translation at the University of Costa Rica and she is currently a Sr. Learning Experience Designer at Amazon.
OYW LAC: Líderes de Impacto
Líderes de Impacto is a regional interview series featuring top business executives in Latin America. Previous interviewees have included Elio Schiavo, General Manager of Apple in Latin America, and Carlos Murillo, President of Pfizer in Latin America. The series is led by Jason Pareja, Engagement Lead for Latin America and the Caribbean.
One Young World Brazil x Gerando Falcões
In October 2022, One Young World Brazil's team of Ambassadors joined forces with Gerando Falcões, a Brazilian social development ecosystem to host the ultimate workshop.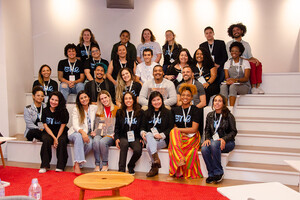 One Young World Bahamas Caucus
In February 2022, One Young World hosted its first ever Bahamas Caucus entitled "Climate Action: Roadmap to Climate Recovery in the Caribbean" to engage with the opportunities to connect and collaborate on tackling Climate Action in the region. The Caucus welcomed more than 20 people in person, including One Young World Co-Founder David Jones and The Prime Minister of the Bahamas, Honourable Mr. Philip Davis Q.C.