One Young World's mission is to create a world where leaders with integrity are empowered to build a fair, sustainable future for all. One Young World develops young leaders by:
INSPIRE them to increase their social impact
BUILD their skills and capacity to act
ELEVATE their profiles locally and globally
Our goal, in partnership with civil society, governments and businesses, is to promote and create visibility for the work of these young catalytic actors driving development results. We believe that this new generation is the most informed, most educated, most connected generation in human history. For this reason, we believe in the importance of supporting the world's most impactful young leaders to create a better world, with more responsible, more effective leadership.
Our Scholarships provide the opportunity for exceptional young people to attend a One Young World Summit and to become part of a global network on the merit of their proven leadership and ability to create change in their home country.
Young leaders have the power to change the world. We need more dialogue, understanding and peaceful forward-thinking world leaders - and you are the key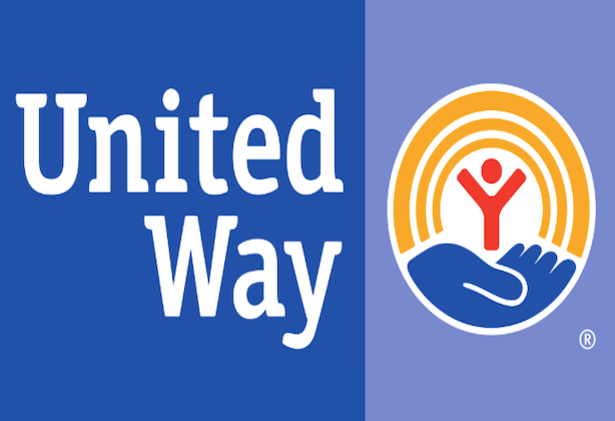 One Young World is collaborating with United Way to create opportunities for Talent Development, Social Impact and Awareness. The 2023 programme involves Delegates from across the global United Way network, supporting young leaders to advance their skills and leadership capacities. 
United Way is an international network of over 1,800 local nonprofit fundraising affiliates that works to advance the common good in communities across the world, focusing on education, income and health. One Young World looks forward to collaborating with these inspiring young leaders. 
The Jang-Calderon Family Foundation
As the first afro-Latina anchor of an evening newscast for a major broadcast network in the United States and the first black woman to ever host a national news program in Colombia, Ilia Calderón has achieved many milestones in her career as a journalist to address injustice, discrimination and be more vigilant of civil and human rights for everyone.
In efforts to continue addressing these issues, One Young World has teamed up with The Jang-Calderon Family Foundation to support young, Black or Indigenous leaders who are leading inclusive and meaningful impact.
NFT - Technovators for Social Good Scholarship with Soy Fira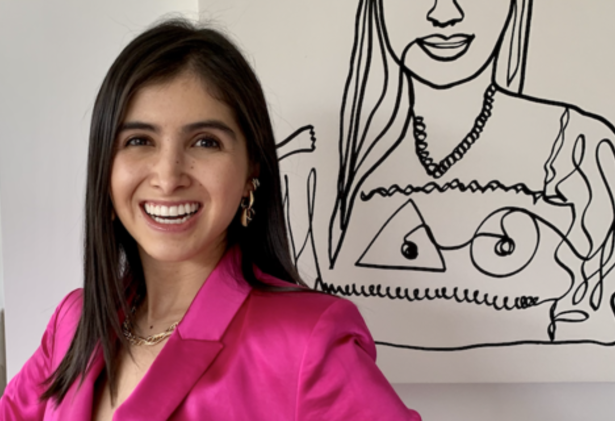 In 2022, One Young World collaborated with OYW Ambassador and co-founder of the biggest NFT telegram group in Latin America that convenes more than 1,500 artists and collectors, Soy Fira, to create five exclusive NFTs.
The NFTs were auctioned and sold to raise funds for a One Young World Scholarship for young women in STEM, the 'Technovators for Social Good' Scholarship. Through this collaboration and campaign Soy Fira and One Young World continued to support their goal of closing the gender gap in STEM. The Technovators for Social Good Scholarship was awarded to Colombian astrophysicist and co-founder of CHIA (Female Colombians doing Research in Astroscience), Andrea Guzman Mesa.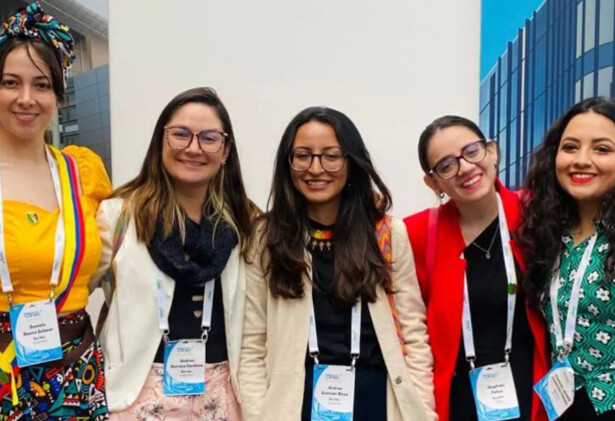 In 2022, One Young World collaborated with Comfama - the Family Compensation Fund of Antioquia, to create the 'Jóvenes con Propósito' Scholarship. Comfama works to promote gender equality within the business sector and society itself, promotes a regenerative culture and environmental sustainability.
The foundation also develops training processes in conflict transformation and mediation techniques. The 'Jóvenes con Propósito' Scholarship provided young leaders from Antioquia the opportunity to promote their initiatives and share them worldwide.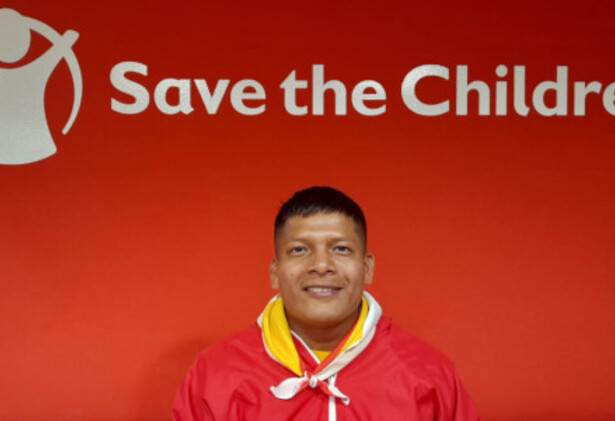 Since 2021, One Young World has partnered with Save the Children to give outstanding young leaders the opportunity to attend One Young World Summits and become part of a Community of over 15,000 change-makers. In 2021, Save the Children Colombia funded Compaz leader Laly Riascos to attend the Munich Summit. As a victim of armed conflict, Laly leads projects that seek to empower youth to build peace.
In 2022, One Young World collaborated with Save the Children again to give young leaders the chance to attend the Manchester Summit. Save the Children was also invited to host a workshop in Spanish on conflict resolution.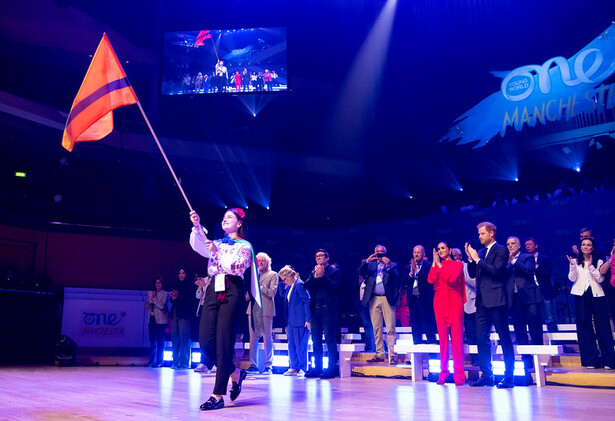 As the first international organisation to officially recognise the flag of the refugee nation, One Young World takes seriously its commitment to the 80 million+ refugees represented by this flag.
Every year we work closely with representatives of the Refugee Nation including the Refugee Olympic Team and UNHCR, to provide visibility and support for displaced and stateless people.
International Olympic Committee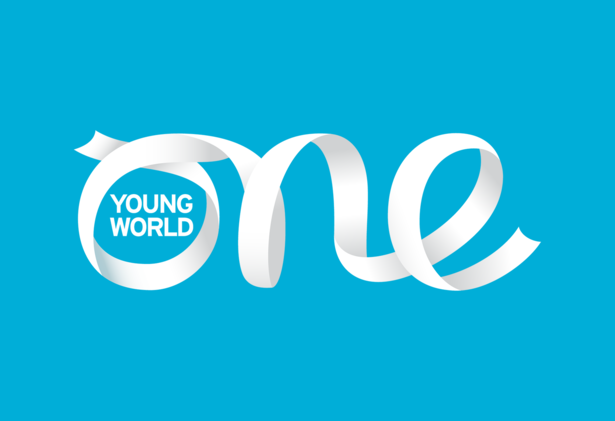 One Young World and the International Olympic Committee (IOC) have collaborated on a number of internal and external programmes since 2016.
Every year, the IOC supports young leaders part of its Young Leaders Programme to participate in the annual Summit, recognising their contribution to making sport more inclusive and accessible, and using sport as an impactful mechanism for building stronger, peaceful societies. The newly designed programme will see 25 incredible change makers imagine, design and realise their own sustainable sport-based social business.
Young Leadership Alliance
Around the world, charities and NGOs are empowering young people and supporting youth. The Young Leadership Alliance convenes these organisations prior to the One Young World Summit and is a unique opportunity in the calendar for youth-oriented organisations to network, exchange best practice and explore opportunities to collaborate. To acknowledge the incredible work achieved by colleagues in other youth organisations, One Young World invites representatives from all the organisations to experience the One Young World Summit and contribute to the community.
Case Studies
Queen's Commonwealth Trust

One Young World partnered with the Queen's Commonwealth Trust to provide a scholarship to a young leader from every Commonwealth nation to attend One Young World 2019 London.

 

The scheme provided a unique opportunity to connect young leaders driving positive social impact across the Commonwealth. A group of ten One Young World Delegates were invited to Windsor Castle to meet with the QCT President and Vice-President, the Duke and Duchess of Sussex to discuss their work on gender equality.
Obama Foundation

The greatest threat to progress is a lack of effective leadership in our world. To address the challenges confronting us globally, the Obama Foundation partnered with One Young World to curate a series of conversations with those who have led inclusive action and meaningful impact.

 

The Leadership Lessons series included three episodes: People, Planet and Profit Post-COVID-19; Pursuing a Career in Foreign Policy, and SDG Implementation in the New Normal.
Amnesty International

One Young World has partnered with the Amnesty International Global Youth Collective, a team of Amnesty International youth leaders (under 25 years old) and Amnesty staff with a youth brief from across the global movement who are champions for youth engagement and participation.

 

One Young World has hosted the two most recent Secretaries General of Amnesty International as One Young World Counsellors and Amnesty has coordinated workshops for One Young World Ambassadors helping them enhance their skills in human rights campaigning.

 

One Young World and Amnesty International have worked together on several campaigns – most prominent the campaign to Free Loujain Al-Hathloul, a One Young World Ambassador who has been unjustly imprisoned in Saudi Arabia.

 
Lumos

#HelpingNotHelping is a Lumos campaign that aims to dispel the myth that orphanages are helping children and stop them from being tourist destinations. Vast numbers of volunteers, tourists and backpackers visit residential children's institutions every year, creating a multi-million-dollar tourism industry that leaves children at risk of all forms of abuse and drives 'orphanage trafficking'.

 

Launched at One Young World, the #HelpingNotHelping campaign will be delivered by Lumos, the NGO working to end the institutionalisation of children worldwide. One Young World worked with Lumos throughout the movement, including successfully campaigning for the British Government to change its official guidance on volunteering in orphanages.
Wellcome Trust

In 2019, the Wellcome Trust partnered with One Young World to empower young leaders to take on the world's biggest health challenges. They hosted two workshops to enable young leaders to discover the threat superbugs pose to our future, and also gain a better understanding of the relationship between the climate crisis and health.

 

The Wellcome Trust also staged a panel discussing the impact of the climate crisis on young people's mental health and the net zero carbon emissions solutions that can also improve our mental health. The partnership enables young scientists to join the One Young World delegation, ensuring a vital demographic is represented.
Scholas

Scholas is an International Organisation of Pontifical Right working to achieve the integration of students through the commitment of all social actors, bringing together schools and educational networks around the world based on technological, sports and artistic proposals.

 

Scholas is working with the support and guidance of Pope Francis, in the reconstruction of a Global Pact on Education. One Young World closely aligns with Scholas' mission of empowering young people and providing them the tools to develop their full potential for a better world.

 

As the second most international event after the Olympics, it is important that the Summit has the voice of young leaders from every corner of the world. As a result, One Young World and Scholas have partnered to ensure that a young leader from the Vatican City is represented at the One Young World Summit. One Young World and Scholas also continue working together by developing stronger ties between their communities.
British Council

Year on year, the British Council have run a scholarship programme to send members of their Active Citizens programme to the annual Summit, sourcing applications from young leaders across the world.

 

One Young World has also driven visibility and engagement for various British Council programmes, including #IdeasChangeLives, a funding competition to support digital solutions for the UN Sustainable Development Goals.

 

In June 2019, British Council hosted the One Young World London Caucus, which addressed the prospects of young people post-Brexit, gender equality's progressions and setbacks, and the effectiveness of the SDGs.