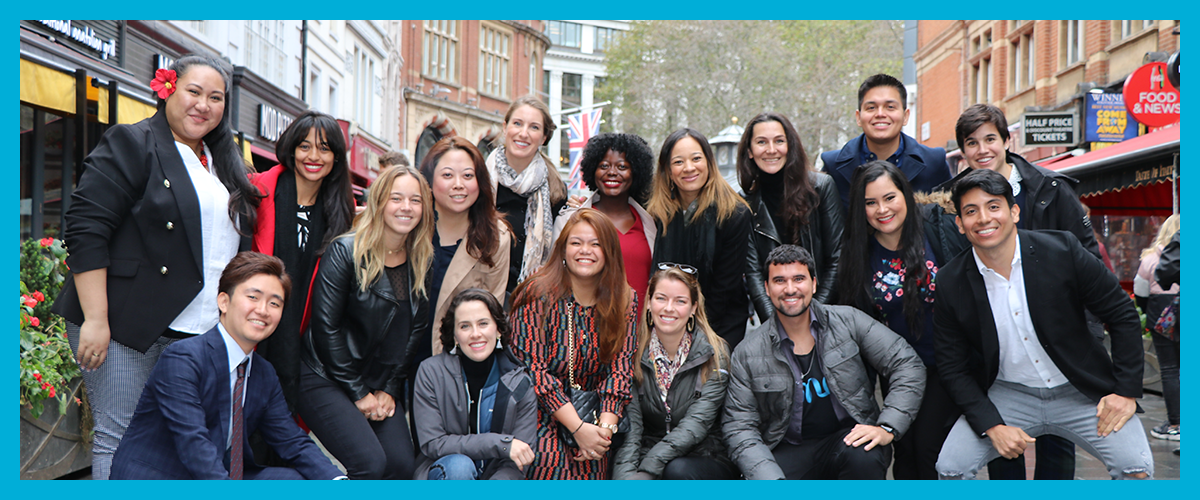 One Young World 2018 - 2019 Coordinating and Managing Ambassadors
One Young World Summits are fantastic, inspiring events, but it is after each Summit that the hard work really begins. After attending a Summit, all Delegates become One Young World Ambassadors, tasked with creating an impact in their countries, communities and organisations. This global community boasts 12,000+ young leaders who have positively impacted 20.9+ million people with their initiatives since 2010.
Between Summits, One Young World makes huge efforts to follow Ambassador initiatives, provide growth opportunities, promote their achievements, and connect them with each other. But we can't do this alone!
It is vital to follow what Ambassadors all around the world are doing in their countries, communities or businesses. To make this more effective, Coordinating Ambassadors from 26 geographical regions are selected to take the lead on reporting on the incredible work that happens in between Summits. 
Coordinating Ambassadors are the glue that holds the community together and the linchpin between the One Young World team based in London and the thousands of Ambassadors worldwide.
Coordinating Ambassadors being onboarded in May 2020 will serve until December 2021, providing their initial 6 months are successful.
Key Responsibilities
Community Engagement
Coordinating Ambassadors will primarily be expected to engage with all One Young World Ambassadors within their geographical regions. This engagement is key to sustaining momentum after each Summit, tracking the impact of individual Ambassadors and making useful connections between them.
Identifying Candidates for 'Ambassador of the Month'
Every month, each Coordinating Ambassador is responsible for nominating one Ambassador from their region as their regional Ambassador of the Month. This helps to increase engagement with the local Ambassador community whilst also collecting information for region communications and helping the One Young World team to gather data for impact analysis. Coordinating Ambassadors will ensure nominated Ambassadors complete the questionnaire in a timely manner.
Contributing to monthly regional communications
Each month, continental regions coordinate a regional newsletter. Coordinating Ambassadors are responsible for submitting their own regional contributions, with overall responsibility for managing the newsletter rotating on a monthly basis.
Coordinating Events
Between Summits, One Young World organises Caucuses to allow Ambassadors and a wider network of young leaders to connect face to face, continuously learn from key experts, and build meaningful partnerships. These Caucuses are organised with the support of Coordinating Ambassadors who help to coordinate, manage and host these events.
Supporting the Global Consultation Process
Each year in advance of the Summit, One Young World commissions extensive global research based on the topics and themes Ambassadors have agreed should be up for discussion. The findings help inform content for the Plenary Sessions and assist in identifying areas of interest for main Summit content.
What are we looking for in a Coordinating Ambassador
Besides the individual skills and qualities that you can bring to this role, it is essential that you possess the following things:
A high level of written and spoken English
A passion for the aims of One Young World and activities of Ambassadors
An enjoyment of connecting with others and building relationships
Ability to coordinate, manage and host events
The ability to commit meaningful time and effort to the role
You must live in the region you intend to coordinate
Personal access to a computer and internet
Please note that you can only apply to be a Coordinating Ambassador if you have already become an Ambassador by attending a One Young World Summit.
What our current Coordinating Ambassadors say
"My favourite part about being a Coordinating Ambassador is the inspiration I get from learning about and celebrating the exciting change that is being created by Ambassadors in my region. Also, it has been a wonderful opportunity to network with Ambassadors and other Coordinating Ambassadors - it makes me feel like I am two people away from meeting anybody in the world!" - Issac Olufadewa - Coordinating Ambassador, West Africa
"I love my role as Coordinating Ambassador because it gives me the opportunity to work with brilliant Ambassadors and collaborate with companies in other countries. I've also met lots of people who have turned from friends to family!" - Emmanuele Parra - Coordinating Ambassador, Asia 3
Any questions? Please email [email protected]