The end of March will mark exactly a year since icon, struggle stalwart, leader and mentor close to many of our hearts, Ahmed Kathrada, or as many fondly know him,Uncle Kathy, passed on. An imminent void has been left as we mark the annual Anti-Racism campaign aimed at tackling the root causes of divide in South Africa's democracy over the past two decades.
This week also marks a much-needed campaign in the country which must be supported and grown to address racial issues affecting our society - Anti-Racism Week 14-21 March 2018. During Anti-Racism week, there are a range of activities aimed at tackling racism, managed by Anti-Racism South Africa (ARNSA) and the Ahmed Kathrada Foundation. Their events are open to the public but also require each of us to advocate for action and #RootOutRacism both during and beyond the week as well.
Racism is a complex, deep-rooted issue tearing away at the value of our constitution, our social interactions and attempts at nation-building. It is the single biggest issue which requires urgent focus and healing or it will lead to a disastrous tide and uprooting of the benefits of democracy. 
Recent events speak for themselves; white farmers placed a black man in a coffin to scare him, Penny Sparrow ranted on social media calling black people "monkeys" and more recently, the Economic Freedom Front (EFF) trashed H&M stores over an advert depicting a monkey on a "black" boys' t-shirt.
Another issue is that race is now intertwined with class and linked to the land issue, where there is growing support around land expropriation without compensation but little foresight of the racial undertones and implications for the nation's unity around this, as described by One Young World Counsellor Thuli Madonsela as being South Africa's Land Fable. I would actually recommend land expropriation should perhaps rather begin with Nkandla, former President Jacob Zuma's home which cost tax-payers millions.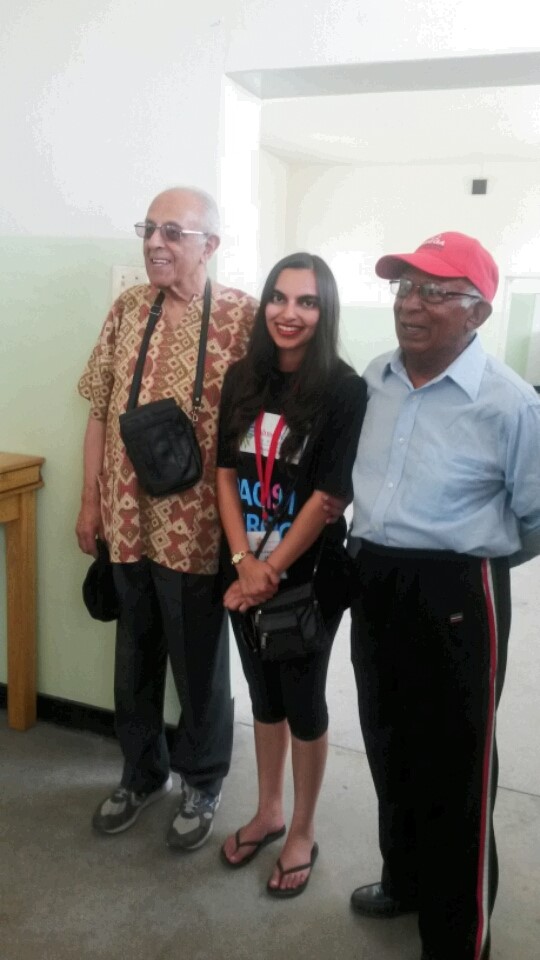 Shakira Choonara with Struggle Stalwarts Ahmed Kathrada and Shirish Nanabhai. Ahmed Kathrada Leadership Camp, Robben Island, 2015.
Working in the health sector, we are well aware of the disparities along racial lines. The South African Reconciliation Barometer, an annual must read on where the country is in terms of race and reconciliation, rightly points out linkages to poverty and inequality but the realities are merely unacceptable. For example, why are we accepting clear discrimination and not challenging South Africa's white only town Orania, which has its own currency and president but no place for people of colour - over twenty years after apartheid was ended?  Working in healthcare, I fail to see the outcry over the Limpopo doctor who segregates patients and staff according to race – separate consulting rooms, kitchen utensils, rates and even toilets.
These issues are simply passing us by at the moment, and there is little attention from our so-called leaders who are subsumed with party politics and populism at the moment. These issues indicate an unravelling situation in the country which, if not addressed and urgently, will eventually lead to an explosive situation.
My thoughts are shaped by Anthony Appiah's arguments that racism is a social construct, or the Marxist argument that class is the basis of divide. Even writing the article, I feel uncomfortable using racial classifications. In South Africa, deep rooted racism is linked to our mindsets – it's not our fault but it's a result of our history. This social construct lives on and continues to shape social interactions, opportunities in life, and is even used to mask inequalities and failed promises by many of our politicians.  Having been an advocate for non-racism, my concern is that few young people believe or support the ideals of non-racism. If anything, there is growing anger and we are moving further and further away from this ideal which will be to the detriment of our country.
Just like many international days and campaigns, a week would hardly bare solutions, however it is an imperative start to changing the landscape. Crucial steps include finding solutions, building advocacy and reaching out to all citizens to address this volcanic issue which has been swept under the rug time and time again.
These are the key messages I wish to convey this week;
I want the Minister of Health and the broader public health community to state their outcry on the Limpopo doctor but also come together for action on the issue.
I want us to ask and challenge why we are allowing Orania to exist.
Challenge yourself, your understandings and perspectives on racism. Constantly reflect on classifying people, why forms in our country categorise you and why race is such a central component of our mindsets. Attempt to change it.
Let's be honest yet constructive. Processes of healing must happen, tough as they are but we need the right facilitation and ways forward in workplaces, social spaces and our homes.
Speak out if and when racism is witnessed. This year's theme is particularly powerful: #RooutOutRacism. I call out racism even within my own personal spaces when I witness it.  I am also proud to have started changing the discourse, language and classification of children in my family who I constantly challenge and build awareness on these issues.
I suggest two things which lead to changed perspectives: taking sociology courses at university, and visiting historical spaces and learning from the leaders who fought against racial domination.
This blog was written by Dr Shakira Choonara, One Young World Ambassador 2017 and Patron and Role-Model for Non-Racism in South Africa as part of Anti-Racism Week 14-21 March 2018. She is an alumnus of the Ahmed Kathrada Foundation Youth Leadership Programme.