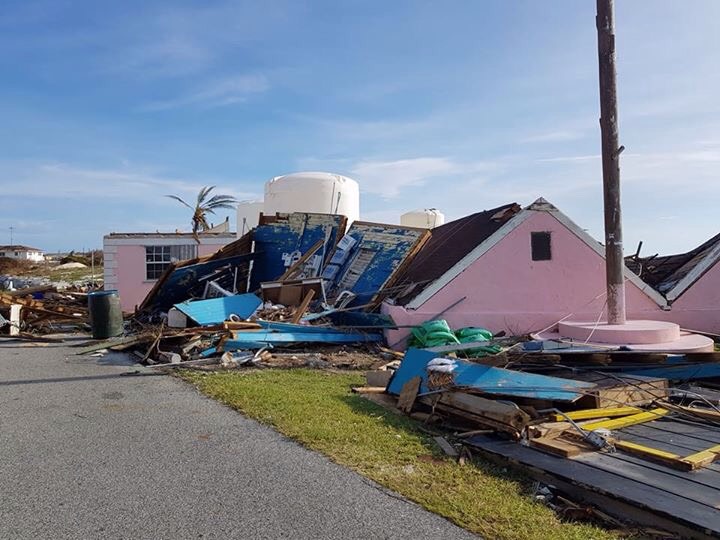 It's hard to really put into words what the Caribbean has been through in that past two weeks. I sit here in Grand Bahama, blessed with a roof over my head only because of the unpredictable workings of nature.
You've seen so much drone footage of devastation across the islands that you're probably not even able to differentiate which country you're actually being shown. For days before Hurricane Irma even hit the islands, meteorologists knew that she would be a storm like no other. For us that were hunkered down in our own homes awaiting our fate, listening to local news and international media didn't make it any easier to brave the storm. We were looking down the barrel of a smoking gun with absolutely nowhere to run and only faith to cling to.
It would be very remiss of me if I didn't mention that a storm like Irma was inevitable. Yes, it is in fact hurricane season and yes, we do live in a hurricane-prone region, but a storm like Irma has always been one of the many predictions that climate scientists knew would be on the way as a result of climate change.
Our years of arguing over rhetoric has left us with this, a situation most Caribbean countries are not only unprepared for but one we didn't even create. Hurricane Irma could have very well opened the doors for a wave of climate refugees coming out of the region. Science has shown us that Irma is only the first of many devastating storms to come and with The Bahamas bracing itself for Hurricane Jose's potential impact we're not that shocked.
Even still in the face of glaring adversity, Caribbean Islanders in affected countries have been able to keep faith that we will rebuild and we shall. You've seen International media say that countries have been wiped off of the map. It's true there are physical places that genuinely do not exist anymore, but the people still stand and with help we can rebuild.
 
Hurricane Jose's looping path may bring it back towards the US and the Bahamas https://t.co/7LCtp9hkrE pic.twitter.com/JBA2sPulE8

— CNN International (@cnni) September 13, 2017

Here's how:
Antigua & Barbuda

With Barbuda being 95% uninhabitable, the island will need to be rebuilt from the ground up. Fellow One Young World Ambassador and President of The Red Cross in Antigua and Barbuda, Michael Joseph, is heading the Red Cross' Relief efforts in that country. For more information on donations coming out of Antigua you can go to A&B Red Cross. 
US Virgin Islands

Hurricane Irma left islanders from St. Thomas and St. John with little to nothing and many citizens had to be evacuated. To donate to the rebuilding efforts, you can do so here. 
Cuba
Like many of the islands devastated, critical infrastructure in  Cuba was damaged. Global Giving has started a fund to meet the immediate and then long term needs of Cuba.
Puerto Rico
For those that would like to physically give their time, National Voluntary Organizations Active in Disaster (NVOAD) is registering volunteers to lend a helping hand in Puerto Rico.

St. Martin & St. Barts

After dealing with severe looting in the capital three days after the storm, order has now been restored. The two islands currently are without all basic amenities that includes but is not limited to, running water, electricity, and access to food and fuel. You can donate to official funds at Rebuild RebuildSXM or Make St Maarten Great Again. 
The Bahamas

While many of the  islands in the Bahamas missed Irma's destructive path, the country was not left completely unscathed. Islands in the Southern Bahamas who were still recovering from Hurricanes Joaquin and Matthew of the 2015 and 2016 season respectively took a direct hit. With islands like Inagua suffering severe structural damage and Ragged Island being declared uninhabitable. You can find out how to help here.
Ashleigh Rolle is a One Young World Ambassador from The Bahamas. She is one of the cofounders of Skipper, an online platform that connects travelers to boat captains in order to make travel between the 700 Bahamian islands more accessible and more affordable.  In 2015, Ashleigh became the country chair for the Bahamas for the organization Global Dignity, an organization that was cofounded by Prince Haakon of Norway.