This article originally appeared on Chartered Accountants Worldwide's blog. 
"Incredible", "invigorating", "perspective-changing": those were some of the impressions from ten young Chartered Accountants who were chosen to take part in this year's One Young World summit in Bogotá, Colombia. Every year, Chartered Accountants Worldwide sponsors a group of young leaders from its member bodies to take part in the global leadership summit, which attracted close to 1,600 young leaders from 196 countries. Here's what they learned from this year's event.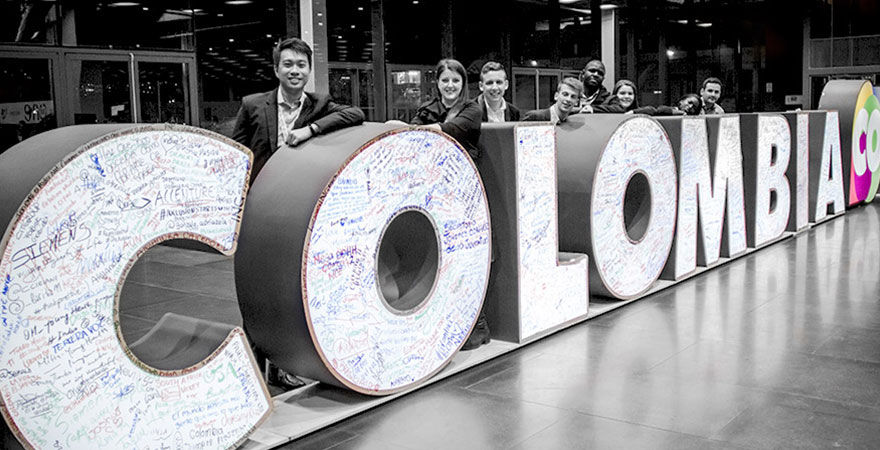 This year, the CAW cohort came away inspired by the discussions around themes of leadership, change, and sustainability. Their collective goal was to discuss and address the challenges facing the world: issues ranging from issues ranging corruption, humanitarian aid, environment and education to LGBT, diversity and inclusion, and peace and reconciliation. They also considered how the analytical and problem-solving skills of a Chartered Accountant can contribute to addressing those challenges.
Sustainability goals
One Young World aims to embed the United Nations' global sustainable development goals (SGDs). Good systems of measurement are critical for assessing progress against such high-level and broad-ranging objectives – and that's where accountants come in, said Mose Kutadzaushe from South Africa, an entrepreneur and investment specialist with Investec. "The accounting profession is uniquely qualified to develop an accounting framework that can bring convergence in the way that institutions from different parts of the world account for impact being made on the different SDGs," he said.
Beyond the metrics, the accounting profession can play a vital role in translating the UN Global Goals for Sustainable Development into a "visionary new reality", said Dara Latinwo, an ICAEW student training at Deloitte in London.
"If our profession could create the frameworks to meaningfully incentivise companies to view and accept their societal role and responsibilities in a radically different way, I feel that this could generate a new culture of trust and respect that would yield far-reaching and transformative benefits for all, rather than a fortunate few," she said.
Building trust
Accounting remains one of the central functions in any business, thanks to practitioners' knowledge and experience in corporate governance issues, legal and regulatory matters. That's the view of Muhammad Ashiq Chu, an Assistant Manager in PwC Singapore's General Assurance team. He believes accountants are custodians of trust in business, and they must uphold that trust. "We must be brave to speak up against actions that go against the core values of the accounting profession – integrity, professionalism and excellence. We need to show the larger community that we are strong defenders of these values and this will build trust in the profession and the role that we play in businesses," he said.
Leadership role
Sinead Fox-Hamilton from Ireland, winner of the 'Young Chartered Star' 2017 competition, identified leadership as a key theme from the event. "There was a vein running through many of the presentations and discussions being that we can all be leaders today, and that small changes can collectively amount to a lot," she said. "There was real encouragement for us all to make strides to making a positive impact. I have a renewed sense of purpose in that I have to take ownership for putting the skills and expertise I have to full use and ensure I am contributing to society."
Leaders also play a key role in creating an inclusive culture that accepts diversity in their organisations. "The best leaders at all levels foster a truly human environment, where people are encouraged to be their truest and best selves, both professionally and personally, because diversity is what makes winning organisations stronger and more innovative," said Alutuli Alutuli, who is on secondment from KPMG in Zambia.
Societal impact
Social business emerged as another talking point at the summit, according to Harry Flett, who is studying a BCom majoring in Finance and minoring in Accounting at the University of Otago in New Zealand. "While I have never considered myself an entrepreneur, or intended to be one, One Young World highlighted the importance of bringing an entrepreneurial spirit to the workplace, and emphasised the ability to both succeed in a corporate position and make an impact in the world around you. The two aren't mutually exclusive – profitability and social impact can work hand in hand; a notion that has altered how I view my work."
Lasting impressions
One Young World tackled numerous serious global issues, seeking to inspire young leaders to change the future. For UNISA student, motivational speaker and author Sibiso Molimi, the highlight of the conference was a panel discussion in which Colombia residents gave talks on peace in their country. Jozo Frankovic, a fifth-year Bachelor of Commerce student at the University of Wollongong in Australia, said the summit changed his views on global issues and local action. "This experience has lit the fuse within me to put my energy towards making an impact in my local communities," he said. Jonny Jacobs, winner of the 2017 ICAS One Young CA and 35 CAs under 35 competition, summed up the summit as follows: "To be part of One Young World leaves you with a much wider world perspective and a huge motivation to improve our world," he said.