On two separate occasions (November 2018 and March 2019), I have presented recommendations to the Senate Committee on Police Affairs on the need to include human rights principles in the Police Bill. These were included in the new Police Act recently signed into law a month ago, but little has been done to implement this law. This should have served as a fulcrum for the much needed police reform in Nigeria. With strong implementation of the Police Bill, perhaps the #ENDSARS protest will not have occurred.
The #ENDSARS movement is a movement by young people for young people to end all forms of police brutality that is usually perpetrated by the Special Anti-Robbery Squad (SARS) in Nigeria. Many young people have lost their lives and many more have been robbed by many rogue officers in this "special force" who were meant to protect them.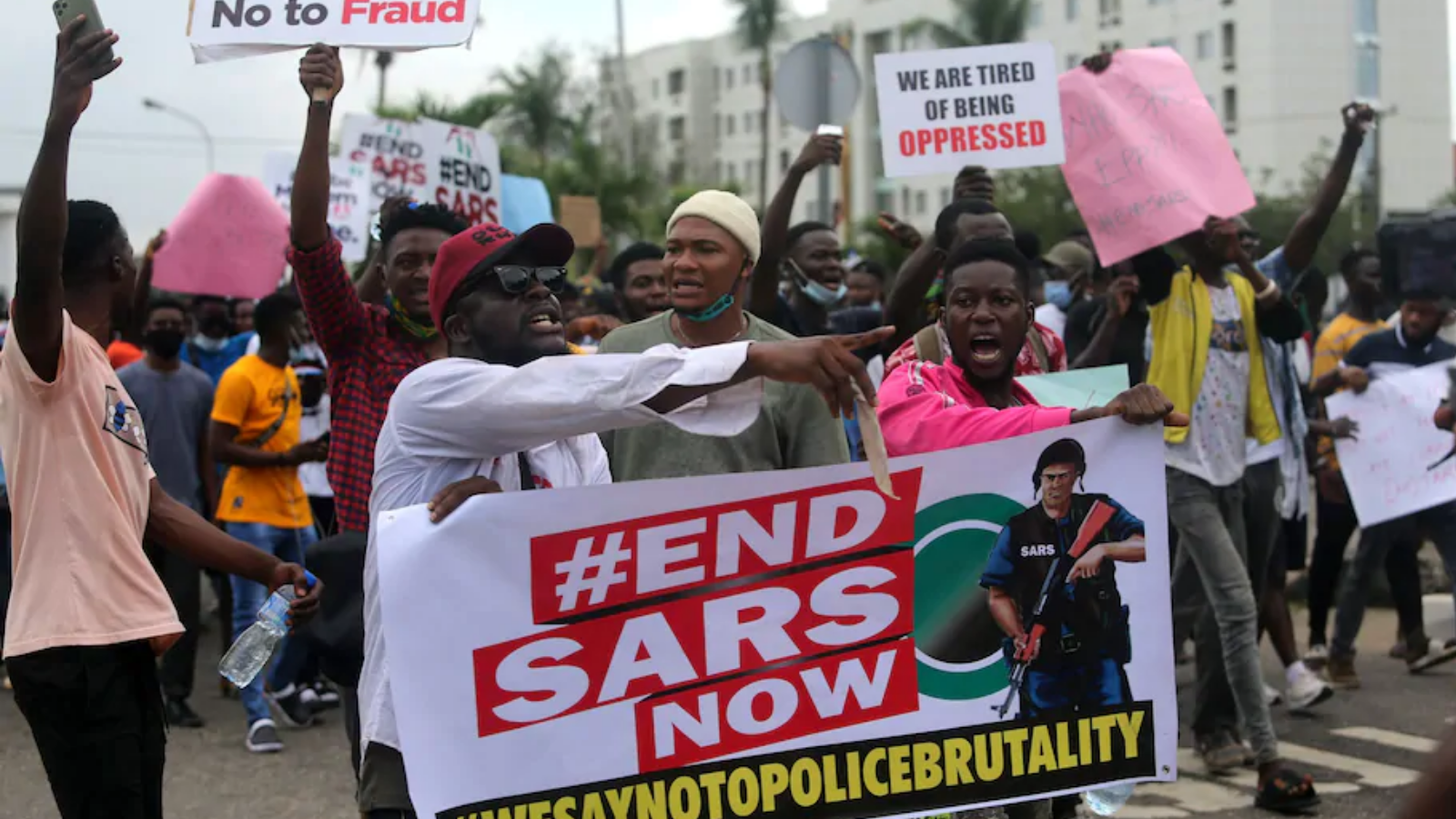 Photo: Akintunde Akinleye/EPA-EFE/Shutterstock
The Special Anti Robbery Squad - SARS is a unit of the Nigerian police force created to handle violent crimes in Nigeria. They are a special unit that have a similar job role to the SWAT team in the United States of America. However, for several years now, this unit has taken laws into their own hands and have extra-judicially killed, extorted and brutalized millions of young people in Nigeria for the most flimsy excuses such as having dreadlocks or using an iPhone.
I lead Citizens Gavel and I am one of the lead lawyers championing the protection of citizens rights as enshrined in various human rights laws. I lead a 7-member rapid response team and over 160 volunteer lawyers across 24 states in Nigeria. Me and my team at Citizen Gavel have been involved in the release of many victims of police brutality and have strategically positioned themselves across "hot zones" to help people who have been unlawfully arrested and detained protesters get justice.
On Sunday, 11th October, 2020, the Inspector-General of Police disbanded the unit. However, there is still work to be done to completely stop the human rights violations in Nigeria.
I have vowed to continue to lead and support human rights interventions in Nigeria as well as hold rogue police officers accountable.
My agitations are not only against the brutal SARS unit, but for the whole police force in Nigeria; I strongly advocate for a reform of the Police Force especially now that there is a new law. The old law under which the police operated until 2020 was enacted in 1943 under colonialism. The actions of SARS is a reflection of how the accountability mechanisms in the Nigerian Police Force have not measured up enough. Those who are meant to protect young people must not be the ones to kill innocent young people.
The efforts of young people in Nigeria and those in the diaspora to demand for the government's dismantling of SARS and the Police Force is commendable. Our resolve is getting us the result that we desire. However, we must not stop until we achieve full success. Torture, intimidation and killing of innocent people by "trigger-happy" police officers must stop.
All forms of injustice and police brutality must end now!
Watch Nelson's speech at the One Young World 2019 London Summit about his work with Gavel: