Dressed by Burberry, with whom she has been collaborating for six months, the One Young World Ambassador recently returned from Davos where she spoke to delegates at the World Economic Forum on the importance of inclusivity in business. That followed a Ted Talk about retail design last year which has registered more than 1.23m views.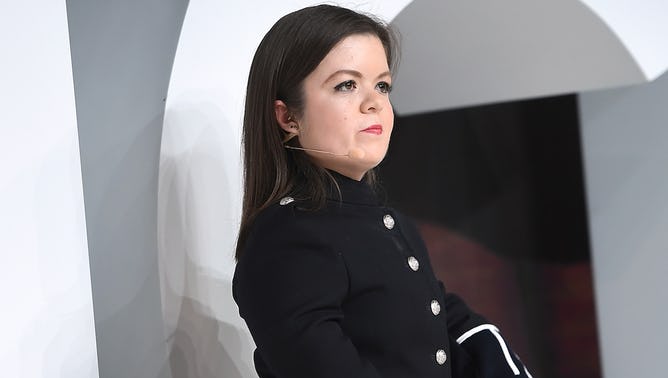 Due to her condition, achondroplasia, the most common form of dwarfism, Sinéad, 27, stands 3 feet 5 inches tall in her children's size 11 shoes. "A lot of the shoe options I'm offered have velcrose straps rather than laces or they light up," she says. "That's great if you're a child but not great if you're trying to be a professional."
She does not allow such issues to curtail a passion for clothes that began in childhood. Her blog, Minnie Mélange, has more than 15,000 Instagram followers, including influential figures in the fashion industry. At the unveiling of Christopher Bailey's final collection for Burberry, Sinéad was a guest of the fashion house and was photographed alongside the runway with Edward Enninful, editor-in-chief of Vogue UK.
But she is an activist and her aim is not so much to hang out with these fashion leaders as to engage them in discussions that can bring about meaningful change, she says. "I would like to be the instigator of difficult but important conversations within that establishment and try to tilt the lens through which they view the diverse customer."
A qualified school teacher who is studying for a doctorate at Trinity College, Dublin, her life has recently been transformed by the success of her campaigning work on her blog and social media. She was the only female Irish delegate to attend Davos.
Ahead of the opening of Paris Fashion Week, she set out how she believes the industry must change to accommodate people with disabilities and other marginalised consumer groups.
1. FASHION STORES
Retail outlets need to be designed with all shoppers in mind, she says. "I walk into a high street retailer and most things are out of my reach. That makes the shopping process very difficult but it also impedes on my independence. My money has the same value as yours and yet due to the design of a retail space we have entirely different experiences that limit my access and choice as to what I can buy."
Staff in such stores must be trained to offer help without fearing that they might sound patronising. "The way in which our society works is that disabled people and other minority voices are continually being the individual who advocates for themselves and while that's important it's also exhausting," she says. "I think those who are the majority voice need to take some responsibility in this. [Staff] are afraid of saying the wrong thing or being patronising but if you are just inviting people to accept your help they will be really appreciative of that."
2. FASHION COLLEGES
Professors and lecturers need to take a fresh approach, Sinéad argues. "Student designers need get to experience and explore the challenge of designing for people who do not fit within the bell curve that the fashion industry determines as beautiful," she says. "Why can't students collaborate with disability advocates to make sure that the process is more attentive so that when they go into fashion houses and brands they can instigate conversations at a level at which change can occur?"
Sinead at OYW 2014 in Dulbin.
3. MODELS
Fashion's role models can influence so many other sectors, from film to music, with their shared red carpet cultures, Sinéad says. "Fashion needs to step back and not just employ the same celebrities to represent their campaigns because it's not signifying the true diversity of society," she says, arguing that a broader range of models will boost the self-esteem of today's children. "That visibility will help the next generation to see themselves in a different way because growing up I never had somebody who looked like me in a book or in a film or on the runway. I thought those places were just closed off to me. But it was because those in power never considered me as a customer or a design expert or consultant - they just weren't aware of my existence and that lack of consideration brought about explicit exclusion."
4. CLOTHES
Technology, Sinéad believes, is the way to meet demand from consumers who are currently marginalised by fashion retailers. "Garments should be available in the sizes in which customers need them. I'm very much aware that if I am trying to get high heels made in my size there are two problems - one is that the market for those shoes is not huge and brands work on profit margins and ability to scale. Then there's the issue of the sexualisation of children if we make those high-heeled shoes available in  children's size 11. But I think technology can be a solution. If 3D printing is available in the home, why can't I buy a package from Nike, Adidas, Jimmy Choo, Manolo Blahnik…and customise that for me? It would still be expensive but it comes down to choice and looking at these things as a creative and innovative opportunity instead of something companies have to do to adhere to legislation or to be appearing to be inclusive."
5. FOLLOW GOOD EXAMPLES
Open Style Lab is a company based in Boston, United States, dedicated to creating technology-based wearable solutions for people of all abilities, without compromising on style. Sinéad likes the fact that they are partnering with design students at Parsons School of Design in New York City to give them a "more realistic" fashion education. "That's an example that needs to be exemplified across academic institutions," she says.
Lucy Jones is a designer from Cardiff, Wales, based in New York City. "Solution-based design" is her stated ethos and she has produced a collection for self-propelled, seated people. "She is an amazing adaptive fashion designer doing incredible work that is being presented all over the world including at Smithsonian Museum the New York," says Sinéad.
Alleles Design Studio is a Canadian business dedicated to producing fashion-forward and affordable prosthetic covers for arms and legs. "They've made that space more aesthetically pleasing, taking it out of the medical model and looking at it as a design challenge," says Sinéad. "It gives the consumer confidence and a way to exhibit their personality."
On a personal level, she has reason to thank the progressive attitude of Burberry, which invited her to speak at the Business of Fashion conference, Voices, after the reaction to her Ted Talk. The collaboration has been ongoing and she has advised the fashion house on producing its classic trench coat to suit more diverse body shapes. A child's size was impractical for Sinéad because of her bust, but a size 6 coat saw her "engulfed in fabric". Burberry tailors were able to recut the coat to accommodate her size and her curvature of the spine. The learning from that exercise could be applied more widely, she believes. "That small educational tool can be employed within the mainstream collection because how many customers have a wider hip measurement than waist measurement? I think that's quite a lot of people!"