By Harriet Kamashanyu, Ruth Wacuka and Mary Helda Akongo. #OneYoungWorldEastAfrica.
One Young World Summit 2020 Flagbearers Ceremony
The theme of International Youth Day 2020, "Youth Engagement for Global Action" seeks to highlight the ways in which the engagement of young people at the local, national and global levels is enriching national and multilateral institutions and processes, as well as draw lessons on how their representation and engagement in formal institutional politics can be significantly enhanced.
As the United Nations turns 75, and with only 10 years remaining to make the 2030 Agenda a reality for all, trust in public institutions is eroding. At the international level, against the backdrop of an increasingly polarized world, the international system of governance is currently undergoing a crisis of legitimacy and relevance.
In particular, this crisis is rooted in the need to strengthen the capacity of the international system to act in concert and implement solutions to pressing challenges and threats (examples include some of the worst contemporary conflicts and humanitarian emergencies, such as Syria and Myanmar, as well as global challenges, such as the COVID-19 outbreak and climate change).
Enabling the engagement of youth in formal political mechanisms does increase the fairness of political processes by reducing democratic deficits, contributes to better and more sustainable policies, and also has symbolic importance that can further contribute to restoring trust in public institutions, especially among youth. Moreover, the vast majority of challenges humanity currently faces, such as the COVID-19 outbreak and climate change require concerted global action and the meaningful engagement and participation of young people to be addressed effectively.
COVID-19 affects all segments of the population, with young people playing a key role in the management of this outbreak and the recovery following the outbreak. Though much is still unknown on how the disease affects young people, governments are mandated in the World Programme of Action for Youth (WPAY) to ensure their services meet the needs of young people. In these circumstances, it is important to ensure that youth are heard alongside other community and patient voices in the rollout of health and non-health interventions in response to COVID-19.
Building up the capacity of young leaders to be able to make their own decisions on health and to take responsibility for health is also a key element of WPAY. In this context, health education, public health promotion, and evidence-based information are critical in combating the spread and effects of COVID-19, especially to challenge the spread of disinformation online.
The role of governments as well as youth organizations and community groups will be essential to ensure that trustworthy public health information is disseminated. Young people themselves are also utilizing online technologies to spread public health information in engaging ways such as videos to promote effective hand washing or explain how social distancing can save lives.
Young innovators are already responding to the virus through social impact innovation. Around the world, a number of initiatives are being developed to leverage young people's efforts to generate and deliver support to at-risk populations or populations affected by the pandemic. Whilst most of these initiatives are on a voluntary basis (e.g. young people offering to shop for and deliver food to elders or at-risk people), they can also take the shape of social enterprises. Many youth-driven technology innovation hubs are supporting startups to develop effective solutions to address COVID-19.
One young world (OYW) Ambassadors all over the world are stepping out of their comfort zones and taking the lead in developing solutions that are addressing the effects of the Covid-19 pandemic in all their respective communities. During pandemics society's most vulnerable pay the highest price. However, our young leaders have shown that they can be solutions to global problems within their specific regions.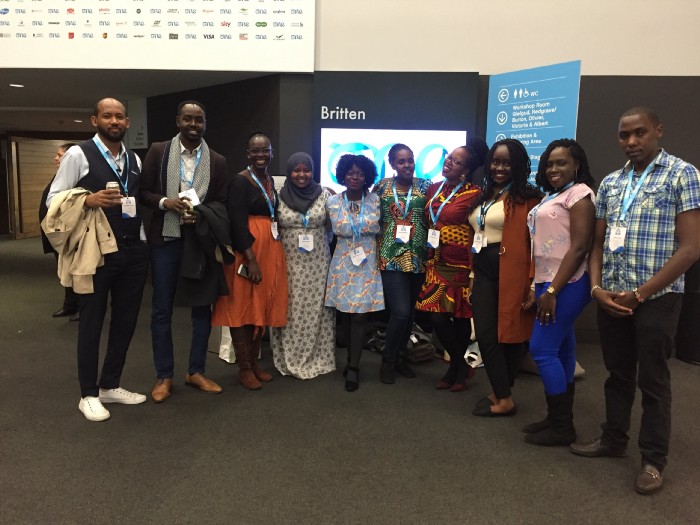 Some of the One Young World East Africa Ambassadors at the One Young World Summit in 2020.
Some of the young people who are tackling challenges related to COVID-19 from the One Young World East African Community are; John Jal Dak John (Uganda) through Youth Social Advocacy Team, is working on The Refugee Emergency Response on COVID-19 project, an initiative that aims to give the refugee community knowledge, attitudes, and practices to prevent them from contracting COVID-19.
During a pandemic we are seeing more reliance on families and friends — it is not the case for care leavers; who are young people above 18 years of age exiting orphanages. The continued lockdown isolates this group, even more, increasing their vulnerabilities to the already existing challenges. With such comes loneliness and exposure to more risks of mental health and the inability to financially cater for themselves and their families. Ruth Wacuka through Reroot Africa — is helping care leavers in Kenya by supporting some of the immediate basic needs by delivering food, reusable masks and hygiene products while linking care leavers to mental health services.
Among the harmful effects that the pandemic has caused in the world is the marked increase in abuse against women and children. They are being exposed to violence due to the domestic confinement imposed by the lockdown and the general situation of lack of work, impoverishment and food insecurity. Through his social enterprise " Erq Maed '' based in Ethiopia, Ephrem Bekele has been on the front line offering solutions to most of the GBV cases by offering free mental health services to victims of domestic violence. Isabelle Kamariza (Rwanda) whose organization Solid' Africa is providing aid to the most vulnerable patients of Rwandan public hospitals.
Please click here to read more about the work that other Ambassadors are doing.
It is a key moment in Uganda currently as potential candidates campaign electronically presenting their manifestos fit for election. It is encouraging to witness the numbers of young people that are challenging the status quo in the readiness to take up political positions. Young people ought to bridge this inter-generational gap in all aspects.
We are no longer "Leaders of tomorrow" as per the common old saying, rather we are leaders of both today and tomorrow. Let's take full charge!
This article was originally published on Medium.com.