This blog originally appeared on The Hippocratic Post.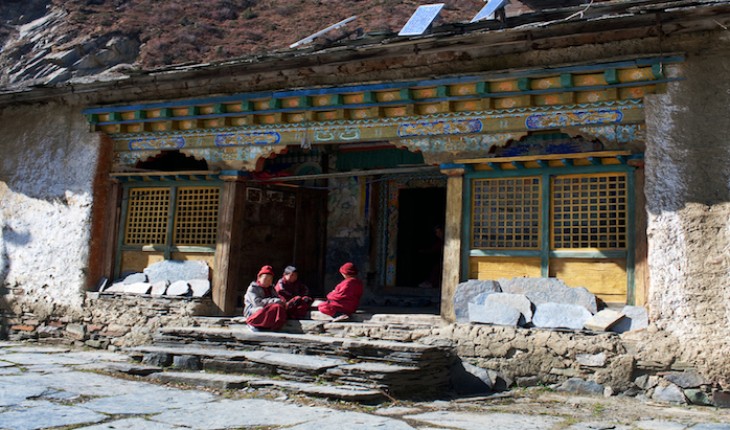 'Nothing in the Highlands of Nepal works much. Even Kathmandu, the main city of Nepal and its largest municipality, cannot provide services – water, electricity or sanitation. The electricity in our sector has been off for 5 days.
Other parts of the country, especially in the Highland regions where I come from, are even more underdeveloped. Tsum, a remote valley in the northern part of Nepal, can only be reached from the last bus stop after walking four to five days on foot. There is no electricity in Tsum, no running water, sanitation, schools or healthcare. There isn't enough food. Many children do not make it past their fifth birthday. Many women die in childbirth others, due to easily managed chronic diseases. My own mother died of uncontrolled diabetes. She lost her life when she was only 38 because she could not get the right medical treatment.
I was one of the lucky ones. There were eight people in my family and there was never enough to feed everyone. My parents, in despair, took me to a monastery so I could become a monk, and be one less mouth to feed. That was where I gained my education at Shree Mangal Dvip Boarding School, my lama's school for poor Himalayan children like me. It was here that my interest in medicine and helping others grew. With the approval of Thrangu Rinpoche and my Principal (a senior monk), I started taking a intensive General Medicine (paramedic) course for three years along with some pathology, Standard First Aid, Aromatherapy and Craniosacral Therapy training.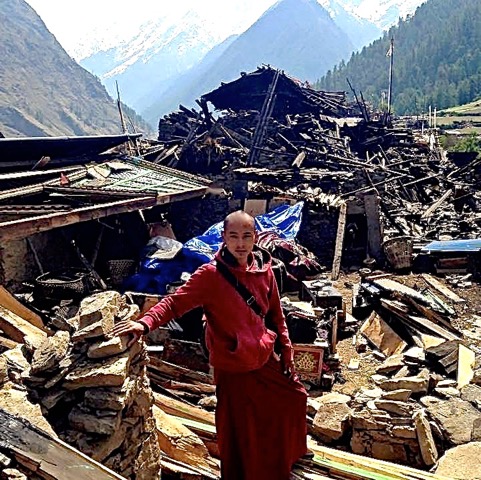 I have been able to use all my skills in relieving the suffering of thousands of people affected by the recent earthquake. The epicentre of one of the earthquakes was near the Tsum valley, where things were already pretty bad. The people there lost their livestock (yaks), their seeds and their grain. In the coldest months of the year, people have had to survive with little or no shelter. The trails have been obliterated so it is very hard to move around and there is no form of long-distance communication. I have been organising many camps offering medical care and rebuilding health posts which were destroyed in the quake. It takes many days, but we have set up caravans where porters carry medicine into remote areas and restock these outposts with basic medicines to combat dehydration, diarrhoea and treat infections. A child dies in Nepal every 18 minutes because of treatable diarrhoea and this country has the highest maternal mortality in the world.
Sometimes, if we manage to secure funding from private donors, I may be able to fly supplies in by helicopter and reach people more quickly, but each flight costs at least US$2500 per hour, so this is not a realistic long-term solution. It is wonderful if I can get to someone in time and administer a medicine that saves a baby's life or a new mum, but so often there is no one to help. Sometimes I am ashamed to call myself a Nepalese because the government is doing nothing to help. In this country, 2 per cent of the people hold 92 per cent of the power. In my opinion, they need to start wielding that power with greater compassion and wisdom before more people die through basic lack of healthcare and services.
Wangchuk Rapten, 24, is a paramedic and outreach health worker in the Highlands of Nepal as well as being a Buddhist monk who follows the teachings of Thrangu Rinpoche, a Tibetan lama who came to Nepal as a refugee and who has given education and healthcare to thousands. Wangchuk is an Ambassador for One Young World, a network of over 6000 young leaders creating positive change.