by Daniel Yates, OYW Ambassador and Vice President at JPMorgan Chase & Co.
"If imagination doesn't cost you anything, why don't you imagine the wildest things?" These were the words of Nobel Peace laureate and banker, Muhammad Yunus, at the One Young World summit last month.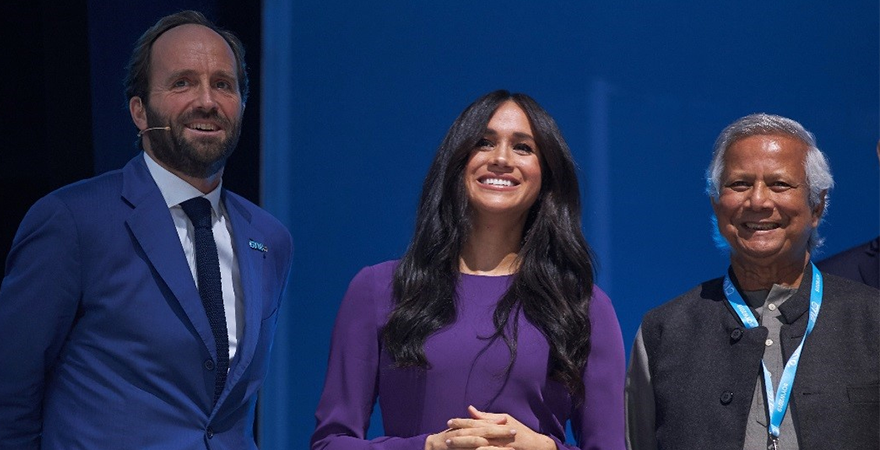 The Duchess of Sussex (center) and Muhammad Yunus (right) (Photo credit: One Young World)

Often referred to as the 'young Davos,' One Young World brings together more than 2,000 young leaders from over 190 countries with the aim to identify, promote and connect the world's most impactful young leaders to create a better world. I was fortunate enough to attend this year's Summit in London on behalf of J.P. Morgan. I was selected to attend after I gave a speech at the Mansion House on the UN's "Sustainable Development Goals" in front of a 130 person audience, which included the co-founder of One Young World, Kate Robertson.
The Summit began with an opening ceremony at the Royal Albert Hall with a display of cultural entertainment and a speech by the Lord Mayor, Peter Estlin, culminating in a flag bearing ceremony featuring flags from the countries represented at the event.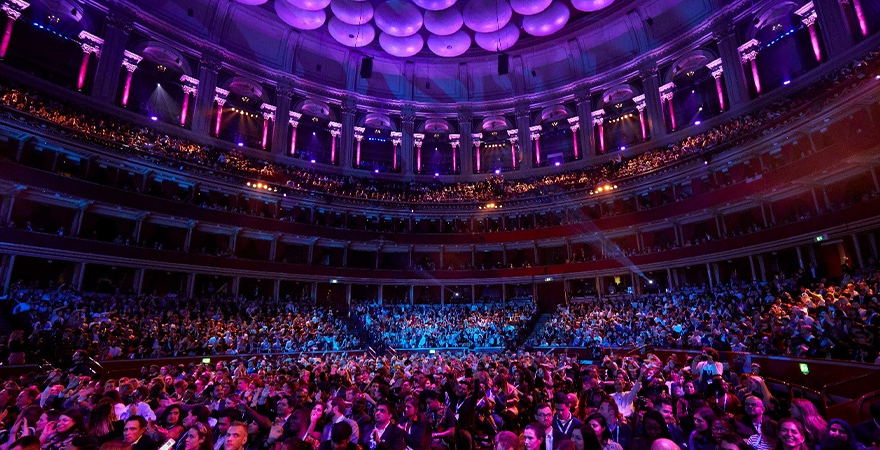 Opening ceremony at the Royal Albert Hall, London (Photo credit: One Young World)

Throughout the summit, we heard from inspiring speakers including CEOs, politicians and other influential figures. This year's distinguished speakers included Sir Richard Branson (Founder, Virgin Group), Bob Dudley (CEO, BP plc), J.K. Rowling (author, Harry Potter), Sir John Major (former U.K. Prime Minister), actor Douglas Booth (UN Refugee Agency Goodwill Ambassador), and singer Ellie Goulding (UN Environmental Ambassador) amongst others. The Duchess of Sussex, Meghan Markle, who has been involved in One Young World since 2014, returned this year to host a workshop on gender equality alongside Prince Harry.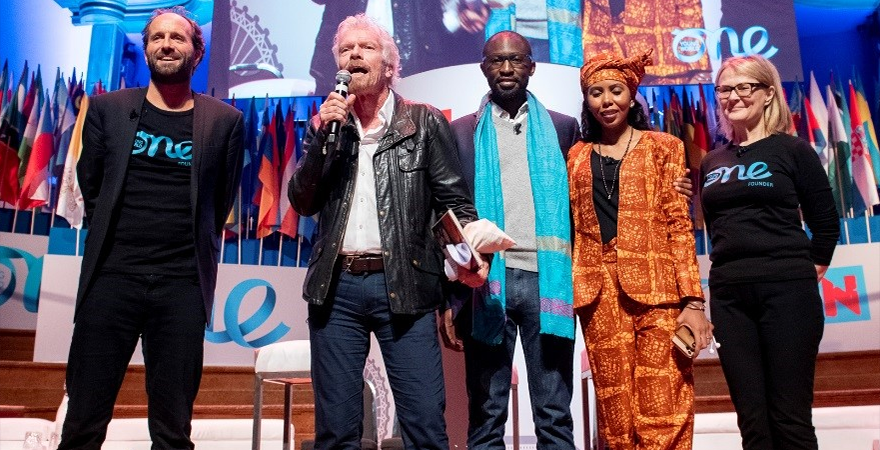 Sir Richard Branson (Photo credit: One Young World)
In addition to the numerous well-known speakers, there were also younger leaders present who are fighting for change across the world. These included the incredibly moving story of 26 year-old human rights activist, Park Yeon-mi, who after experiencing incredible hardship in her native North Korea defected at the brutal cost of having three generations of her family murdered. She now fights for human rights for North Koreans.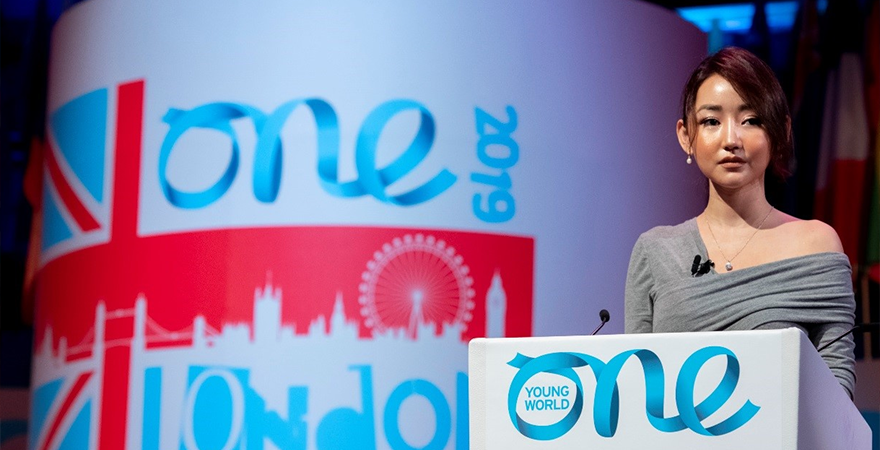 Park Yeon-mi (Photo credit: One Young World)

One of the key aims of the One Young World summit is to support the achievement of the United Nation's "17 Sustainable Development Goals" by inspiring and empowering young leaders to make changes. Muhammad Yunus, founder of Grameen Bank, was awarded the Nobel Peace Prize in 2006 for his efforts in pioneering the concepts of microfinance to help entrepreneurs break out of poverty by giving them access to credit thereby supporting social and economic development. Yunus spoke of his dream of a world with three zeros, "zero poverty, zero unemployment, and zero carbon emissions."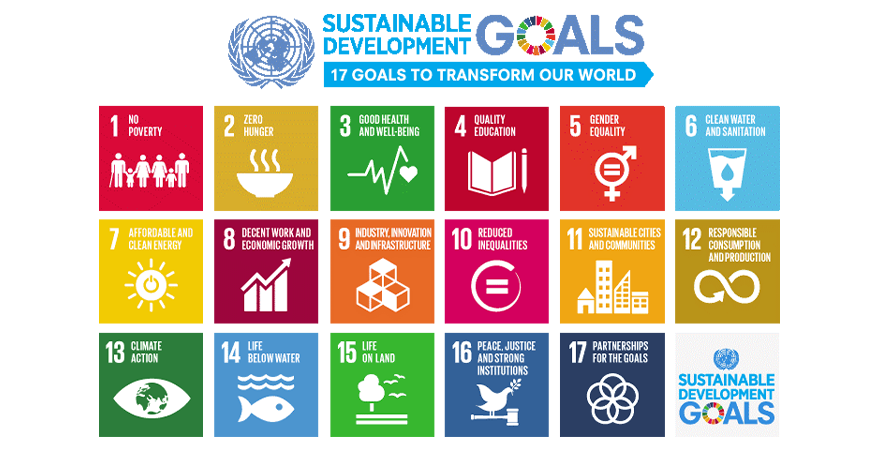 The United Nation's Sustainable Development Goals (Photo credit: One Young World)

Kojo Annan, son of the late former UN Secretary-General Kofi Annan, spoke of his father's immortal words, "you're never too young to lead and you're never too old to be led." It is in this spirit that the delegates were encouraged to deliver the change they want to see in the world and as Lord Bilimoria (Chairman, Cobra Beer) explained, "it's better to fail doing the right thing than succeed doing the wrong thing."
For me personally, it was Muhammad Yunus's words that resonated the most and his ability to inspire the delegates to "imagine the wildest things" as they return from the summit to their businesses and communities as One Young World Ambassadors.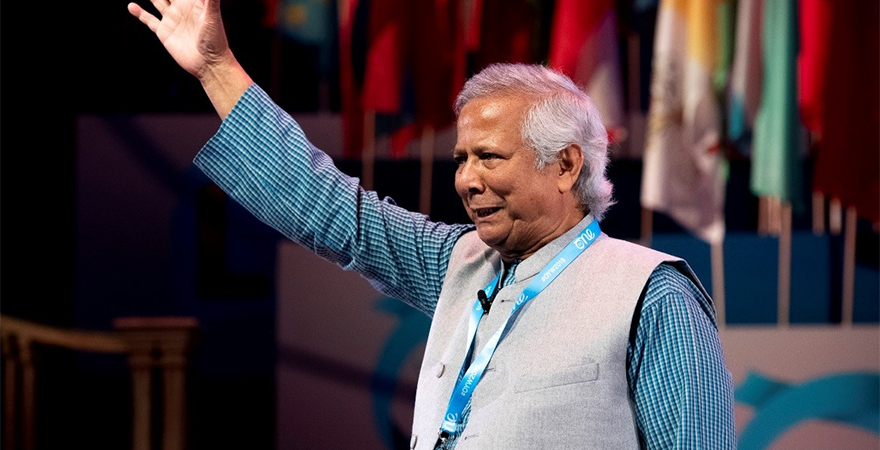 Muhammad Yunus (right) (Photo credit: One Young World)