Written by Natalino Guterres - OYW Peace Ambassador & Co-Founder of Hatutan.
Family plays an important role in people's learning and growth, especially to children and youth. A family that is nurturing and loving can help children grow to their full potential. But in some cases, discrimination and violence start at home due to lack of understanding on certain issues.
In our work, we encounter many young people who admit to being physically abused and kicked out of their homes for being LGBT. Some drop out of school due to excessive bullying and some feel uncomfortable walking out in the streets. Without the support and protection of their own families, these youngsters often find themselves in vulnerable situations.   
In February 2017, I was invited to attend a regional workshop to promote family acceptance of LGBTI persons in Manila organized by ASEAN SOGIE Caucus and ICS Vietnam. During the workshop, I had the opportunity to listen to members of PFLAG (Parents and Friends of Lesbians and Gays) from Vietnam and was inspired by their stories of coming into terms with their children's sexual orientation and identity.
And I thought to myself, how could we start such initiative in Timor-Leste, especially given that the Timorese are very family oriented? And as young people, how can we contribute to building an inclusive society? I want my own parents to be accepting of my sexual orientation. I want us to be able to talk about these things.
Committed to make changes, I gathered my fellow youth volunteers from HATUTAN and we began brainstorming ideas. We know that Timorese people are very visual, so we came up with the idea to make the video.
We have seen lots of videos out there in English which I had been wanting to show to people, including my parents, but I know they wouldn't understand English. So we decided it was time to make our own video.
We didn't have any funding when we started. But luckily, ASEAN SOGIE Caucus agreed to help cover the logistics costs and the PixelAsia Audiovisual Production Company agreed to help produce the video for free.
Despite challenges of identifying people who were comfortable enough to share their stories, we also managed to reach some very influential allies to deliver their message of support and solidarity, which include the country's Prime Minister and a Catholic Nun.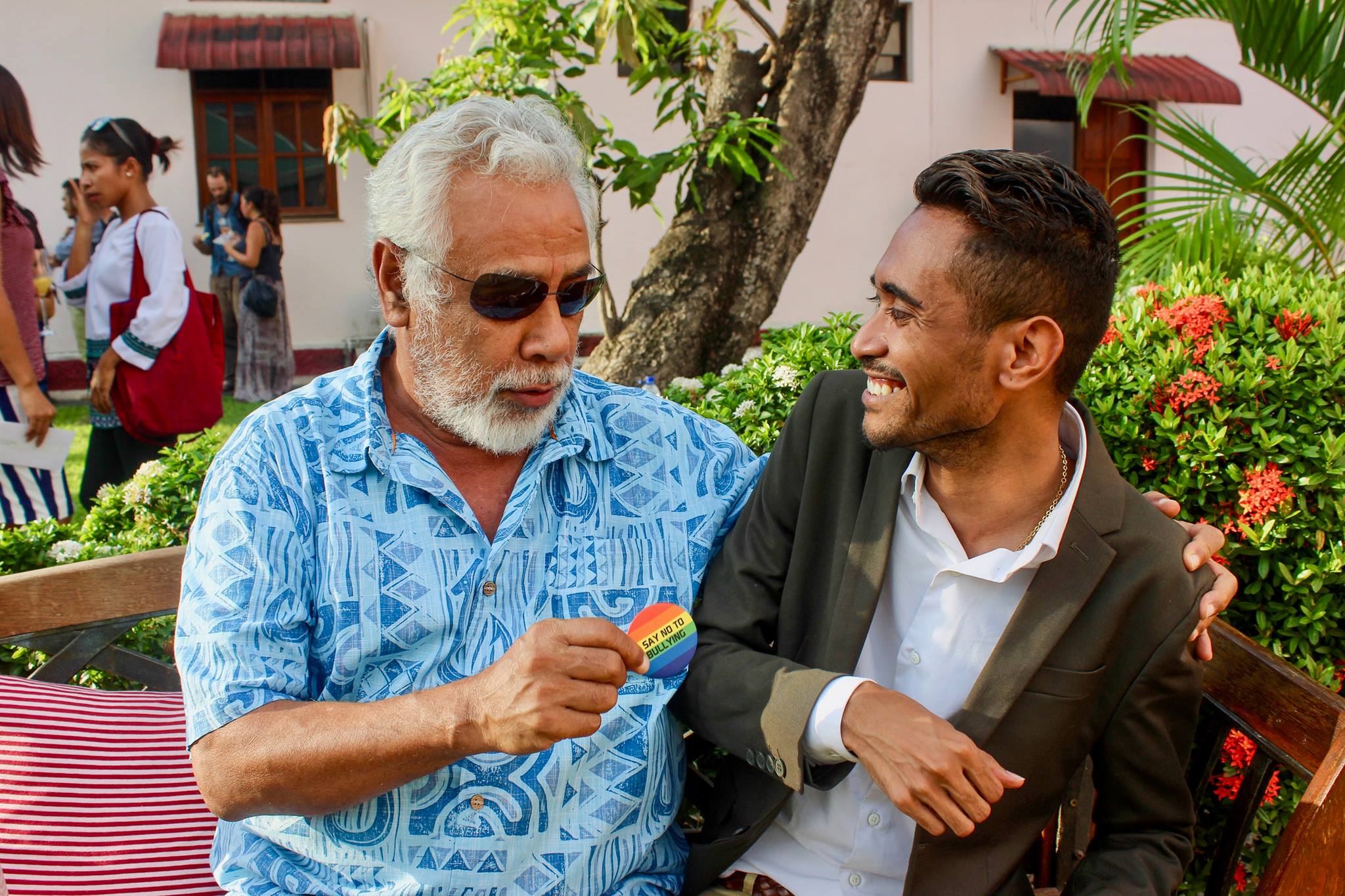 Natalino with Xanana Gusmao, Former President of Timor-Leste
The Road to Acceptance is a 15 minute-long documentary film features inspiring stories of renowned LGBTI people in Timor-Leste and addresses the struggle this community faces in the country.  
Through this video and the powerful stories of the protagonists, we hope we can help change people's perspectives on the issue and start a positive conversation, not only in the country but also in the region. In the long run, we hope that this video will be able to spark a movement of its own: a movement of parents, siblings, and friends who are supportive of their LGBT children, brothers and sisters.
Lastly, we hope that everyone who watches this video can help us share the information and use it as a tool to promote a society that is inclusive, a society that values human rights and promotes the dignity and respect for all people, regardless of their socio-economic background, disability, ethnicity, religion, health status, gender identity or sexual orientation.   
Watch The Road to Acceptance: