The One Young World Summit (OYW) 2017 in Bogotá marked the third year of partnership with The Resolution Project, an organization that runs the Resolution Social Venture Challenge and provides grants for young people who want to make a positive change in their community.
The Resolution Social Venture Challenge (SVC) is aimed at having students come up with creative and efficient ways of correcting an issue in society, whether that issue be social, political, or environmental. Selected winners are then awarded a Resolution Fellowship which gives them grants of up to $3,000 USD as well as mentorship.
After several rounds of pitching to SVC judges, co-founder of The Resolution Project George Tsiatis announced the winners at the OYW Closing Ceremony at Simon Bolivar Park. Four young entrepreneurs were picked out of hundreds of applicants to receive the SVC prestigious prizes.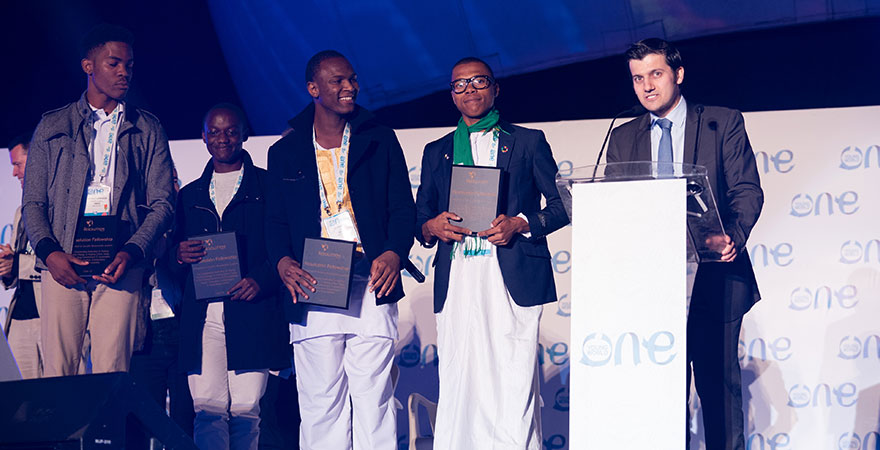 Winner #1: Ousmane Ba, Guinea. Project: Girl Child Project
Ousmane grew up in Guinea, where young girls are steered away from receiving an education and instead encouraged to marry early, often resulting in teen pregnancy. Having grown up with a mother who always ensured him and sister were enrolled in school,  Ousmane was driven to tackle this issue and launch the Girl Child Project.
Through the Girl Child Project, Ousmane  is working to increase the number of girls attending school in 2018 and prevent it from decreasing it by the predicted 15.6% - this would mean less than 35% of girls in Guinea would be attending school next year. Ousmane also understands it's vital for male peers to encourage girls to receive an education. By the end of next year, he hopes to send 200 girls through primary and secondary school.
Winner 2: Mohamed Ali Tourki, Comoros. Project: Educating People through Radio
The next winner is  Mohamed Ali Tourki from Comoros who hopes to educate illiterate people in his community through radio. Of the 83,000 people that live in the four surrounding regions of Tourki's community, 70% of them are illiterate. Because electricity is a privilege rather than a given commodity, newspapers are the only way news is communicated within the regions. With so few people able to read, newspapers are rarely even read by the local people, consequently leaving them in the dark to local and international news relevant to them..
To combat this problem, Tourki will be establishing a radio station which provides national and international news to the regions far away from central cities. The radio station would not only be focused on news but also on educational issues - the programs will inform people of modern technology, modern medicine, and environmental problems.
Winner #3: Leroy Mwasaru, Kenya. Project: CampBuni
The SVC's third winner is Leroy Mwasaru from Kenya, where he and his peers were always taught that getting good grades would guarantee employment in the future - Leroy found that this mindset never encouraged his classmates to think creatively and have a long-term view of supporting their community. .
This is how the idea of CampBuni was born. Buni, the Swahili word for innovate, provides a space for young people  to be creative with their thinking and devise solutions to environmental and societal issues. At the camp, seminars are held over a series of five days where participants are encouraged to engage with each other and think outside of the box. Leroy hopes to further this project by also engaging with secondary schools and holding Innovation Labs.
Winner #4: Kennedy Chiduziem Ekezie-Joseph, Nigeria. Project: Calabar Youth Council for Women's Rights Leadership Program
The fourth and final winner of the SVC Award is Kennedy Chiduziem Ekezie-Joseph from Nigeria, where female genital mutilation of women under 20 is the norm. Over 20 million women in Nigeria are survivors of FGM, meaning that over 19% of the female population have gone through this traumatic experience. However, the trauma does not end after going through this surgery - it lasts for a lifetime. These women often face social stigma and physical and mental illnesses that often lead them to commit suicide. Joseph hopes to end this through Calabar Youth Council for Women's Rights Leadership Program.
In this program, women that have gone through FGM will receive academic support, education and training from community members as well as leadership development. CYCWR will also invite female leaders to facilitate these discussions and classes to build up the women and girl's confidence and self esteem. Joseph's end goal is to mould these  women into successful entrepreneurs in their fields and show their communities they are a force for positive impact.