On 30 June – 1 July, One Young World hosted its third European Caucus of 2017 at the Mobile World Centre in Barcelona, Spain. The event brought together One Young World Ambassadors and other young leaders from more than 25 countries and was a unique opportunity to connect face to face, explore opportunities for collaboration and gain insight into a range of emerging issues.
Here are the best moments from the Caucus:    
1. One Young World Counsellor Caroline Casey launching a global movement to raise awareness for disability and inclusion, which will see her undertake a 1,000 mile journey by horse ending at 2017 Summit in Bogotá.
Watch Caroline's full keynote speech here. 
2. Pep Torres, founder of the Museum of Ideas and Inventions in Barcelona, showed us the power of small ideas to change the world for the better. 
Watch the full panel discussion on innovation in large organisations here. 
3. Watching a sneak peek of the documentary "Borders and Promises," which narrates the story of three women artists from across the Arab World who are fighting injustice and discrimination.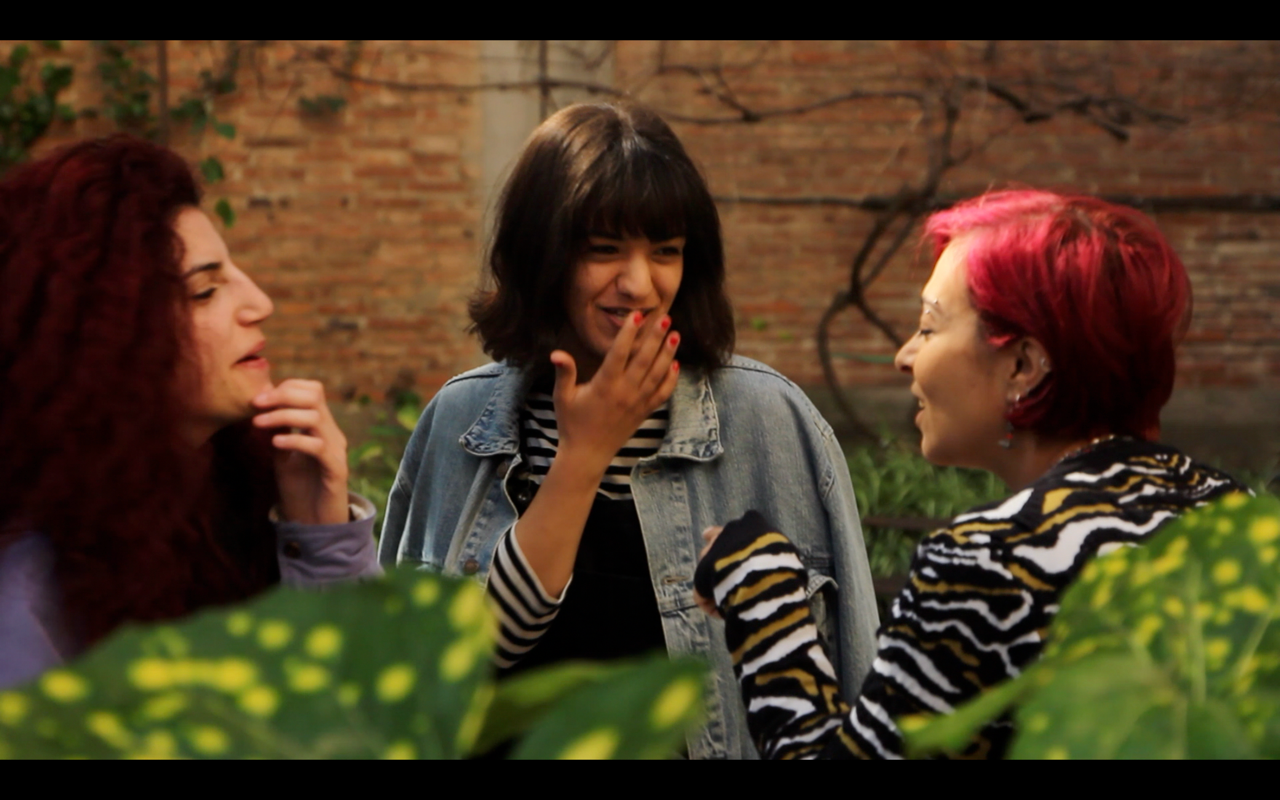 4. Hearing from over 20 amazing business leaders, academics and activists who are leading solutions to the world's biggest problems, including refugee crisis, gender inequality, climate change and more.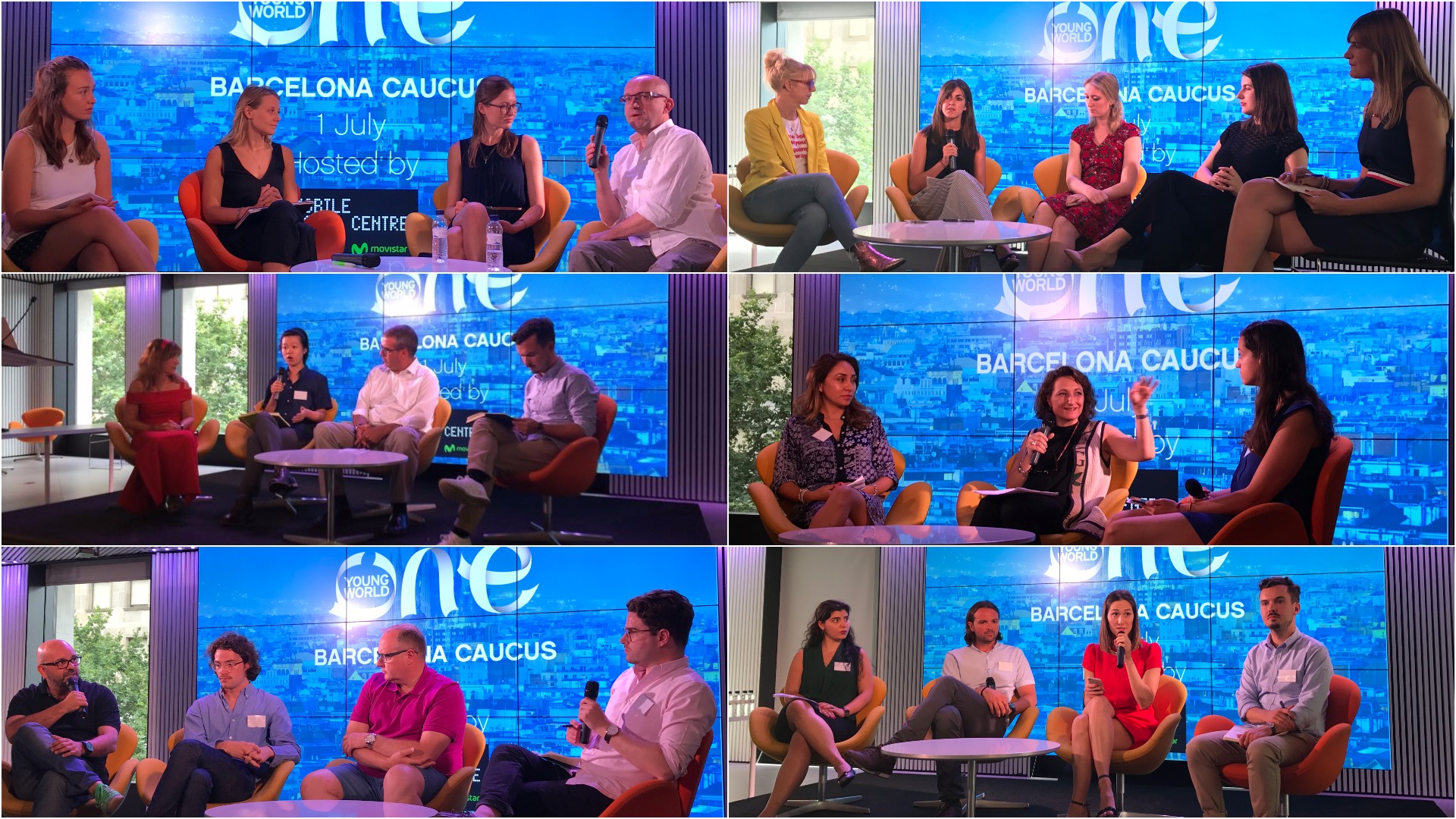 5. Being touched by the personal stories shared by our Ambassadors, such as Romy's experience providing mental health counseling to asylum seekers. 
Watch the full panel discussion on refugees here.  
6. Caroline's video wrapping up the Caucus (we cannot help it – we love her!)
Video credit: Box3 Films and @OtoxoProduction
7. Flying the flag for One Young World in the heart of Barcelona.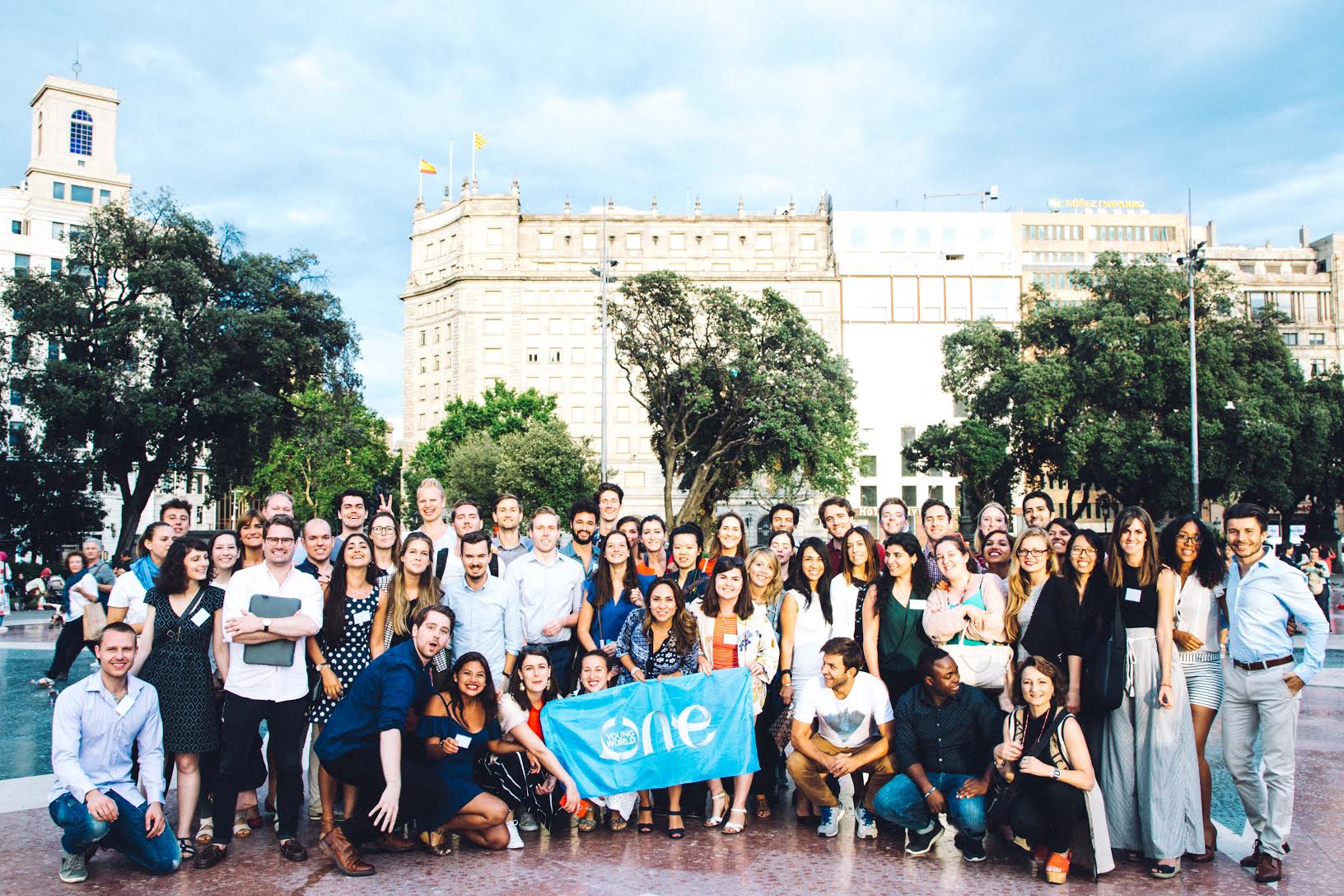 Photo credit: @mathieuajan @teardusk | MINECO Retos 2013:DER 2013-48066-C2-1-R
8. Last but not least, the energy and positivism generated during and after the Caucus.  
"The buzz and energy throughout the event made for an excellent day. Speaking on the panel about gender equality was a great opportunity to talk about domestic violence as a key component in achieving equality. Events like this are invaluable because you get to exchange ideas and learn from your peers as well as those who are leaders in campaigning for change."
Jemima Lovatt
Development Director, Global Foundation for the Elimination of Domestic Violence
"Whenever the Ambassador community from Europe gets together, I know that we're guaranteed to have an amazing time and Barcelona was no exception! Great speakers and content, beautiful city and wonderful people! Can't wait till the next European Caucus!"
David Spears
Co-Founder at Circle of Young Intrapreneurs​
"I always feel at home when with One Young World as I am surrounded by inspirational individuals who share similar values on humanity. Being able to speak on a panel with youth leaders who share my passion about the refugee crisis allowed me to reach people within the One Young World community and beyond, and hopefully mobilise a few to take part in such an important movement."
Romy Wakil
Mental Health Counsellor
"Pep's talk made me realise that all of us in the room are creative and have an inner child within us that wants to be creative and to invent something that will be beneficial to others. We should be fearless in our ideas like children and also be prepared to say the opposite or something unexpected to get people thinking like children do."
Paolo Zeppetelli
HR Data Office, Barclays
Special thanks to Mobile World Centre, Telefonica Alpha and Box3 Films for their support.
A big shout-out to Managing Ambassador for Europe, Charlie Oliver and all One Young World Ambassadors and Coordinating Ambassadors who volunteered their valuable time to make the event possible.