A dialogue on financial inclusion convened in Lagos on Friday 1 June 2018 concluded that while technology and financial services may be providing more access and economic participation, women remain vastly under-empowered and Nigeria faces a significant challenge with lack of trust in institutions.
At an event convened by One Young World for the first time in Nigeria, a panel discussed financial literacy, the impact of technology and women's empowerment in improving financial inclusion. The panel comprised One Young World Ambassadors Kennedy Ekezie and Tife Soloye alongside Chinwe Egwim of FBNQuest Merchant Bank, Bola Adeeko of the Nigerian Stock Exchange, Amaka Nwaokolo of FATE Foundation and Orode Uduaghan of Exclusive Brands Africa.
The topic was chosen by One Young World Ambassadors making an impact in Nigeria, a community which represents young leaders from an array of sectors and industries. It was highlighted as crucial for Nigeria's future, especially in light of the forthcoming elections, policy challenges and government accountability. The speakers were selected in light of their respective commitments to the theme and include high-level as well as on-the-ground, everyday perspectives.
It was highlighted that, whilst the tools at hand such as mobile and technology have made transacting, for example, easier and more accessible, there are serious cultural forces preventing particularly women from participating economically.
In the case of women such as single mothers who are the breadwinners and therefore vulnerable, they not only experience fatal health challenges due to lack of finance and knowledge, but it is often challenging to make financial products and services available to them that could protect them and offer financial security due for instance to a lack of history of financial transactions.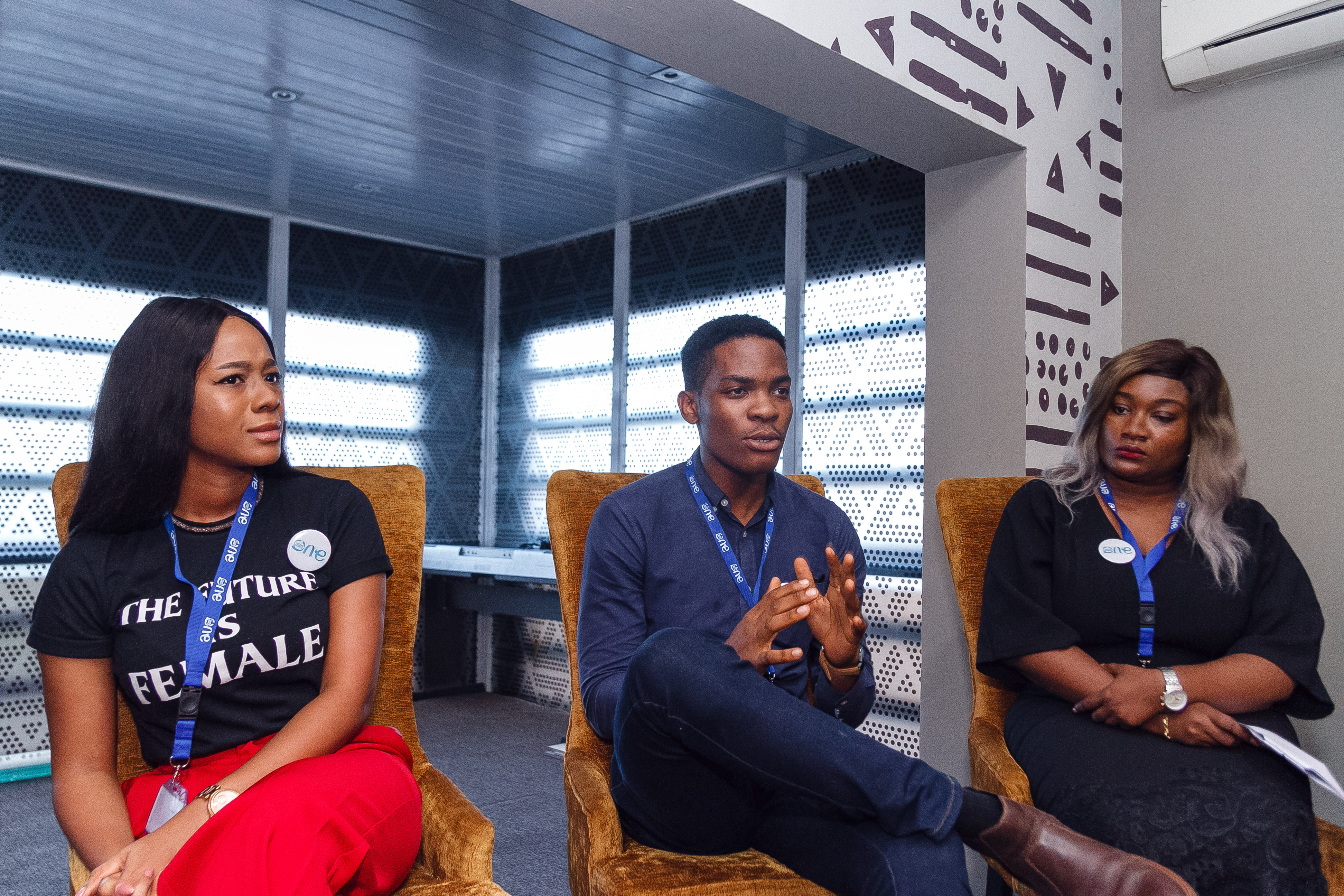 A guest commented from the floor, "The reason people such as single moms put money under their pillows is that there is no trust. Some people have had traumatic experiences." She continued that those who have had such experiences should be the ones to give assurance to the likes of single mothers and point them to [financial advisors] that are trustworthy. She commented that institutions such as the Nigerian Stock Exchange could connect with trusted access points to reach communities such as single women.
While information is out there, is it not always reaching those who need it. Apps and organisations may be working to deliver but a holistic approach may be lacking. Combining lack of access to information with a gross lack of trust in institutions, the task of including marginalised communities in economic development is daunting.  
Bola Adeeko, Nigerian Stock Exchange, raised he example of those of us with parents and grandparents who invested in early stocks which matured to enable them to pay for their children's education or buy a house. They did not have access to information and financial literacy was lower than it is now, across the board. He commented, "I don't think it's about information not being out there. There's something that's still not clicking where somebody thinks 'I should put together my portfolio of investment. Should I buy a cow; should I buy land?"
Bola also highlighted the catalytic effect of the three sub-themes of financial literacy, the impact of technology and women's empowerment in achieving financial inclusion, and that we have an opportunity in that all three provide a democratic way to change things. He referenced the development of the telco space and how difficult it was in the 1990s to have a phone device at street level. "You had to be part of a prestigious family or connected to have a phone line. Once the space opened up, we went from a few hundred thousand subscribers to over 150 million.  Now, whether you are on the farm in or a village, you can communicate; everyone can transact. The base line for how you get financially included is that you understand what your options are." It was concluded that we must invest in this awareness and change the narrative in order for people learn what options are out there to build "inclusive and sustainable wealth – in a democratic way," where one does "not need to know anyone to invest in the stock market or open a bank account."
Bola continued, "There is evidence that shows that women do a better job at managing money than men. Looking at the role that women play in the household – if women could be financially independent, the effect could be amazing." He later raised the very basic principles of everyday saving as a huge awareness gap. "Nigeria still ranks as one of the lowest in the world in terms of a culture of saving. Even individuals whose other basic needs are being met are not saving."Orode Uduaghan has witnessed women dying because of lack of finances to take care of themselves, for example, only asking for help during Stage 4 breast cancer. Her concern was for the thousands of women around the country who are exposed to disease and simply cannot do anything about it; the impact on whole communities is tremendous. "Where I'm from, women are the backbone of the family and have to take care of the children."
Tife Soloye, a One Young World Ambassador who proudly wore a "The future is female" t-shirt highlighted the vast lack of access to basic feminine hygiene products and knowledge and that girls still have to fight for an education, reminding the audience that "We have more women in Nigeria than men, and there is still a huge disparity in pay and financial inclusion" and highlighting the possibility that it could take 200 years to close the pay gap between men and women.
To this, Chinwe Egwim of FBNQuest Merchant Bank referenced a story of a woman who collapsed on the ground when she learned that she had made 1.5 million Naira from a 5,000 Naira investment, and the devastation when women simply cannot leave bad situations for example at home, because they are not financially empowered. She raised that conversations about human capital, women and young people need to happen across industries.
Amongst the audience members, Fadé Ogunro of Film Factory raised the challenge of relativity and messaging. Citing men huddling and gambling on street corners each day until 5pm for the results of what are perceptively high-risk, short term 'investments', she highlighted that financial institutions have an opportunity to break down the message and make it relevant to different groups.
Amaka Nwaokolo highlighted the work of FATE Foundation which provides people with entrepreneurship education and knowledge, equipping them with the information they need to start, grow and scale a business, and then building on that to provide enterprise support. – advisory, access to funding linkages, resources and mentoring so that entrepreneurs can actually stand and find their feet in the business environment. She raised that in the foundation's current research, they have observed a lack of financial knowledge needed to be able to make business decisions. They are committed to helping make businesses, no matter how small, sustainable, and to seeing people taking care of their families and paying their staff who also have families. "It is important that we all work out what exactly we can do to focus strictly on women and equip them with financial literacy and knowledge to be financially independent." To demonstrate this, she shared statistics from the Alliance for Financial Inclusion, for example, in 2014, 54% of men had a bank account with a financial institution versus 33% women.
The role of research, policy and advocacy was highlighted as critical in achieving a more financially included population, for example when it comes to tax policies which may fundamentally exclude whole groups from changing their circumstances. Amaka specifically called upon telecommunications companies to play a continuing role in reducing the cost of financial services. Amongst the audience, Temi Otumara from EFinA suggested expanding service and product innovation such as non-profit banking. It was clear that there is a need to tackle the controversial issue of creating incentive for banks and financial institutions to continue participating in financial inclusion, whether such incentive is commercially or otherwise driven.
Kennedy Ekezie, another One Young World Ambassdor from Calabar, raised that "One of the fundamental forces of gender-based abuse is the dependence of women on their husbands and fathers, on the patriarchal structures in society." He connected this to corporate Nigeria, saying, "Lots of organisations now have women at the top. If in Nigerian companies today we had a 50/50 balance, would there still be gender inequality? The answer is a very big yes. Most instances of gender inequality happen at the bottom" advising that men specifically need to be more aware of their role in social structures, perpetuating debilitating policies and practices, such as female genital mutilation which is still a significant issue in the country.
In closing, Kennedy concluded by urging everyone to think about what they can do using their own platforms to improve financial inclusion for women, not just because it's the right thing to do, but also because it makes good business and brand sense. 
Chinwe's closing remark was that while she understands the challenge of the rural economy in having to eat before investing, "We all have duty to be more deliberate with our social impact. You can start by talking to your nanny, your female domestic staff. You could get them involved and educate them by placing a seed capital of N5000 in a fund for them." Amaka stated that information is required across the board, from the bottom of the pyramid up. "There is an opportunity to inform," including people like herself who are in managerial positions but don't know much about investing, while Bola reiterated that "Financial literacy is the connecting point. Better financial literacy would lead to better financial inclusion which would lead to better financial empowerment."
Orode said, "We need to think about the cultural biases that we have to deal with on a daily basis – not just for rural women." She related how difficult it was to break into the diesel sales market as a 22 year old female, as she would not be taken seriously. The gender pay gap applies also to rural women who work on farms and there are also serious cultural biases in health. An audience member asked whether policy should compel culture to include women and it was concluded that we have to start with individual mentality.
In stimulating the population to participate economically, we must learn how to communicate with youth and marginalised communities across the country, at every level. There is an opportunity to demystify institutions and economics which could have profound effects on whole communities and rebuild trust.
The event was convened by the One Young World Local Organising Committee for Africa which aims to promote One Young World, a leading global platform for young leaders, by building institutional partnerships in-country and promoting the local impact of its alumni network, known as One Young World Ambassadors. Gbolade Okeowo, West African Coordinating Ambassador, comments: "This event was an opportunity to showcase what One Young World is all about for me: connecting young leaders and amplifying our voices"
Check the caucus in local news: