By Jordan Richardson, One Young World Ambassador. Originally published on Medium.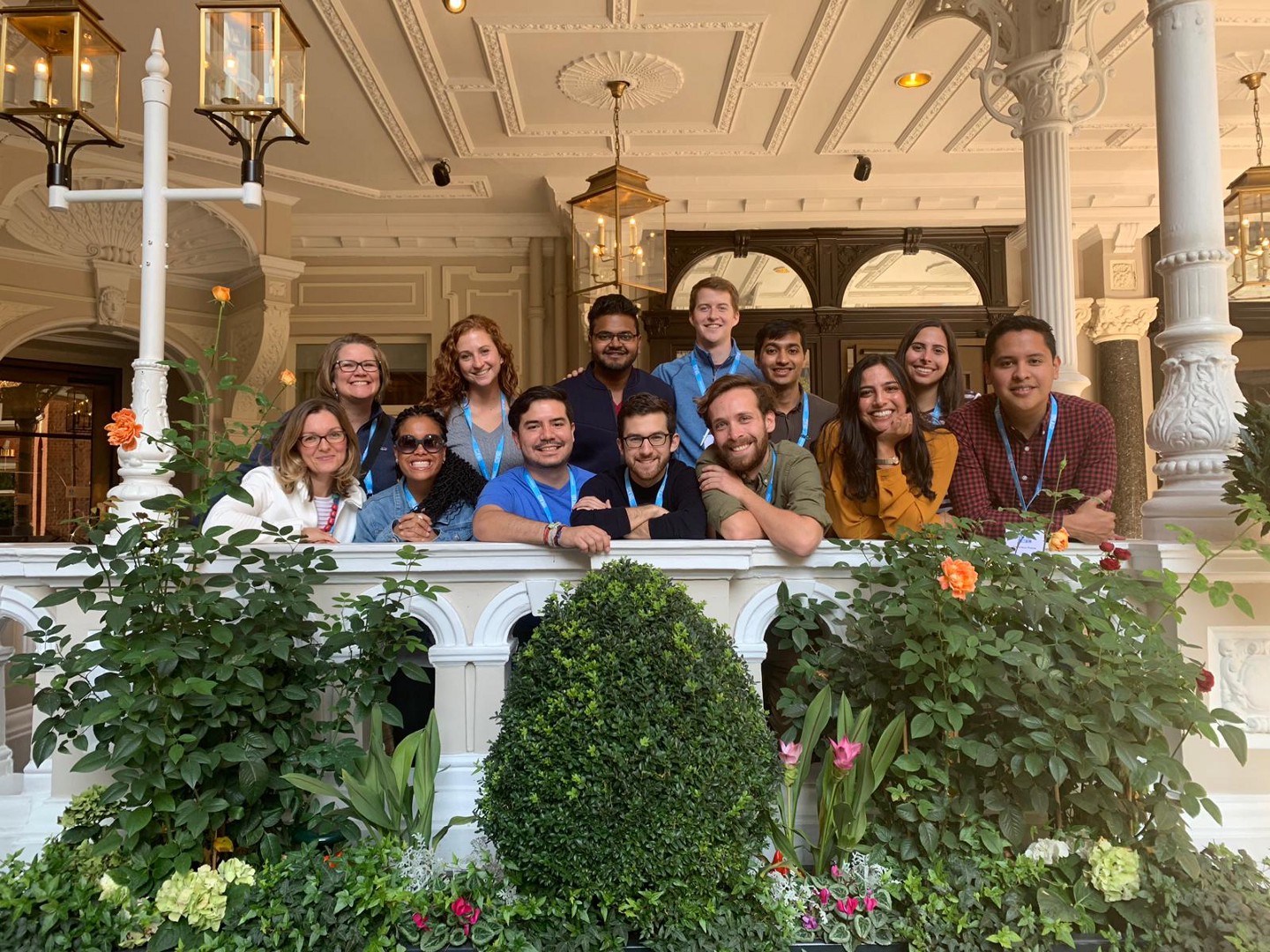 GE 2019 Delegation In London
In just the span of a week my worldview had expanded, particularly in the areas of education, planetary health, media freedom, poverty alleviation and building a peaceful future.
As a member of the 2019 GE Delegation, I joined two-thousand young leaders from 190+ countries as we participated in the 10th annual One Young World Summit — four transformative days of speeches, panels, networking and workshops. At the end of the summit, all of the delegates "graduated" to become One Young World Ambassadors, inspired and empowered to make a lasting change at their universities, start-ups and corporations.
Meet Your 2019 GE Delegation
Team Leaders: Julie Grzeda & Imola Richards
GE Ambassadors: Christine Aboufadel | Priya Achaibar| Aditya Chattopadhyay| Teresa Fulcher | Nour El Hoda El Khatib| Daniel Munoz| Mihael Plut| Francisco Paco Ponce | Juan-Pablo Rivera | Jordan Richardson| Sehaj Sharma | Paula Sleiman | Benton Turnbull | David Zaremsky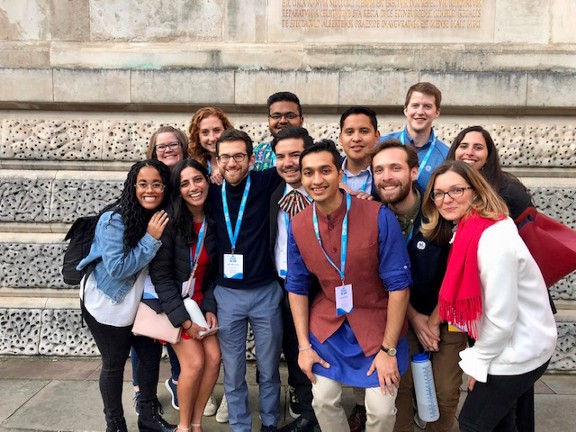 Opening Ceremony Day
A special thank you to all the OYW hosts, volunteers, counselors and ambassadors for an unforgettable experience! Thank you to Julie Grzeda and Imola Richards for this amazing opportunity and for your fearless leadership. And to my fellow GE Ambassadors… we came into this as strangers; we've come out as friends. I cannot wait to see how each of you will continue to change the world.
What is One Young World?
Founded in 2009, One Young World is a global non-profit that identifies, promotes and connects the world's most impactful young leaders and empowers them to create a better world. This annual summit convenes the brightest young talent, from every country and sector, working to accelerate social impact. One Young World partners with governments, institutions and peace builders around the world to take action and create lasting impact. But most importantly, this global forum provides young leaders with a platform to raise their voices and share their stories.
Through My Eyes
From the first moment of the Opening Ceremony, I felt honored to have been selected to sit amongst so many inspiring, innovative human beings. Every person I talked to had a story, an unwavering resilience and a passion to tackle the world's greatest issues.
After a couple days of panels, keynote speakers and presentations, I was equal parts overwhelmed and inspired. Sean Binder talked about his time coordinating offshore and coastal rescue efforts in the North Aegean, assisting thousands of asylum seekers. GeumHyok Kim shared his story of defecting from North Korea in search of freedom — though to this day, he cannot confirm the safety of his family. Dalia Yousif discussed her experiences organizing rallies through social media during the Al-Bashir riots in Sudan and how she fought to make sure people's voices were heard, even when the government shut down the internet.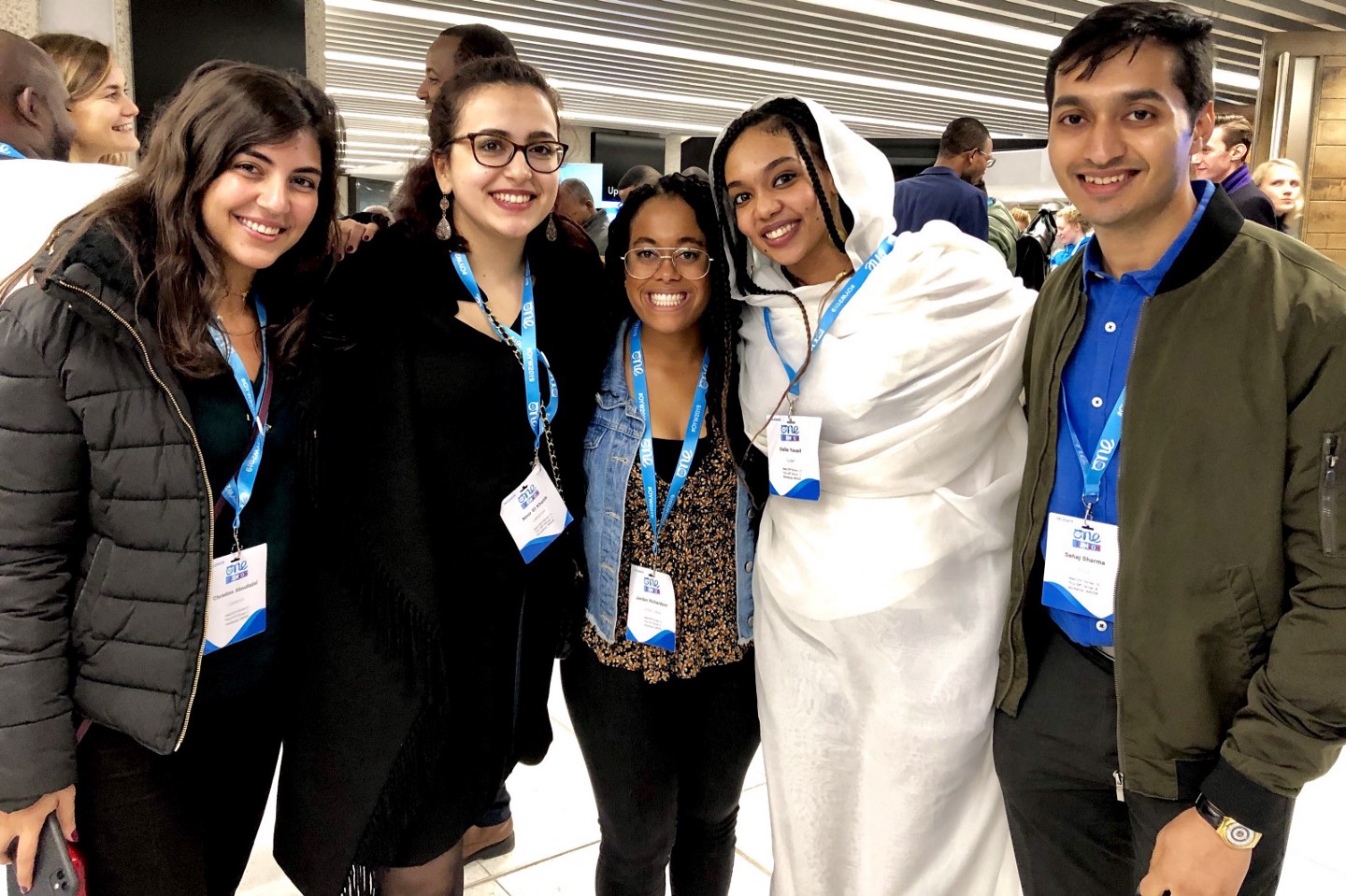 Members of our GE Delegation with Sudanese hero, Dalia Yousif
Real people from all over the world were facing unspeakable horrors and impossible situations...yet they refused to give up.
I instantly felt a sense of "imposter syndrome." I was no hero. My parents gave up everything to make sure I never had to question where my next meal came from; that I had clothes on my back and shoes on my feet; that I had books in my home, learned to read at a young age, and knew the value of a quality education; that I never had to know what it was like to fear for my safety with no visible way out.
How could I possibly find a place amongst these brave human beings, who quite literally were risking their lives to fight against global injustice?
Peaceful Future Ambassador Panel
Suddenly, I realized that even though I may not have lived the same lives as the other ambassadors, or experienced what they had, I didn't need to be a hero to make a difference. Today, I stand instead as a proud ally to those who shared their stories…and to those who have not yet found their voice.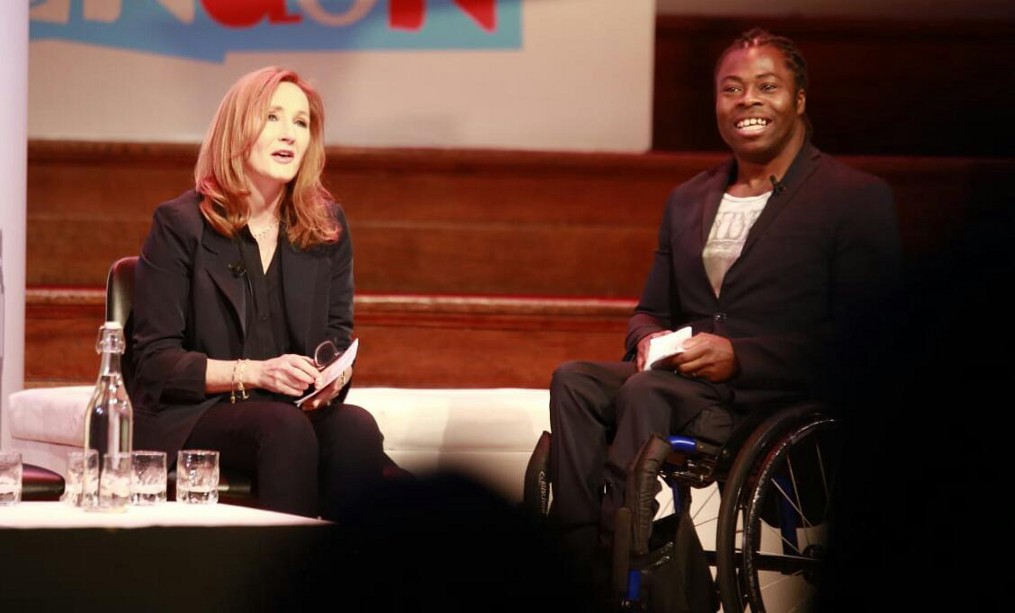 JK Rowling - founder and president of the children's charity, Lumos
A Future For Us
The One Young World Summit opened my eyes to many issues in the world ranging from the climate emergency to the refugee crisis. If we do not take action now, there may not be a world left for us in 2030 — and that's a scary thought for someone who is only one quarter of the way through her life. What will be left for me? For my children? For their children?
But there is hope. If we are able to save 30% of our oceans by 2030, they do have a propensity to recover. If people continue to take action against injustice, lack of access, and gender inequality, we can change these systems at their core. We need to continue to speak up, change our habits and get educated about the damage we are doing to our planet…and to each other. And we need to move fast.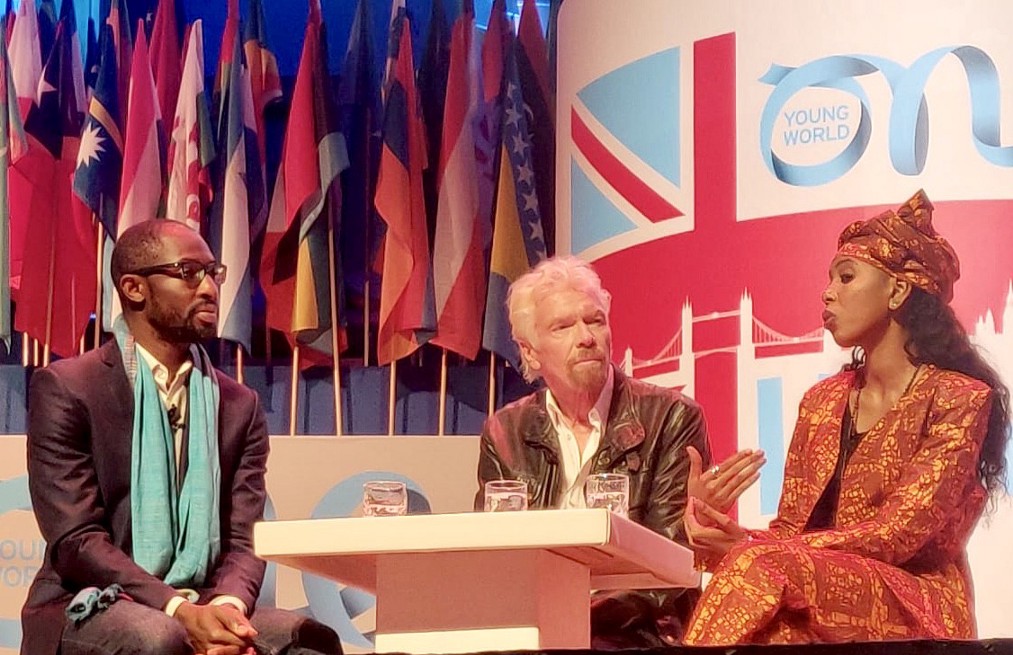 left to right: Uzo Iweala, Richard Branson, and Jaha Dukureh
Initially, I felt overwhelmed trying to decide which of the 17 Sustainable Development Goals I should tackle first. I felt immense pressure being a part of the last generation that could stop the climate crisis. But then I realized… I just needed to start. Any small step, any habit I changed, would be more than I was doing the day before.
When I broke that down further, I better understood one simple fact: the climate crisis is something that impacts us all, now, and will impact us all in the future if we do not make a change.
The Time Is Now
Also in attendance at One Young World were large companies like Pepsi Co, Johnson and Johnson, Deloitte and BP. All committed to making progress towards the Sustainable Development Goals in their own spheres of influence. My company has even pledged to be carbon neutral within GE Renewable Energy by the end of 2020, with all operations being powered by a combination of wind, hydropower and energy storage.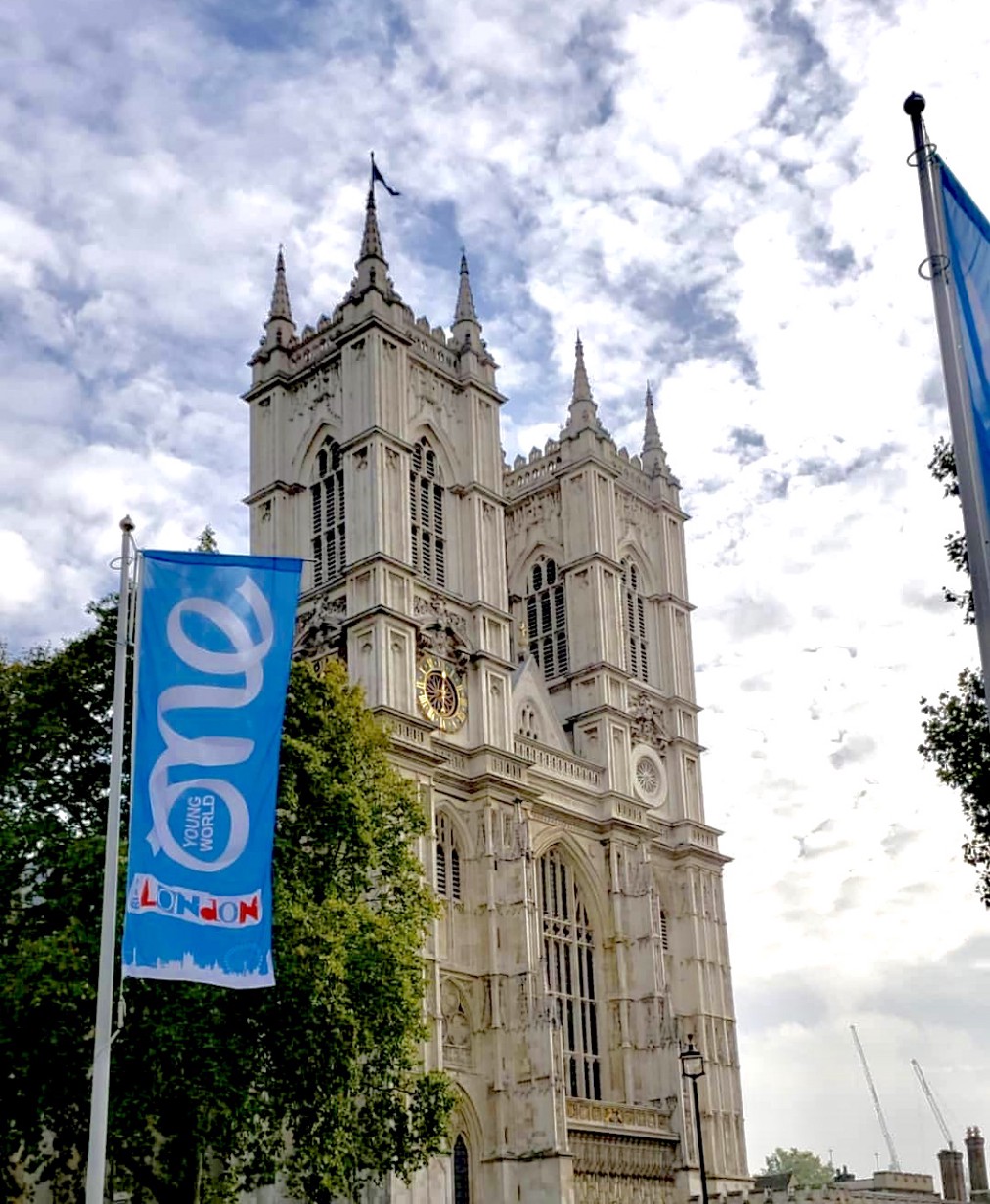 There can be no business if there is no planet to do business on. Big corporations, politicians and lawmakers need to get on board, or the next news headline we see won't say, "Here are all the things we should do to stop climate change." It will say, "Here are all the things we've failed to stop."
But I choose to believe in an Earth renewed… a future where we've successfully achieved the Sustainable Development Goals and have progressed as a global community, together.
So how am I taking action?
Aligned with my passion for education, I've submitted a volunteer application for Reach Out and Read — a non-profit changing pediatric healthcare using the power of storytelling. I've connected with the site leader at the GE Corporate office to discuss how we can make the new office building more eco-friendly. I've started to talk to my family about our own footprint, plastic usage, and Sky Ocean Rescue's initiative to #PassOnPlastic (learn more here). I am also creating an educational series called "Fun Fact Friday" to share what I learned at the summit with my fellow HR Leadership Program members, and provide them with a call to action to make progress towards the Sustainable Development Goals. I'm even trying to eat less meat! Finally, I'm connecting with a fellow delegate to brainstorm how we can create psychological safe spaces at work, especially for those feeling the pressure of being on a leadership program. But I hope I don't stop there!
If you want to take action and get involved…don't wait! Check out our GEneration Impact website here to learn how you can contribute to the success of a Sustainable Development Goal (SDG) you're passionate about.
There is no Planet B. And my generation can't do this alone. Remember, our true source of power lies in our ability to create possibilities for others.
Let's get after it.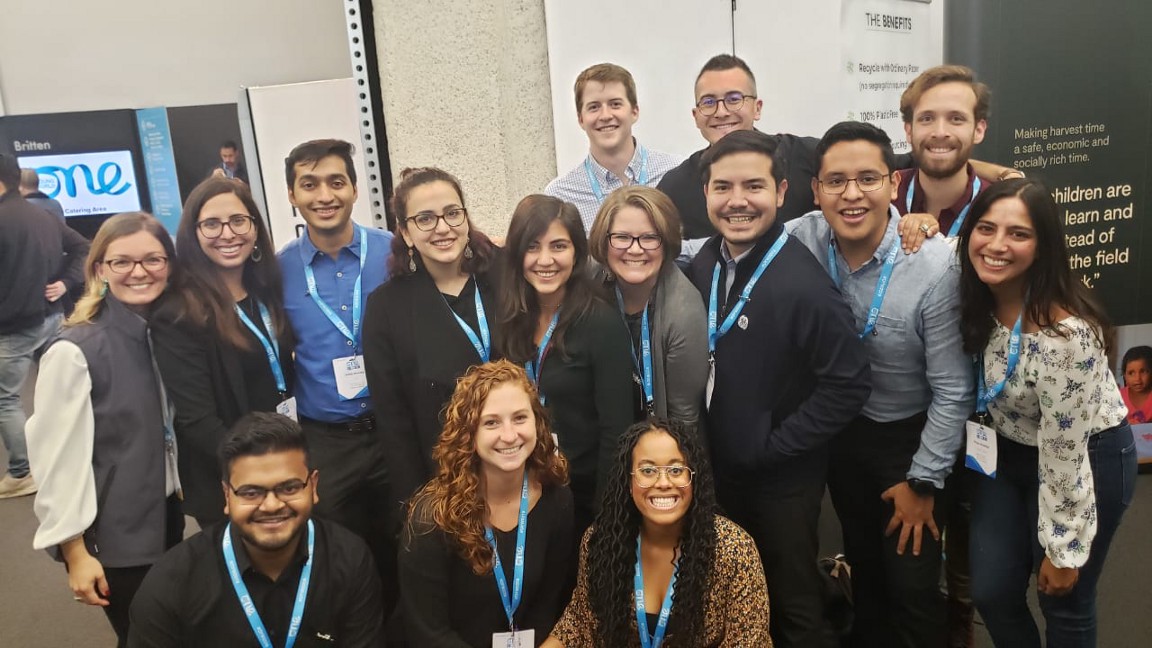 2019 GE Delegation at OYW
GE Delegate Testimonials
Want to hear more about the Summit? Check out personal stories from a few of our 2019 GE Delegates below.*bonus! You can also listen to this powerful story about the climate crisis on Spotify.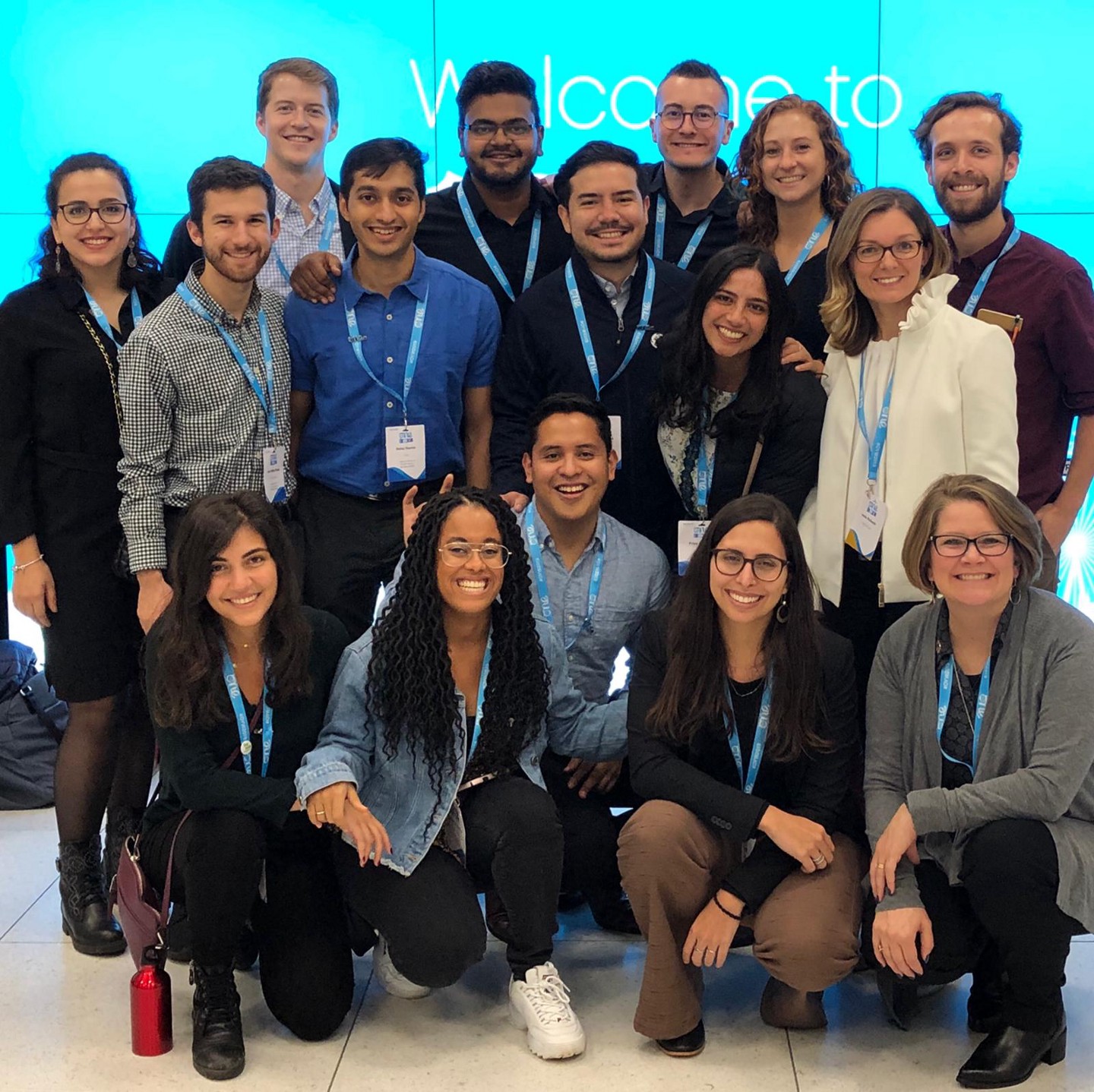 Paula Sleiman — GE Renewables | Brazil
Paula is an Operations Management Leadership Program member who is most passionate about Sustainable Development Goal (SDG) 13: Climate Action. She is most recently taking action on SDG 04: Quality Education because she truly believes it is the root cause of most of today's problems.
What did you love most about the One Young World Summit?
"Participating in One Young World was overwhelming. So much to listen, to learn, to process, to ask, to absorb, and to exchange. There were so many people I wanted to meet in a short amount of time. For others, I didn't initially think to connect with them, but in 10 minutes they'd left such a lasting impression. Overall, it was an intense experience in so many ways, and most of all, invigorating!"
What topic/area surprised you the most during the One Young World Summit?
"It was especially surprising to hear the presentation with JK Rowling on volunteering in orphanages. I never knew that ~80% of the kids who live in orphanages are actually not orphans, but have been separated from their families. I learned that volunteering in an orphanage could do more harm than good."
What's next for you? What action(s) will you be taking to make progress on the Sustainable Development Goals?
"Earlier this year during a LGBTA talk with Luiz Verzegnassi (GE Healthcare LATAM CEO), I learned that the main reason why we have very few transgender employees at GE is because most of them don't speak English. My next step will be to create a space where we can unite English volunteer teachers (and maybe immigrants) with the transgender community to create a better, more inclusive environment."
Ben Turnbull — GE Aviation | United States
Ben is a Digital Technology Leadership Program member who is most passionate about Sustainable Development Goal (SDG) 03: Good Health and Wellbeing and SDG 17: Partnership for the Goals. He believes that community health supports all facets of a community and addressing social determinants of health through partnerships with other goals can translate into a holistic and more complete impact across a community.
What did you love most about the One Young World Summit?
"While the variety of issues the world faces feels at times insurmountable, One Young World showcased an equally empowering diversity of projects and actions to combat these issues. I loved absorbing our global peer's expression of passion for their mission — everyone had something they were driving toward. Time to sit and meet with these peers, learn about their projects and brainstorm actions was what I loved most about the summit."
What topic/area surprised you the most during the One Young World Summit?
"The residual impacts of climate change, such as mental health, and the impending displacement of millions in communities that are impacted by global climate events."
What's next for you? What action(s) will you be taking to make progress on the Sustainable Development Goals?
"As part of the Generation Impact team within GE, I plan to take the new relationships formed at this year's One Young World (OYW) Summit and evaluate if we can align skilled GE employee volunteers to assist in their missions. There were so many amazing organizations at OYW that found themselves with resource challenges and I would love to find willing volunteers within GE to apply their skills to help these groups. Organizations I would like to target first are those focused on SDG goal 04: Quality Education and SDG 07: Affordable and Clean Energy."
Sehaj Sharma — GE Healthcare | India
Sehaj is an Edison Engineering Leadership Program member who is most passionate about Sustainable Development Goal (SDG) 04: Quality Education. He believes that the path to addressing severe over-population, poverty and crime, unemployment, and other issues in his home country, India, starts first with providing quality education to the masses and the marginalized.
What did you love most about the One Young World Summit?
"I personally enjoyed the workshops and the networking aspect of it. Meeting people from different backgrounds opened my mind to the challenges that the world faces."
What topic/area surprised you the most during the One Young World Summit?
"The situation in the Middle East and Afghan regions really shocked me. While I had previously read or heard about these issues on TV, actually listening to real life, on-the-ground experiences almost brought me to tears."
What's next for you? What action(s) will you be taking to make progress on the Sustainable Development Goals?
"I am already planning a global initiative with some of the delegates from One Young World, including the launch of a media curation initiative. I also intend to continue my work with deaf children to promote access to quality education. More to come!"