This article has been written by Jodie Madden* 
Inspired by my experience at One Young World, I wanted to find a project to work on that benefited our Western Union business as well as a social cause. I'm a big believer that global goodness and profit are not mutually exclusive, and the most sustainable initiatives are those that generate a win for all parties. This is at the heart of WU's purpose of moving money for better - after all, global remittances sent to developing countries are more than double all international aid! That's how the project my team affectionately calls "Crowdfunding" began.
The My WU program gives customers the opportunity to earn loyalty points when they send money. Last April, we went live with our customer campaign in 5 countries (US, France, Germany, Philippines, and Australia) and in 4 different languages that allows My WU loyalty points to be pooled to fund school places for refugees in Kiryandongo, Uganda. 
Thanks to @WesternUnion for crowdfunding a donation that will help send to school 50 refugee students supported by @connectWPDI in the Kiryandongo Refugee Settlement in #Uganda
Join the movement!
https://t.co/7fROG605qD pic.twitter.com/ac95l1jTRZ

— Forest Whitaker (@ForestWhitaker) April 26, 2018
We are running the campaign for 150 days with an original goal to fund 50 school places working with the Whitaker Peace & Development Institute (WPDI). A week after launch, we have decided to up that goal to 100 school places as our generous and amazing customers have already funded 17 spots... and the marketing plan hasn't even started yet!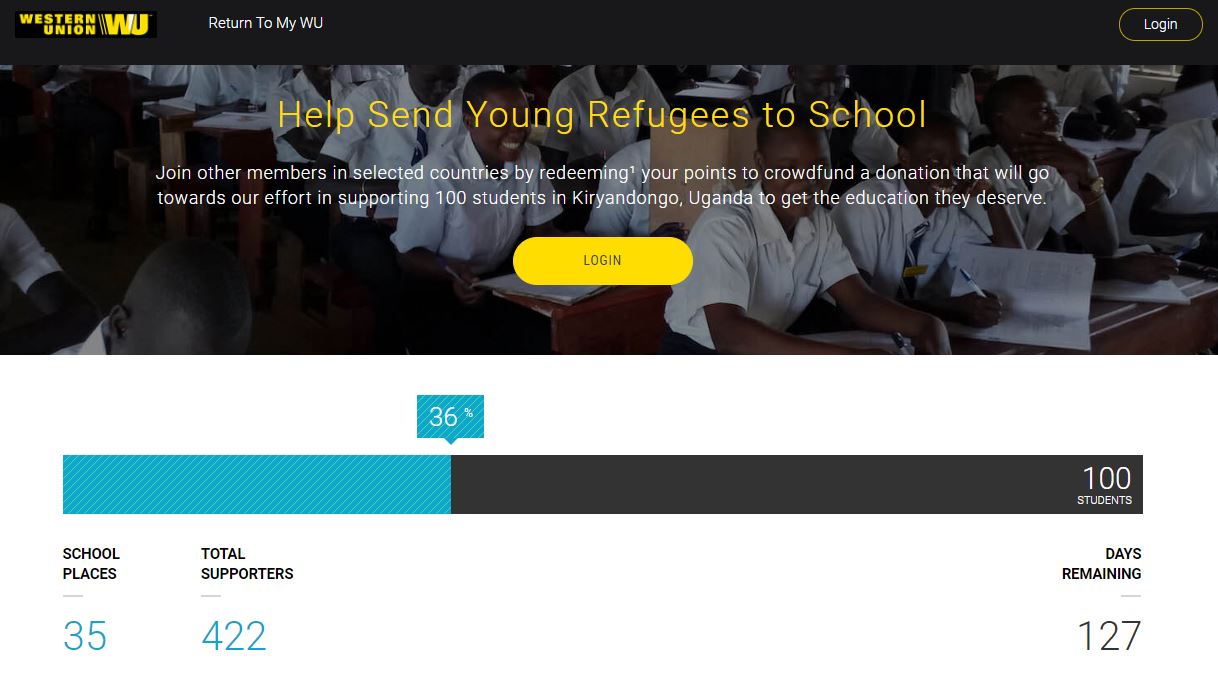 Our marketing communications start on Tuesday May 8, 2018 and we will be reaching out to over 2 million customers via email, SMS, and social media. As we reach our milestones, we'll continue to share personal stories with the world from Uganda about the incredible children and young adults we are supporting as we lead up to their first day of school. 

This partnership with WPDI is a true win-win:
Winning for our customers who are empowered to contribute and get additional choice for their loyalty points.

Winning for WU who benefits from enhanced customer engagement (customers who redeem rewards are 2 to 3 times more valuable to the company) by executing a cost-efficient campaign that builds the brand.
Winning for the students who get to go to school thanks to the generosity of WU customers.
This is an example of how we can create change from within our corporate environment. We encourage you to think of ways you and your team can bring positive change to the world from your corporate seat. Finally, if you are a Western Union customer, we invite you to take part in funding school places for these children. Visit our website www.westernunion.com/mywu/crowdfund and learn more about the stories of refugees and their dream of education.
***
Jodie Madden is a OYW Ambassador and a Marketing Director at Western Union who is a very passionate activist of the right of education for refugees. You can contact her at [email protected].