This op-ed originally featured on Prospect. Written by Billy Kovacs*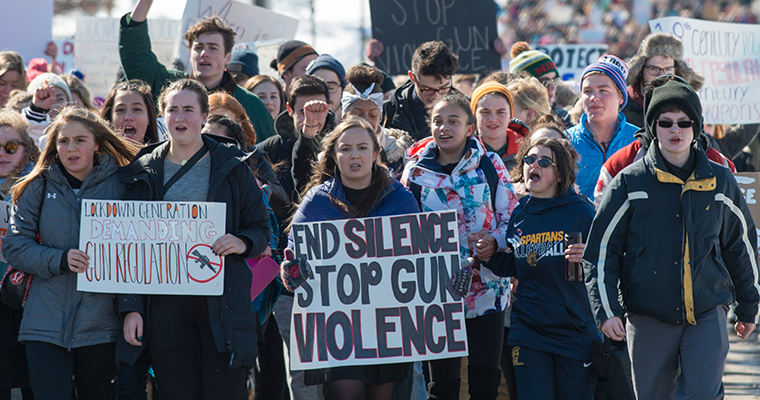 This Saturday, thousands of people across America will rally for a March for Our Lives to protest for gun control, saying #neveragain after the mass shooting at Marjory Stoneman Douglas High School in Parkland, Florida. It is the second big push of teenage activism after almost a million students abandoned their classrooms last week as part of the National School Walkout.
The movement has received widespread support, but it's far from unanimous: there are millions out there who see it as youthful naivety, a group of children ignorant of the ways of the world. This reaction isn't uncommon to the idea of young people as leaders—especially in politics. Our current president is 70 years old and the average age of American presidents is 44, so perhaps it is no surprise.
Yet Alexander Hamilton, founding father and the man who inspired a musical you might have heard of, was 21-years-old when he signed the Declaration of Independence in 1776 and James Munroe was only 18. So, when people tell me that I'm too young to be running for Congress this year at the age of 30 I have to smile.
"You should just wait your turn," they tell me. "Get some experience on the city council or be a state representative, you'd be great there!" I get it all the time.
At 30, I'm the closest you can get to a young person because of our age limits—persons under 25 are barred from serving in the US House of Representatives, and those under 30 are excluded from the Senate. As a millennial, though, I have learned that if you want to change the world you have to step forward yourself and initiate that change.
My life in 2007 was typical of a millennial. I had little sense of which direction my life was going to take me, but that all changed with a Facebook notification that read "SPC. Louis G. Kim has been killed by small arms fire in Iraq just days before his 20th birthday."
As a young man I silently struggled with the loss. I remember seeing the photo of all of our friends on the beach next to a bonfire smiling and saying goodbye on the last night he was in town, and the regret I felt of not being there still travels with me today.
I carried that burden silently with me for many years but as I became older, I grew to live my life with a sense of purpose and meaning. I remember my father saying, "Make your life meaningful and live it to the fullest for Louis." I take his memory with me in everything that I do, and the decision to do just that has led me to where I am today.
The Parkland teenagers have reached the same conclusion far faster than I did—the school massacre has motivated students and young people to stand up and find their voice in demanding an end to such killings.
Their strength and determination are outstanding—and it is proof that youth can be an advantage in politics. When my generation are told "No, you can't!" we figure out how to get past that inertia and stagnation with innovation. I might not have a voting record, but I've spent seven years working on the outside of politics trying to push for change through city initiatives, community groups and grant-funded organizations.
Seeing incumbent politicians who are reluctant to take on new ideas and stick to the same narrow rhetoric was my motivation in standing for Congress against the Representative for Tucson, Arizona, Martha McSally. She represents a diverse district and campaigned on being open and accepting.
Yet since taking office she has a 100 per cent voting record in support of a President who proposed a Muslim travel ban, and depicts immigrants as rapists and murderers. It's almost unbelievable in a border community where many travel to Mexico and back every single day.
Tucson's current Representative took $77,000 in funding from the NRA and which reflects her A-Rating from this organization who lobbies in favour of gun manufacturers and against any push for common-sense gun legislation.
This is not what our country is about—and young people around the country agree. I took a stance not to take corporate or "PAC" (Political Action Committee) money but to instead go to the people to fund my campaign.
I may be unusually young for American politics—but I hope that changes. Young people are energized and engaged by politics again and, for the March for Our Lives movement, I'm an old guy. This protest will be led by students from university and high school.
The March for Our Lives is not just a demonstration against gun violence, it's proof that now is the time for young people to be championing their own causes and showing the people of America that the youth has found its voice. The time for change has come.
*Billy Kovacs is an entrepreneur, community activist and One Young World Ambassador who is running for Congress in Tucson, Arizona.