One Young World is proud to announce the 2023 Plenary Challenges!
It gives us immense pleasure to introduce the five plenary challenges for the 2023 One Young World Summit in Belfast.
The reason why One Young World continues to be such a powerful force for change is because we are driven and inspired by our global community of young people. This is why our Global Consultation Process (GCP) is such an important tool in the development of our plenary challenges, and we are hugely grateful to the thousand young people who took part in this year's survey.
The results of this year's GCP were conclusive in understanding the hopes and fears of our next generation of leaders. Almost unanimous among responders was concern over the climate emergency and the need for businesses to do more to prioritise the planet over profit. Mental health was another key theme, with many citing the climate emergency, the global cost of living crisis, and unhealthy relationships as causes of poor mental health among young people.
Unsurprisingly, we also saw the global repercussions of the war in Ukraine filter into the GCP responses with a concern over international food shortages featuring prominently. Similarly, concerns about inequality, racism, fascism and the fear of religiously motivated acts of violence were highly noticeable in this year's consultation responses.
Finally, we are incredibly proud that One Young World will be part of the official celebrations for the 25th anniversary of the signing of the Good Friday Belfast Agreement. Therefore, it was essential for us that peace and reconciliation play a central role at the Summit, both as a plenary challenge but also as a core theme in our opening and closing ceremonies.
We hope you enjoy reading more about our plenary challenges for the 2023 Summit and we look forward to seeing you in Belfast!
Belfast 2023
Plenary Challenges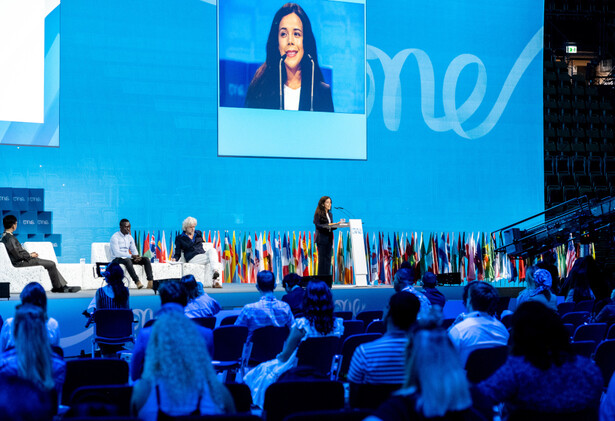 The challenges are:
Peace and Reconciliation - How can communities build and sustain lasting peace?
Climate Emergency - How can we ensure responsible stewardship of our planet's resources?
Food Crisis - How can we end this global food crisis before it becomes a hunger catastrophe?
Education - How can we fight inequality through education?
Mental Health - How can we make mental health a priority?
The Plenary sessions include speeches by world leaders and Delegate Speakers whose work, lived experiences and critical insights address the Plenary Challenges at hand, while offering ways for Delegates to take effective action when tackling global crises. All curated content at the Summit is shaped by the five Plenary Challenges, and these are the driving force for all discussions around creating a better world.
Key Findings
Global Consultation Process
Respondents identified the top 5 most urgent UN Sustainable Development Goals to be Goal 13: Climate action, Goal 4: Quality Education, Goal 2: Zero Hunger, Goal 1: No Poverty, and Goal 3: Good health and well-being.
We asked our One Young World Community, which of the biggest challenges facing humanity we should prioritise this year. This is what they told us: