Members of the One Young World West and Central Africa Community share their personal thoughts and perspectives on the #EndSARS protests in Nigeria.
I saw

The soothing pain of wounded dreams

Dreams shorn of wings, of colour

Of voice, of tone: dreams ruptured In the rank screams of poli-trick-cians
Taken from 'Shadow and Dream and Other Poems' (1982), Harry Garuba
As blood slowly spread across the fabric of the torn and tear-stained flags at Lekki toll gate, the tragedy of the last two weeks seemed to be perfectly and poignantly captured by this imagery. It sharply confirmed what many, if not all, Nigerians already knew and what the world has now come to know: that black lives do not matter in this country.
Babajide Sanwo-Olu, governor of Lagos was quick to decry that the protests had 'degenerated into a monster that is threatening the well-being of our society'[1]. However, the more devastating 'monster' that Nigeria has long grappled with is an avaricious and aloof ruling class that is so cocooned in its corruption-curated wealth that it no longer identifies with and acknowledges the pain of its population. Perhaps 'monster' does not go far enough as a word to describe a state that would methodically remove CCTV and cut electricity from an area in readiness for a mass assault that it planned to calmly deny[2].
Back in 2017, former Nigerian President Olusegun Obasanjo had warned that the African continent was 'sitting on a keg of gunpowder' in relation to the dire predicament of its young people[3]. This was particularly true for Nigeria: despite its vast mineral wealth, close to half of the population still live on around £1.50 a day and young people – who make up more than 60% of the population – face ever-shrinking economic opportunities[4]. The fuse was finally lit by a viral video two weeks ago which showed a man being brutalised and mercilessly beaten by a SARS team.
For many, the term SARS will be just another abstract acronym that represents some vague and distant evil, far away from themselves. This editorial seeks to melt away the veneer of unreality that too often glazes moments of extreme horror. The hope is that such violence – against a people and a nation – is more viscerally felt by all who read this and thus, more strongly resisted.
Image credit: Akintunde Akinleye/EPA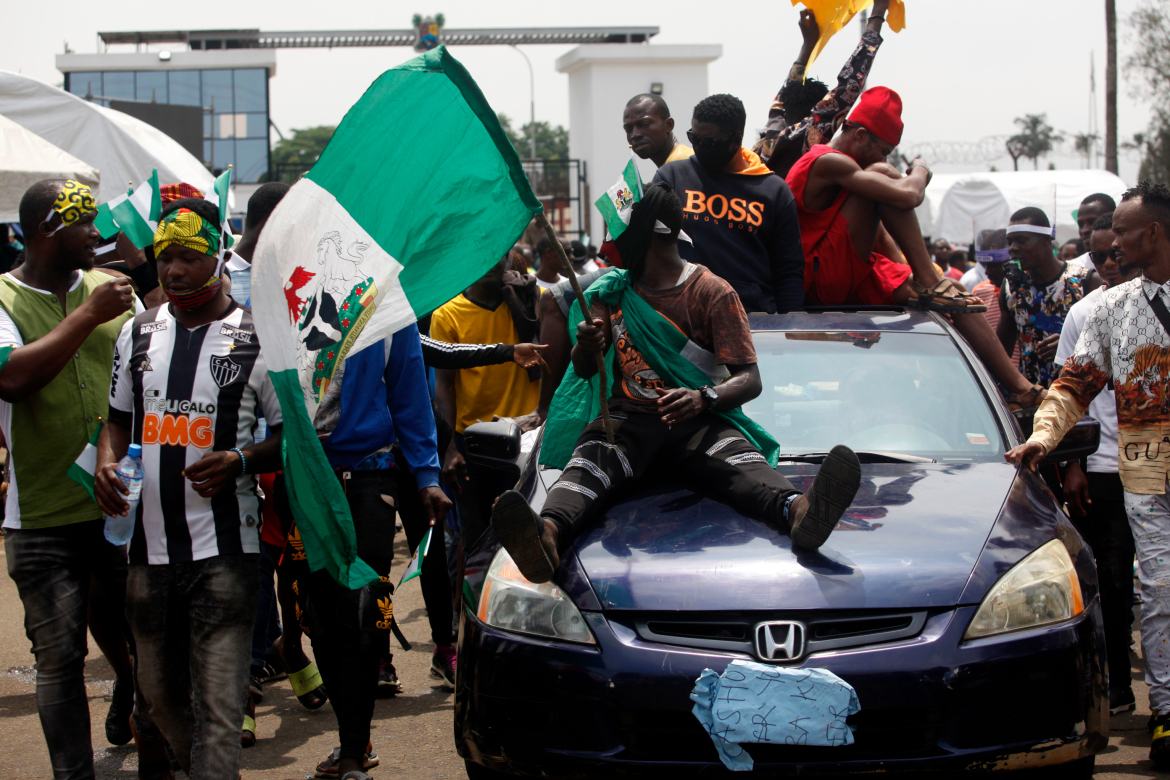 Hearts that don't beat: Earlier this month [October 2020], Isiaka Jimoh was on his way to his [mother's] house. Footage shows him watching as police allegedly fire tear gas and bullets to disperse protesters. After that, he never made it home. Eyewitnesses say he was shot by police, the police deny the claim. His parents, Raji and Ramata are still coming to terms with the news that their son, a 21-year-old electrician, is gone. Isiaka has since become one of the symbols of the #ENDSARS movement with protesters demanding justice for his death. His parents remain ever hopeful that they will get justice for their son[5].
Eyes that don't see: "Just as I got into a vehicle at a junction in Bayelsa at Tombia, a SARS team stopped our bus and ordered a search of our phones, I refused…just as I was trying to explain, the [the SARS officer] opened [a canister of] tear gas and [right up to] now my eyes pour water… since 2018 I [am not able to] see properly and [can] barely read tiny letters"[6].
Mouths that don't smile: A 23 young-man named Chijindu (not real name) recounts his 2017 experience at the hands of a SARS team after being accused of stealing a laptop: "When the Admin officer saw me, he directed his men to go and hang me. They took me to the back of a hall and tied me with ropes. They tied my hands behind [my back], tied my two legs and then joined the ropes [on] the hands and [the rope on] the legs [behind] the back, causing my chest to protrude". He stated that they used an iron rod to lift him on an iron stand, after which they started using all manner of items to beat him, including machetes and sticks. After breaking his teeth with an exhaust pipe and leaving him to hang for three hours, he started vomiting blood. But it didn't stop. They took him to an interrogation room where they took out the two SIM cards from his phone and destroyed it. Afterwards,…the leader of the SARS team instructed that he should be taken to Cell 5, the worst cell in [the SARS holding compound], where inmates hardly eat or drink water[7][8].
Legs that don't walk: Narrating his experience with the SARS in 2018, Udeogu Arinze of Umumeibe Street, Nnewi, describes it as hellish: "On that evening, my brother was coming back from work with three of our cousins. When they approached our family's front gate, they saw five heavily armed men with no official identification except one of them, who [had] on a black T-shirt with the inscription 'SARS'.
My brother…gently approached the men and called one of them aside for a brief question. [My brother] softly asked him to kindly inform him what was going on…The SARS man he was asking questions from surprisedly pointed his AK-47 rifle at my brother's stomach and shouted: 'Who are you to ask me a question? Do you think that we are just ordinary police officers? We are the SARS you have heard about!'
Unfortunately for my brother, he jumped up, and the SARS officer shot him [at] close range twice, with the bullet hitting his [behind]. My brother fell uncontrollably. As soon as he was shot, the SARS driver reversed their bus, and four of the operatives rushed in the bus and took off, while the guy that shot my brother started running to join them and eventually caught up with them at the entrance to our street.
My brother was immediately rushed to the St. Felix Specialist Hospital belonging to the Catholic Diocese of Nnewi. Right now, my brother can no longer walk well; he's jobless though he trained as a professional plumber. All his plans have been aborted."[9]
As the most populous black country in the world, Nigeria determines the fate of a disproportionate amount of black lives and dreams. It is urgently vital that its leaders, both political and military, recognise that a country that doesn't work, may soon morph into a country that doesn't survive.