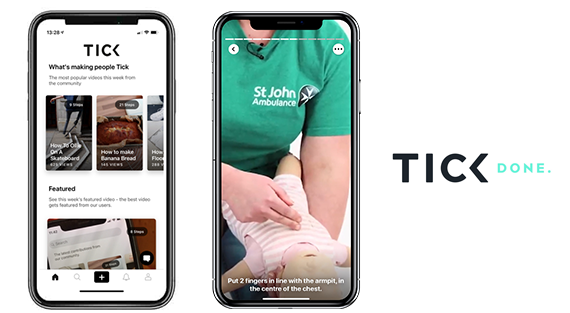 One Young World is working with Tick. Done. to build a bank of educational 'how to' video content to empower young people around the world.
What is Tick.Done.?
Tick. Done. is the new destination for instant 'how to' video on a mission to empower a billion people with a million new skills.   
A rare thing…  they're a tech company that exists to get us offline.  They believe in the power of the web to reclaim our offline lives by serving up  quick, practical answers faster and more efficiently than ever before... so that rather than browsing, we're all 'doing':  playing, fixing, creating, learning and winning. 
We all love smartphones.  With their always-on connectivity, they provide instant communication and access to the world's knowledge...   BUT… with the recent explosion of online content, we increasingly waste time falling down rabbit holes of unnecessary content. 
People also increasingly love video… so why is it that the video we access via our phones is so poorly suited for our mobile lives?  Long form, continuous play, audio reliant (language limited) and data-heavy -particularly challenging for less advantaged communities or those on pay-as-you-go data contracts.  
At Tick. Done, they are harnessing people-power to build the world's largest bank of quick, step-by-step vertical video to teach us how to do anything of a practical nature in seconds.  Think healthy-eating, fitness, DIY, sustainability hacks, medical or first-aid advice, product-user-guides and more.   
How does it work
Tick. Done is a free app to download.  iOS here (android coming soon).
Tick stories are free and quick to create using the simple in-app creator tool (like Instagram/ Snap/ FB stories) 
Simply shoot quick videos or photographs in the app and string them together to tell a story.  Photos and videos can also be uploaded in seconds from a phone album. 
Stories can be viewed in the app and also appear as 'AMP' stories (Google's own, vertical, mobile-optimised stories) for discoverability on the open web.  
They can also be exported for upload into social media channels. 
Viewers enjoy a quick, easy to follow viewing experience -  step-by-step, with video looping until viewer is ready to advance) with simple-to-read text overlays (which will soon auto-translate to enable global accessibility)
See story examples here (best viewed on mobile)
How to wire a plug |What to do if you baby is choking |Things to do with kids that don't involve screen-time | How to live a lower waste life | How to change a light switch | How to measure things in the real world using your iphone  | 8 Simple ways to use less water | 7-minute quesadillas| How to poach eggs
Building a One Young World Community of stories 
Tick.Done. intends to build a global movement of how-to video content creation from every-day users - harnessing consumer passion around different themes, hobbies, interests and skills to build the largest global bank of such content online.   Think Wikipedia meets Instagram Stories. 
One Young World is keen to join them this journey and to build an educational 'OYW channel' where our ambassadors are encouraged to share their 'how to' knowledge and lessons with the intention of empowering other young people around the world.   
Some suggested content ideas … but you tell us!  
Sustainability How-To's:  Reduce your carbon footprint; use less water; recycling advice;  animal/ marine conservation; grow your own produce; reduce wastage etc
Well-being How-To's: mindfulness/ meditation techniques; spotting signs of mental distress; dealing with stress; accessing resources for help;  digital detox; 
Good Health How-To's:  first-aid techniques; healthy eating, exercise/ yoga; personal hygiene, making drinking water safe; vaccination benefits; spotting signs of illness; avoiding infection; 
Educational How-To's:  Fact-checking techniques;  sign-language; spotting hazards; simple tech skills; vocational skills; CV-writing; accessing educational courses; 
Personal Finance How-To's:  Money-saving advice; setting up accounts, direct debits etc; accessing grants; managing savings; currency exchange;  creating household budgets
Productivity How-To's:  time management, team-work techniques, effective 'to-do' lists, communication skills
And you tell us!  What ideas do you have that you'd like to share with the world?
Get creating!  Feel free to use the above steps to start creating (forwarding your story links to us for inclusion in the OYW channel)  and/ or please contact Safoora Biglari at 

[email protected]

 to find out more).