Help us support our friends at Malaria No More and join a team of athletes and celebrities, corporate and media partners, and everyday champions who are calling their shots to end malaria for good.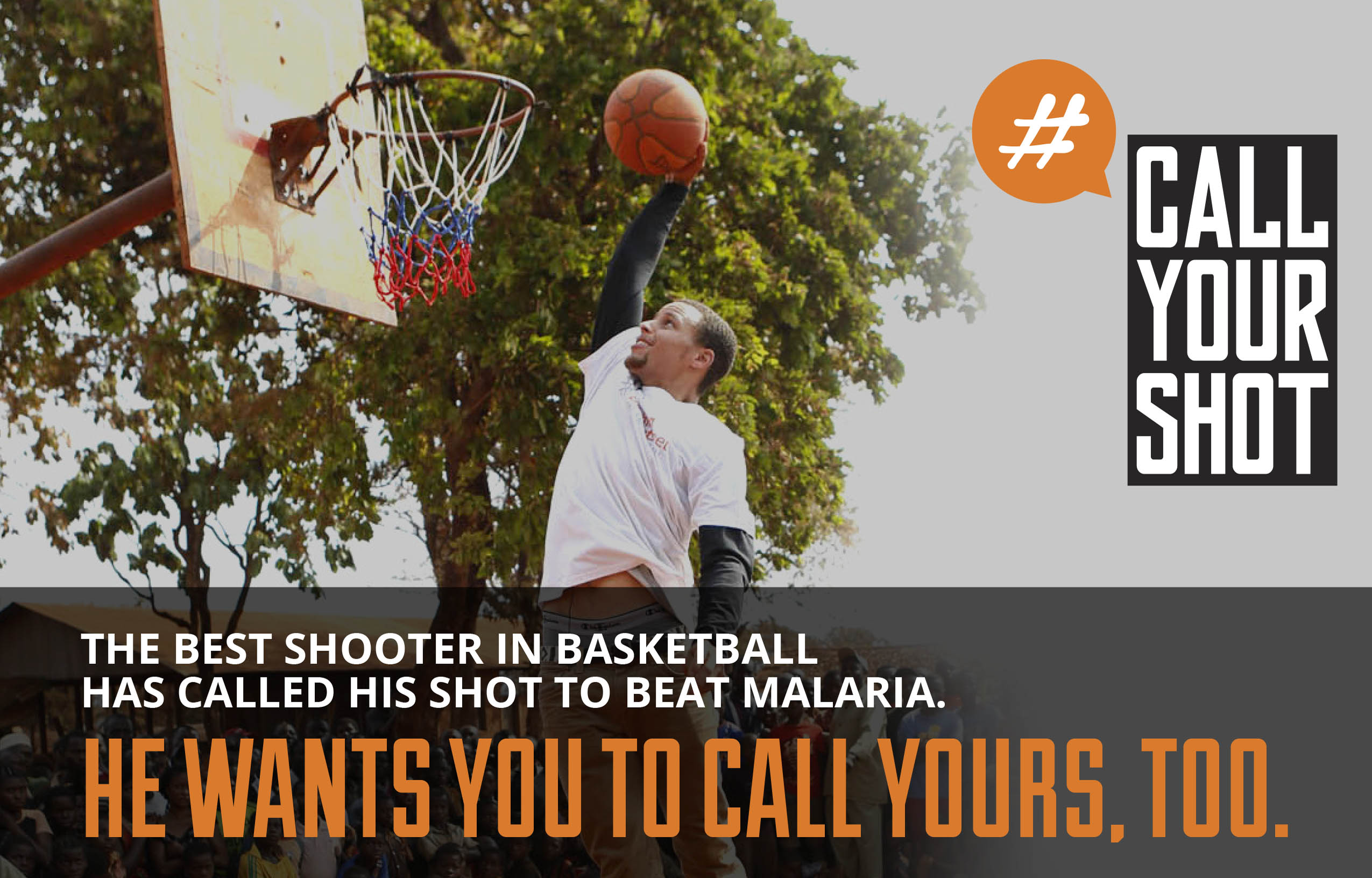 Basketball superstar Stephen Curry, is calling his shot to beat malaria and is challenging friends and fans to do the same. This challenge is backed by a coalition of partners, including the UN Foundation's Nothing But Nets campaign, Malaria No More and the United States Agency for International Development. Proceeds will go to nets and other life-saving anti-malaria activities. 
What we need you to do:
- Film yourself calling - and making - your most creative, silly or outrageous trick shot. 
- Challenge your friends, family or co-workers to call their shots. 
- Post your video using the hashtag #CallYourShot. 
- Go to callyourshot.org to send a net and protect families from malaria. 
For inspiration, take a look at videos from Sheryl Sandberg and Hollywood Today. 
Why Malaria? 

A child dies every two minutes from malaria, yet it is entirely preventable and treatable. Malaria is one of the biggest killers of children and pregnant women in the world. Malaria is caused by a single mosquito bite, and a simple mosquito net can help save a life. The world has made tremendous progress in the past 15 years—we've cut deaths in half since 2000.  The United States has been a global leader in the fight, with President Barack Obama calling his shot to end malaria in his final State of the Union. We're in the fourth quarter of this fight. If we let up now, malaria will win.  
 
What to say and do in your #CallYourShot video:
[Our recommendation when you record your video: hold your smartphone horizontally]  
- I'm __________and I donated at CallYourShot.org to beat malaria because I'm not OK with a child dying every 2 minutes from this disease.
- I'm calling my shot to save lives and am calling on __________and __________ and __________ to call your shots and donate as well. Just $10 helps buy and deliver a life-saving net.
- Everyone can call their shot.
- Help us beat malaria at CallYourShot.org. 
 
What to post on social media:
Facebook: I just called my shot to beat malaria because no child should die from a mosquito bite. Everyone can #CallYourShot with me, it's easy - record a #trickshot, challenge your friends and donate life-saving mosquito nets at CallYourShot.org. Just $10 can make a difference. I challenge [tag person A, person B, person C] to #CallYourShot and donate too. [INSERT LINK TO VIDEO]
Twitter: [INSERT LINK TO VIDEO] You're up @personA @personB @personC #CallYourShot to beat malaria + donate nets at CallYourShot.org