Coordinating Regions:
Central America: Costa Rica, El Salvador, Guatemala, Honduras, Mexico, Nicaragua, Panama
Caribbean: Antigua and Barbuda, Bahamas, Barbados, Belize, Cuba, Dominica, Dominican Republic, Guyana, Grenada, Haiti, Jamaica, Saint Kitts and Nevis, Saint Lucia, Saint Vincent and the Grenadines, Suriname, Trinidad and Tobago
South America: Argentina, Bolivia, Chile, Ecuador, Paraguay, Peru, Uruguay, Venezuela
Colombia: Colombia
Brazil: Brazil
Maria Villela
San José, Costa Rica
Maria Villela is a catalyzer of young leadership and social innovation. Her passion for driving change led her to support One Young World as Central America Coordinating Ambassador for two terms. As a Managing Ambassador of Latin America, Maria now supports events, social media campaigns, and engagement activities all throughout the five OYW Latin American sub-regions. Her purpose is to inspire young people to take action and start working for a better world. Maria has an English Major and a degree in Translation and currently works as a Sr. Learning Experience Designer at Amazon.
Carlos Madrigal Iberri
Mexico City, Mexico
Carlos is an enthusiast for change in global health issues. Through his leadership as medical director, he has led his NGO "Salvando Latidos" to be the most recognized not-for-profit organization in the medical care of cardiovascular diseases, the leading cause of death in Mexico and globally. In the same way, he fights against Chagas Disease in his country by leading the medical team within Novartis Mexico, which gave him a position as a delegate at the OYW London 2019 Summit. Throughout his career, Carlos has fostered collaboration as the cornerstone of projects and this led him along with other OYW Ambassadors to launch "EntreMexas", a non-profit organization that promotes the activation, reinvention and digitization of micro-entrepreneurs. He is a fervent promoter of creating actions through strategic alliances and social innovation to create a better world.
Kurba-Marie Questelles
Port of Spain, Trinidad & Tobago
Kurba-Marie Questelles is Peace and Security Specialist employed with the Ministry of National Security in Trinidad and Tobago. In light of her work in the field, Ms Questelles has previously briefed the United Nations Security Council on the importance of Harnessing the Power of Youth in the Fight against Transnational Organised Crime and has been recognised as a 30 Under 30 Emerging Caribbean Leader by the Institute of Caribbean Studies in Washington D.C. Ms Questelles serves in various Peace and Security and Youth Development capacities including as the Curator of the Global Shapers Port of Spain Hub, a One Young World Ambassador and a Climate Reality Leader with the Climate Reality Project. She has actively been involved in UNSCR2250 Advocacy regionally, across the Commonwealth and has represented the Caribbean as the featured speaker at the Commonwealth Secretariat's Launch of the Progress Study on Youth, Peace and Security. In 2018, Kurba-Marie was elected as the co-chair of the Learning for Youth Networking Sessions (LYNCS) which brought together young persons throughout the Caribbean region via a series of online webinar sessions aimed at capacity building and sharing best practices on youth violence prevention within the region. A proceeding which she was pivotal in planning the Caribbean Summit on Youth Violence Prevention 2019, which convoked 270 Caribbean activists, Government Ministers, NGO's and Representatives of International Organisations in Guyana to discuss best practices and launch the Action and Advocacy Agenda (AAA) - an evidence-based tool aimed at mitigating violence prevention within the Caribbean region.
Lucero Munoz
Bogotá, Colombia
Psychologist, specialist in international cooperation and project management for development with a master's degree in psychosocial research and intervention in communities from the Universidad Autónoma de Barcelona. Focused on the development of Non-Profit Organizations, Project Management. Passionate about the development and strengthening of communities, youth development, working with multidisciplinary teams. Experience in volunteer management, event management and social entrepreneurship. Currently executive director of the Catalina Muñoz Foundation and regional coordinator in Colombia for One Young World.
Suelen Nina Kanashiro
São Paulo, Brazil
Suelen believes in an equal society, with an economy based on creativity and collaboration. She believes that together, through the One Young World community, we can innovate business models, socio-economic relations and build a better world. With experience in the corporate world and volunteering abroad, Suelen has worked in the areas of public relations and sustainability, managing projects of diversity, women empowerment, and fight against poverty. By understanding how serious these issues are, she has decided to redirect her career to the defence of human rights and humanitarian crises. Suelen is now the operational coordinator of Refugio 343, a humanitarian organization that aims to alleviate the biggest humanitarian crisis in Latin America by accelerating the internalization of Venezuelan families that seek refuge in Brazil.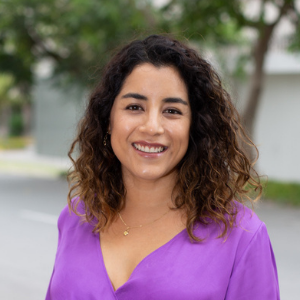 Andrea's personal purpose is to be an agent of change, positively impacting the lives of others, making them aware of their impact and be proactive in making a better world. She is convinced that to lead global change it is necessary to do so from the corporate front, creating programs that positively impact communities and, at the same time, connect the purpose of corporations.
She created and led: "Bodegas Sin Residuos", a project on recycling that has already been exported to 5 countries in which connects the purpose of The Coca-Cola Company to build a World Without Waste, government, and civil society. Its main purpose is to turn shops into PET Bottle collection points that served the community in three ways; they create recycling opportunities and awareness amongst consumers, allow the reduction of CO2 emissions through the reuse of materials and provide formal employment for waste collectors.
She faithfully believes in the power of connection, building a strong network and micro impact to generate a greater impact, which is why she leads and promotes young leadership and impact initiatives within her company. Andrea is an Industrial Engineer with more than 11 years of experience in FMCG industries and currently holding the position of Channel & Execution Manager at The Coca-Cola Company.
Jason Pareja Jauregui
Lima, Peru
Jason Pareja is a Peruvian engineer with a track record of incubating and delivering strategic projects and new business ventures in the technology, telecommunications, and banking industries. Currently in the role of Digital Product Manager at B89, the first Peruvian bank, creating digital solutions that boost financial inclusion nationwide.

He is passionate about the use of technology as a catalyst for sustainable development and social progress. He is also an advocate for Quality Education, inspiring public school students to think big and follow their dreams with "Vive Tu Futuro", an NGO that up to date has worked with +5,000 students and teachers so far. One Young World Coordinating Ambassador for Latin America. UN Youth Assembly Delegate. World Bank Youth Delegate. Young Leaders of the Americas Initiative Fellow.
OYW Latam: Líderes de Impacto
Líderes de Impacto is a regional interview series featuring top business executives in Latin America. Previous interviewees have included Elio Schiavo, General Manager of Apple in Latin America, and Carlos Murillo, President of Pfizer in Latin America. The series is led by Jason Pareja, Engagement Lead for Latin America.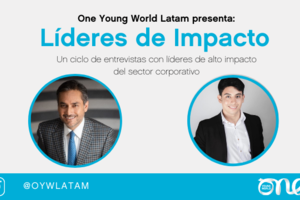 Ambassadors in Action
Instagram Live and Clubhouse interviews with One Young World Latin America & Caribbean Ambassadors. Learn more about their projects and ideas to bring positive change to our region.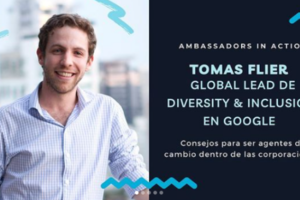 One Young World Perú Caucus
The One Young World Peru Caucus was themed around the importance of youth engagement in politics. The session featured notable specialists who discussed the ways that young people can become more active citizens within the electoral process.