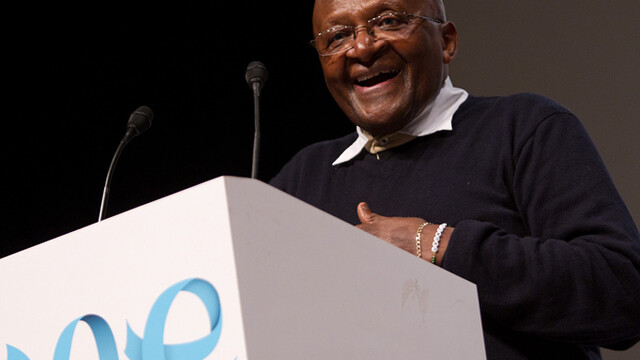 Archbishop Emeritus Desmond Tutu: 1931 - 2021
Activist and Nobel Peace Prize Laureate
Archbishop Desmond Tutu is a Nobel Peace Prize awardee renowned as a South African Anglican cleric known for his opposition steadfast opposition to the policies of apartheid. He stands among the world's most influential human rights activists.
Born in Klerksdorp, South Africa, Archbishop Tutu's was a bright and curious child with a passion for reading. He especially loved reading comic strips as well as Aesop's Fables and the plays of Shakespeare. In his teen years he became ill with tuberculosis which inspired his ambition to become a medical doctor and find a cure for the disease. He attended Johannesburg Bantu High School where he excelled academically leading to his acceptance into medical school after graduating in 1950. Unfortunately his family could not afford the tuition expenses so instead he accepted a scholarship to study education at Pretoria Bantu Normal College and graduated with a teacher's certificate in 1953. He eventually received a bachelor's degree from the University of South Africa and returned to his alma mater to teach English and History.
Archbishop Tutu became increasingly frustrated with the racism corrupting all aspects of South African life under apartheid, and after a unjust education act proposed by the government passed, Tutu was not willing to participate in an education system that was explicitly designed to promote inequality, so he quit teaching in 1957.
In 1958 he enrolled at St. Peter's Theological College in Johannesburg where he became an ordained Anglican deacon in 1960 and later on a priest.
Tutu's international prominence began when he became the first black person to be appointed the Anglican dean of Johannesburg in 1975. It was from this position he emerged as one of the most prominent and eloquent voices in the South African anti-apartheid movement. In 1978, he was selected as the general secretary of the South African Council of Churches, again becoming the first black citizen appointed to the position. He continued to use his position in the South African religious hierarchy to advocate for an end to apartheid.
In 1984, Archbishop Desmond Tutu received the Nobel Peace Prize. His achievement of the award transformed South Africa's anti-apartheid movement into an international force with deep sympathies all across the world.
Tutu has also written several books for the years, including No Future Without Forgiveness(1999), The Children's title God's Dream(2008), and The Book of Joy: Lasting Happiness in a Changing World (2016), with the latter co-authored by the Dalai Lama.
Despite announcing his official retirement from public life in October 2010, Archbishop Desmond Tutu made an exception to One Young World and played a key role in One Young World 2010 London & One Young World 2011 Zurich.