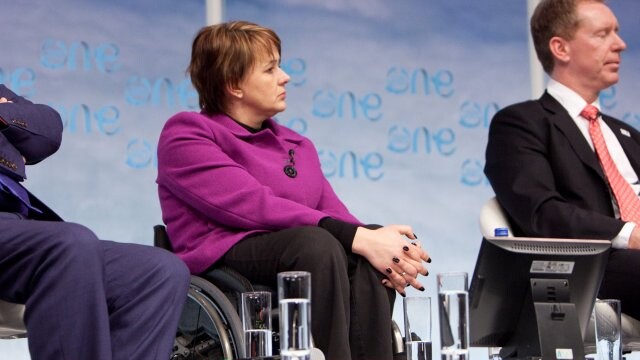 Dame Tanni Grey-Thompson
British former wheelchair racer, a parliamentarian and a television presenter
[[[video-0]]]
Dame Tanni Grey- Thompson is a Paralympic gold medalist wheelchair racer, a parliamentarian, and television presenter. Born in Cardiff, Wales, Dame Tanni Grey-Thompson attended St.Cyres Comprehensive in Penarth the place she first discovered an interest in sports. After trying a range of sports Tanni realised at age 13 that Wheelchair racing was sport of choice. In her last year as a junior athlete she won the Junior National title over 100m and at 17 she became part of the British Wheelchair Racing Squad.
Tanni's first Paralympics was Seoul in 1988, where she won a bronze medal in the 400m. In 1992, she was victorious in the London Wheelchair Marathon, the first six wins over her career and then went on to the Barcelona Paralympics, where she won four gold medals in the 100m, 200m, 400m, and 800 metres and a silver medal in the 4x100m relay. In Barcelona Tanni became the first woman to break the 60 second barrier for the 400m. Tanni won a gold medal and three silver medals in the 1996 Atlanta Paralympic. At the 2000 Sydney Paralympics, she won four gold medals in the 100, 200, 400, and 800 Metres. At her final Paralympics Games as an athlete in Athens 2004, she won gold in 2 events taking her medal tally to 11 gold medals. Her Paralympic total medal tally is 11 gold, 4 silver, and 1 bronze. Her World Championships medal count is 5 gold, 4 silver, and 3 bronze.
Tanni has continued to be involved in sport and physical activity. She is a board member of the London Marathon, the Sports aid Foundation, the Duke Edinburgh Awards and Join In. In addition she is also a board member of several organisations including Transport for London, the London Legacy Development Corporation, and the London 2017 Organising Committee.
In 2010 Tanni became an  Independent Crossbench Peer in the House of Lords, taking the title Baroness Grey-Thompson of Eaglescliffe in the County of Durham.  As a working peer Tanni uses her experience and knowledge during debates in the House and she has spoken on a range of issues including Disability Rights, Welfare Reform, and of course, Sport.
Dame Tanni Grey-Thompson was a counsellor at One Young World in London 2010.