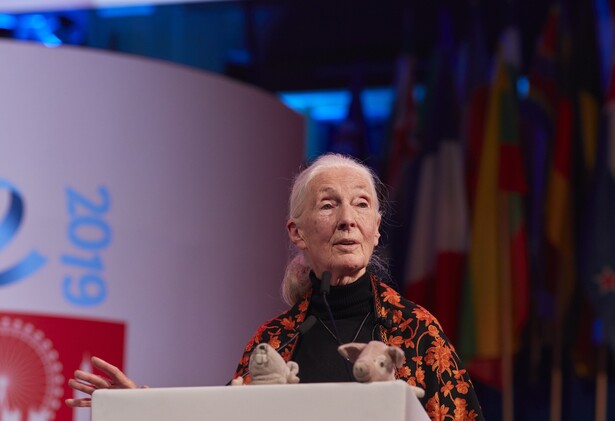 Dr Jane Goodall DBE
Founder - Jane Goodall Institute
Renowned for her landmark study of chimpanzees in Gombe National Park, Tanzania which began in 1960 and still continues today, Dr Jane Goodall is one of the world's most famous scientists and conservationists. She is a global leader in the effort to protect chimpanzees and their habitats, and to that end established the Jane Goodall Institute in 1977 to support Gombe research and to advance the programmes of the Jane Goodall Institute.
In 2002, Jane became a UN Messenger of Peace, and was invested as Dame of the British Empire in 2004. She has also featured in many documentaries and has written an extensive number of books, including two overviews of her work at Gombe, a bestselling autobiography and many children's books. 'The Chimpanzees of Gombe: Patterns of Behaviour' is recognised as the definitive work on chimpanzees.
Dr Goodall founded Roots & Shoots with 16 high school students in Dar es Salaam, Tanzania in 1991. Today, Roots & Shoots connects hundreds of thousands of youth in more than 50 countries who are empowered to become involved in hands-on activities to make the world a better place for people, animals and the environment.
Dr Goodall has been the subject of countless documentaries, a large-screen format film and has also featured in many National Geographic specials. She has received countless honours and accolades from governments, nonprofits, universities, and professional organisations, including the Kyoto Prize, the Medal of Tanzania and the Legion d'Honor.
Today Dr Goodall travels 300 days a year, visiting the Jane Goodall Institutes in 24 countries, talking to universities, corporations and the general public about her life's work and the fact that every one of us makes a difference every day and it is up to each one of us to think about the kind of difference we make.