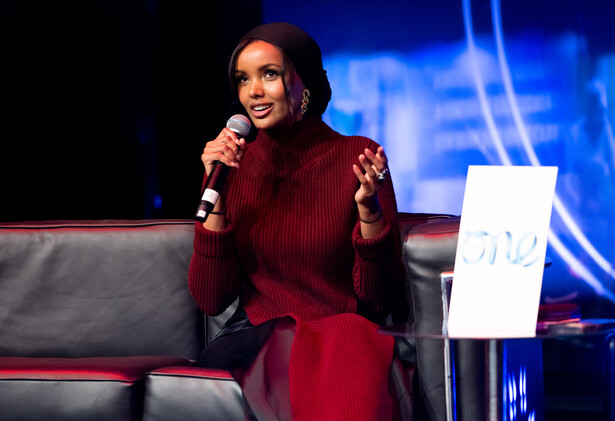 Halima Aden
Fashion Model and Activist
Halima Aden, has been redefining traditional standards of beauty, diversifying the modeling industry and improving visibility for the underrepresented demographic of Muslim women.
Aden was born in a refugee camp in Kenya, moving to St. Cloud, Minnesota at the age of seven. In 2016 she competed in the Miss Minnesota USA pageant — the first Somali-American to do so — and made it to the semi-finals. The Muslim model was also the first contestant in the pageant to wear a hijab throughout the competition, and the first to forgo skimpy swimwear in favor of a burkini during the contest's swimsuit round.
Her participation in the contest caught the attention of international media. Despite only being 5'5", she went on to make her catwalk debut during New York Fashion Week Autumn/Winter 2017 at Yeezy, and also walked for Alberta Ferretti and Max Mara in Milan. Aden has modeled for the cover of Carine Roitfeld's CR Fashion Book and was the first model to grace the covers of Vogue Arabia and Allure Magazine wearing a hijab. In 2018, she starred in covers for British Vogue and Teen Vogue. In 2019, she was the first hijab model to feature on the cover of Sports Illustrated's swimsuit issue.
In 2020, Aden stepped away from the fashion industry in traditional terms but continues to make an impact within the fashion world and beyond though now on her own renewed path and is signed to Creative Artist Agency for representation.
Also in 2020, Aden began her role as an Ambassador with Snap, first serving in the Snap Superhero program to help identify problems faced by society and brainstorm solutions. Aden renewed her role in 2022 and began serving in Snap's Club Unity program, helping to create tools and strategies to tackle mental health conversations and support their own wellbeing.

In 2021, Aden was named as Global Ambassador for the Istanbul-based modest fashion giant, Modanisa. In addition to her role as Global Ambassador, Aden has also designed two collections for the retailer. Her most recent collection, Halima x. Modanisa, launched in 2022.
Aden looks forward to continuing to do the work she is passionate about, including to continue to improve awareness and visibility for Muslim women and all women.