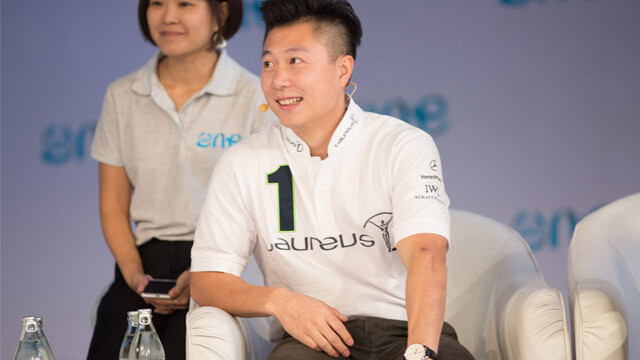 Li Xiaopeng
Olympic Champion Gymnast, China
[[[video-0]]]
Li Xiaopeng is a former athlete and gymnast, holding four Olympic gold medals and 16 world titles.
Born in Hunan province of China, he began his training at Changsha Sports School at six years old. By the age of 12, he was a member of the Hunan provincial team. Winning several provincial titles, Li's skill set him apart, and he was selected for the national team when he was only 15 years old.
At 16, he became China's youngest world gymnastics champion when he and his teammates won the men's team final at the 1997 Lausanne World Championships.
Li specialized in parallel bars and vault, achieving his greatest successes with the former when he won two Olympic gold medals in Sydney in 2000, and Beijing in 2008, and a bronze medal in Athens in 2004. He also won two world titles on parallel bars, and three World Cups. His remaining Olympic gold medals, also in 2000 and 2008, came in the team competition.
Some of his most outstanding achievements were at the 2003 World Championship in Anaheim, when he won three gold medals in all three categories--parallel bars, vault and team--and was voted 2003 World Gymnast of the Year.
In 2008, after suffering from a serious toe injury, Li made a comeback to win gold medals for parallel bars and team at the Beijing Olympics. The wins set his world titles to a record 16, surpassing Li Ning, and making him China's top-notch gymnast.
He retired from the sport in late 2009, and pursued education at a university in California. In 2010, he married his long-time girlfriend, Li Anqi, the Chinese-American daughter of two veteran gymnasts. In 2012, he celebrated the birth of his first child, a daughter, and in 2016, his son was born.
Li was a Counsellor at One Young World Summits: 2015 in Bangkok and 2016 in Ottawa.