Written by Ella Robertson. Managing Director, One Young World
Two key tenets have guided One Young World over the past ten years – they are why we exist and they drive our philosophy and our decision-making.
1) "The challenges we face this century will be global ones, not national ones."
2) "The systemic challenges we face, be they climate change or gender inequality, are all a result of a lack of leadership."
The COVID-19 pandemic has shown both of these to be true in the most urgent and tragic way. Diseases do not respect borders and a lack of ethical leadership is resulting in avoidable deaths, illness and an economic impact that will devastate the lives of many.
Appreciating our common humanity
One Young World has always been inspired by the African concept of Ubuntu. "Umntu Ngumntu Ngabantu" or "I am, because you are" is perhaps the best way to describe the meaning of Ubuntu. It speaks to the fact that we are all connected and that one is only safe and prosperous if our fellow humans are as well. This truth is echoed in many faiths, philosophies and cultures around the world – "no man is an island".
It is in this spirit of connectedness and solidarity that we have built the One Young World movement – based on Olympic ideals – we welcome every single country and no country is regarded as more important or significant than any other. Many have asked us why we have a Flag Ceremony, given that we are promoting the values of "One (Young) World": to us the Flag Ceremony is not about celebrating individual nations: it symbolises countries coming together in an expression of the oneness of humanity: we lay down our flags to build a more united world.
A lack of appreciation for the oneness of humanity has led to a sense that problems can be stopped at walls or border crossings and that by turning our backs on the vulnerable we can somehow protect the privileged. We must only hope that the seismic shift we are experiencing in the world right now causes enough people to reconsider the values they have been living by and become more compassionate towards people who have been displaced or are without a home.
The greatest modern proponent of Ubuntu is One Young World Counsellor and Nobel Peace Laureate Archbishop Desmond Tutu. Archbishop Tutu reminded us at One Young World in Zurich that "you really are brothers and sisters – you really are one family." It's now time to bring the same concern that we have for our own family members and apply that to every other human.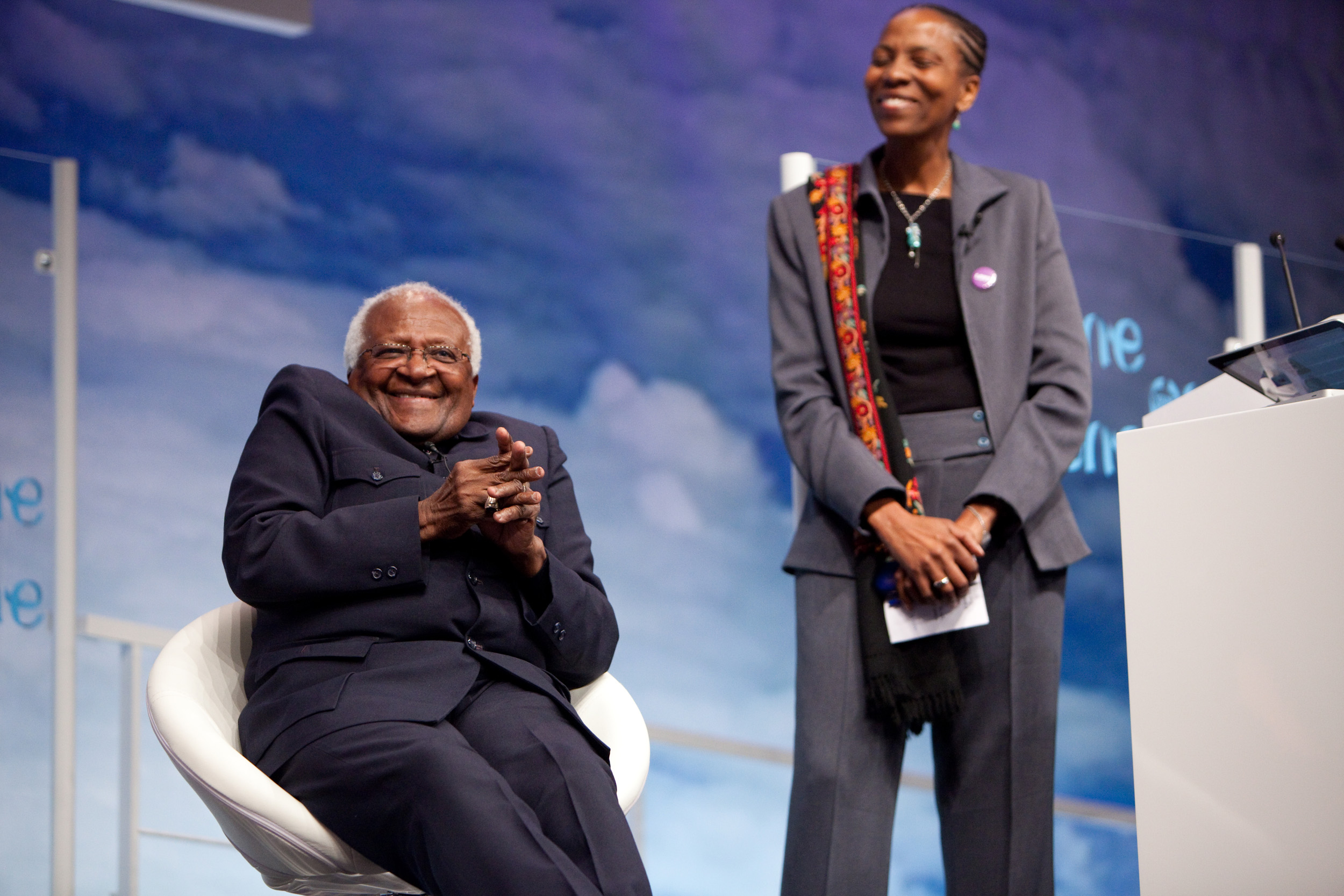 This isn't global – it's planetary
Astronaut and One Young World Counsellor, Ron Garan, describes the "orbital perspective" that astronauts achieve when they go into space and observe our planet. He writes in his bestselling book, The Orbital Perspective: Lessons in Seeing the Big Picture from a Journey of 71 Million Miles:
"As I looked back at our Earth from the orbital perspective, I saw a world where natural and human-defined boundaries shrank. We are all riding through the universe together on this spaceship we call Earth. We are all interconnected, we are all in this together, and we are all family."
Ron asks us to elevate our thinking around the COVID-19 Pandemic and view it not as a global problem, but a planetary problem. He makes the following differentiation:
"Global treats everything including the very life support systems of our planet as the wholly-owned subsidiary of the global economy. Planetary treats every person as a valued member of one single human family embedded in our planet's biosphere. A biosphere we share with every other interdependent life form on our planet."
Not only do we need to reconsider our relationship with our human family – we also need to rethink the way we view our family home. As the dolphins and swans return to Venice and Wuhan residents begin to hear the birds sing again, we cannot deny that this horrific disease is giving us pause and enabling us to reflect on the importance of protecting our planet. After all, the number of climate change-related deaths each year is steadily increasing and the destruction of forests and natural habitats is increasing the likelihood of infectious diseases spreading from animals to humans.
Connecting with communities
We must also reflect on our role in our local homes: our communities. It's all too common in a large city not to know the names of your neighbours or greet the elderly folks who live on your street. Now is the time to proactively connect with your community (from a safe social distance!) and ensure that those around you have what they need in terms of groceries and prescriptions. Where possible, use phones or video-conferencing to check in on people who are quarantined. Perhaps our society will eventually be less lonely, despite the self-isolation.
As Counsellor Kofi Annan reminded us frequently at One Young World, "it starts with you – in your communities, in your schools, organise yourselves and make a difference". Now is the time to take extra steps to organise our impact and ensure that this period of history isn't only mourned for the loss of life, but commemorated for the compassion we show in the coming weeks and months.