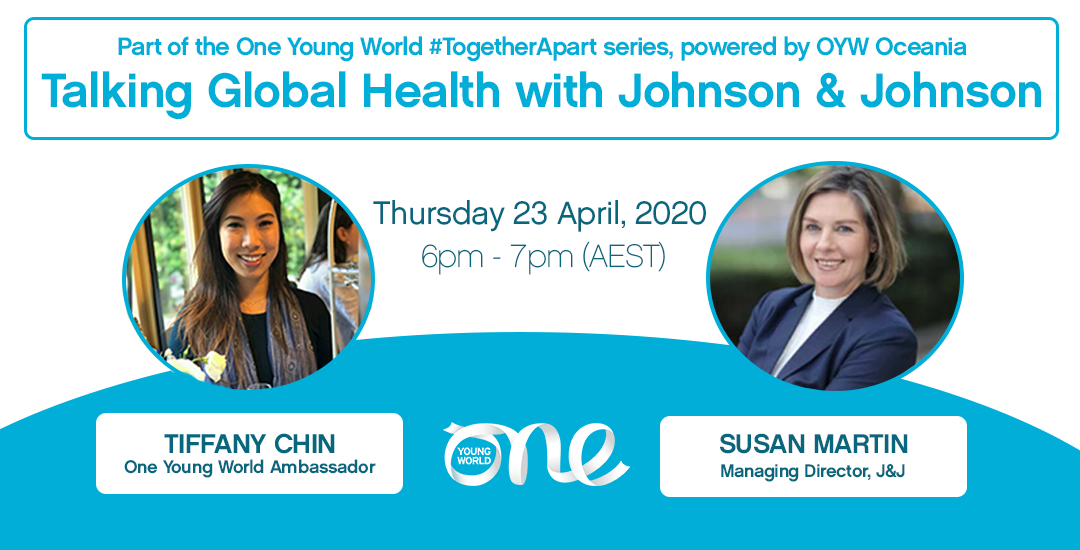 About
This event will focus on how J&J has responded to the pandemic locally and globally, internally and externally, across its pharmaceutical, medical devices and consumer health sectors, and what the audience can do to help their communities.
Time and Date: Thursday 23 April 2020, 6pm - 7pm (AEST)
Zoom link: https://zoom.us/j/94265457088?pwd=U21JYnk5M0JQWXdXRjRHZ1lzUkFzUT09 
Speakers
We look forward to hearing from the following speakers:
Susan Martin has been with Johnson & Johnson Medical for 20 years, becoming Managing Director, Australia and New Zealand, in January 2018. Susan is also the Executive Sponsor of the Global Community Impact program for Johnson & Johnson Australia & New Zealand
Tiffany Chin is a One Young World Ambassador and currently holds an orthopaedic marketing role within DePuy Synthes, part of the Johnson & Johnson Family of Companies. The global Johnson & Johnson SDG commitment focuses on five areas in which the Company is uniquely positioned to create sustainable and scalable impact – health workforce, women's and children's health, essential surgery, global disease challenges and environmental health. She looks to find ways for J&J to address its SDG commitment locally and her personal passion is for gender equality and children's literacy.
Any questions? Please email [email protected].