Loujain Al-Hathloul, a OYW Ambassador from Saudi Arabia, has been selected as a finalist for the second annual Prix Liberté.
The Prix, also referred to as the Freedom Prize, is an initiative which aims to raise awareness of freedom, peace and human rights, inspired by the values of the D-Day landings of 6 June 1944 in Normandy.
The Freedom Prize invites young people aged 15 to 25 globally to select an inspiring person or organisation, committed to a recent, exemplary fight for freedom.
Organised by the Normandy Region, implemented with the International Institute of Human Rights and Peace, in partnership with the academic authorities of Normandy and the Canopé network, the Freedom Prize pays tribute to all those who have fought and continue to fight for this ideal. The first winner in 2019 was climate activist Greta Thunberg.
Loujain is one of three finalists alongside Father Pedro Opeka of Argentina who works as a missionary in Madagascar, and Nasrin Sotoudeh, a human rights lawyer from Iran who has been in detention since 2010.
To those aged 15-25, you can vote for Loujain here: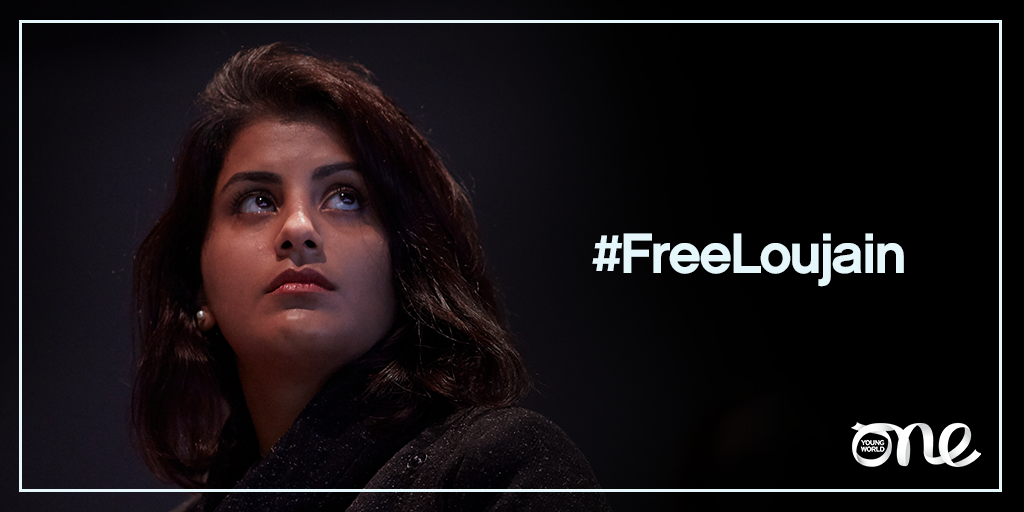 About Loujain
Loujain is a prominent Saudi activist and human rights defender who has demonstrated great personal courage and whose efforts have had a tremendous impact in Saudi Arabia and beyond. She paved the way for the social reforms seen in the country in 2018: the lift of the driving ban against women, and 2019: the loosening of male guardianship rules.
Since 2014, the Saudi feminist movement has been publicly engaged in raising awareness, popularising human rights concepts in general, beyond equality for women and men. It is the most organised and articulate civil society in Saudi Arabia, rapidly becoming "the regime's nightmare." Observers believe that the fear of this uncontrolled spread of human rights was the reason for the 2018–2019 crackdown on feminists.
Loujain was one of the leaders in the movement, reshaping the process of mass, collective consciousness-raising and developing a fully articulated understanding of women's varying social positions. She was a main voice in the movements "Together We Stand to End Male Guardianship of Women" and "Women Demand the Overthrow of Guardianship" raising awareness online and sharing information. She conducted a "driving campaign" where her and other advocates took pictures of themselves driving in the streets of Saudi Arabia in defiance of the driving ban. As part of a working group, she established a shelter for women escaping domestic violence that not only provided a place to go but helped them integrate back into society.
Loujain was arrested on May 15, 2018. She was held incommunicado for 35 days before her family was notified. She is still in prison 680 days later. In August 2019, Saudi State Security officials offered to release Loujain if she recorded a video denying that they tortured her. She refused.
The Saudi Government has still given no legal basis for her detention. When Loujain was arrested, officials failed to show any warrant, or other order issued by a lawful authority, that authorized her arrest. The arresting officers also failed to provide verbal confirmation of any laws that Loujain might have allegedly violated that would justify her detention.
In the indictment that the Government brought against Ms. Al-Hathloul almost 10 months after her initial detention, 11 out of the 12 charges against her made no reference to any legal violation. In the last charge, the only reference was to a pre-existing Saudi law - "Combating Cybercrime" – where they charged her for using social media to discuss abolishing male guardianship and giving women equal rights.
Loujain has been arrested twice before. Once, in 2014, she was detained for 73 days after driving her car over the Saudi border from the United Arab Emirates, where she was living at the time and where she was licensed to drive. During that period of detention, Ms. Al-Hathloul was never charged. In 2017, she was taken into custody for several days and then released, also without being charged or informed of the legal grounds for her Arrest.
Since May 2018, Ms. Al-Hathloul has been interrogated and subjected to psychological and physical torture by State officials.
To those aged 15-25, you can vote for Loujain here: