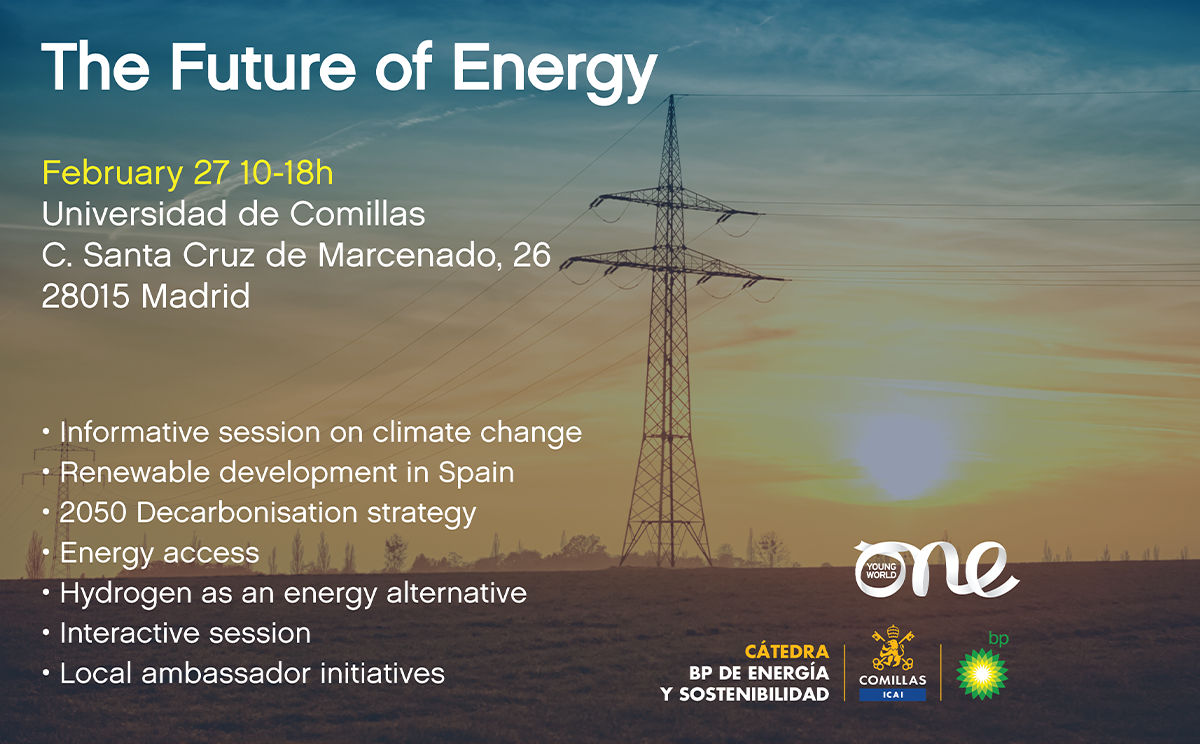 One Young World invites you to join the OYW Madrid Caucus to discuss 'The Future of Energy'
This event is in collaboration between One Young World and la Cátedra BP de Energía, and is being hosted by the Sostenibilidad de Universidad Pontificia Comillas. The aim of the event is to promote projects related to the Future of Energy and to learn from speakers from the industry. The Caucus will then finish with a workshop to generate ideas. OYW Ambassadors, students, industry professionals and those interested in this topic are all welcome to attend!
Please note that this event will be hosted in Spanish.
When & Where
Thursday 27 February 2020, 10:00 - 18:00 CET
Comillas University, Santa Cruz De Marcenado Street, 26, 28015 Madrid, Spain
Agenda
10:00 - 10:15 - Intro (Pedro Linares & Dehydys Pimentel)
10:15 - 11:00 - Information session on climate change (Iñigo Losada)
11:00 - 11:30 - Escuelab (Cristina Balbas - OYW Ambassador)
11:30 - 12:00 - Mediterranean clean (Ruben G. Navamuel - OYW Ambassador)
12:00 - 12:45 - Renewable development in Spain (Acciona)
12:45 - 14:00 - Lunch
14:00 - 14:45 - Decarbonisation strategy 2050 (To be confirmed)
14:45 - 15:30 - Access to energy (Andrés González)
15:30 - 16:15 - Hydrogen as an energy alternative (Marcos López-Brea)
16:15 - 17:45 - Roleplay workshop on energies of the future
17:45 - 18:00 - Closing (Pedro Linares & Dehydys Pimentel)