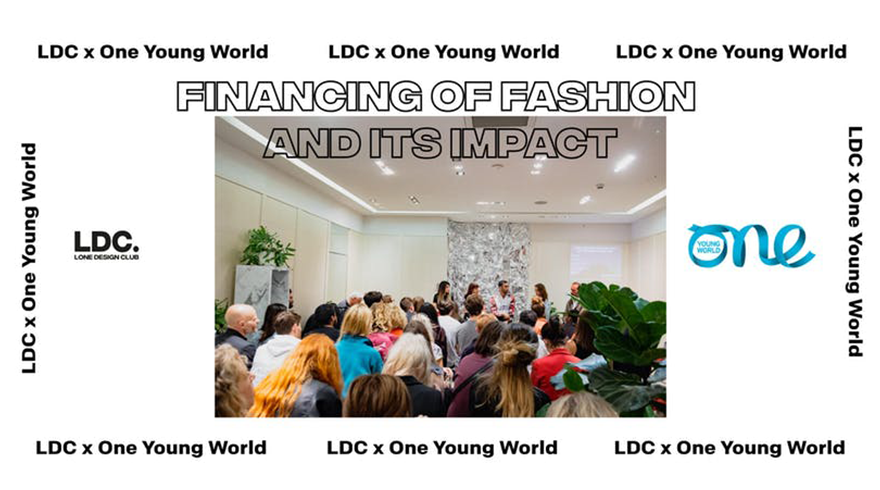 Lone Design Club and One Young World have excitingly teamed up for the first time, combining their shared beliefs in the changing face of responsible and powerful leadership. With a particular focus on the future of fashion, this talk will discuss how ethical & sustainable fashion can be financed, decomposing the different supply chain pillars.
The event will host a panel discussion on the future of fashion and what changes it needs to make to stay relevant in the face of the climate crisis.
This is the first event in its series - focussing on the current state of the industry and digging a little deeper, and taking a closer look at how a future proof fashion can be created.
Date: Tue, November 19, 2019
Time: 6:30 PM – 9:00 PM GMT
Location: 130 Shoreditch High Street. London, E1 6JE
Up to 30 OYW Ambassadors will receive complimentary tickets to the event using our promo code: OYWAMBASSADOR. Even if free tickets are sold out, we encourage you to secure a ticket to attend anyways!
Meet the Speakers:
Moderated by Jamal K. Campbell - Creative & Digital Producer, Channel 5. OYW Ambassador
Jamal K. Campbell is the Creative and Digital Producer for Milkshake!, the children's morning show on Channel 5. He is also a One Young World Ambassador and a media consultant for One Young World. During his time with the charity, he has produced short-form content and created podcasts since attending his first summit in 2014 in Dublin.
He has also co-produced, co-directed, co-edited a documentary for International Women's' Day with the Professional Women's Network and the Here: Women at Viacom network and is in the production team for Fusion; Viacom's internal multicultural employee resource group.
Martina Macpherson – President – Network for Sustainable Financial Markets
Martina is President of the Network for Sustainable Financial Markets, a global non-for-profit ESG think tank and social network for the next generation of sustainable finance experts. She is also the Founder of SI Partners Ltd, an independent consulting firm specializing in (extra) financial risk management, legal and compliance, research and analytics solutions. Martina is a doctoral fellow at ICRMP UK, a visiting fellow at Henley Business School and a guest lecturer at the University of Zurich. She teaches and trains industry professionals such as investors, corporates and regulators (e.g. the FCA) in risk management, compliance, sustainable finance, ESG and impact investing. She sits on a variety of sustainable finance working groups, advisory boards and panels to assess and report on the status of the market.
Pauline Op de Beeck, The Carbon Trust
Pauline is the Carbon Trust's lead on sustainable fashion, helping the industry overcome multiple challenges including resource constraints, supply chain transparency and their need to adopt business model innovation. The Carbon Trust is a mission driven organisation, helping organisations drive the move towards a low-carbon sustainable economy. Pauline has an MA in International Relations from the University of Edinburgh and an MSc in Environmental Policy and Regulations from the London School of Economics.
LinkedIn: https://www.linkedin.com/in/popdebeeck/
Rebecca Morter, Founder of Lone Design Club
When LDC officially launched in May 2018, Rebecca quit her own brand to lead the company. Rebecca explains that one of the most rewarding parts of creating these niche pop-up spaces was giving a voice to these talented emerging brands.
LDC believes sustainability should be a given and LDC select brands based on their efforts and stories and not the core USP to a brand or to our brand: sustainability should be integral. We don't need to give customers the options of what's sustainable but prefer to show them cool and contemporary brands, each with a sustainable or ethical story, helping to make strides to support consumers to shop more consciously and to make it part of our DNA.
About Lone Design Club
Lone Design Club was founded in May 2018 as the result of emerging international fashion + lifestyle brands uniting with like-minded businesses in rising up, taking control and shaping the future of retail.
It started by creating short term concept stores appearing for 1-2 weeks at a time, first around London and then internationally, where designers are in-store telling you first-hand accounts of how the product was designed and made. Experiences and events followed, allowing designers an intimate outlet to tell their story and the audience a chance to interact with topics ranging from sustainable fashion to individual empowerment and entrepreneurship. Shortly after, Lone Design Club launched its online store, giving their community a new avenue to further relationships that is open 24/7. Both physical and digital platforms allow consumers to discover + shop from independent brands with traceable and mindful practices, selling exclusive and one of a kind items incomparable to that on the high street. To shop consciously, knowing the story behind every purchase.