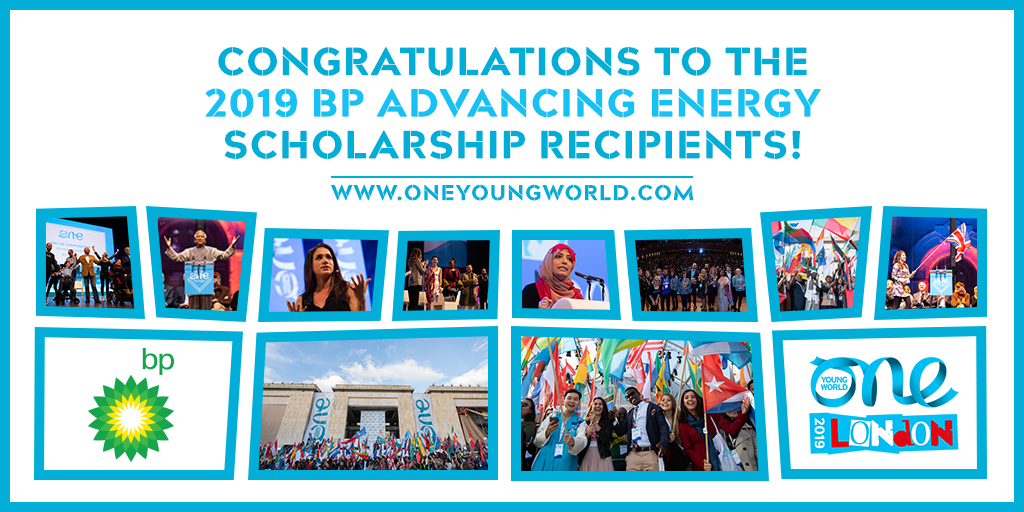 For the first time this year, One Young World partnered with BP to launch the BP Advancing Energy Scholarship which will fund 30 scholars from around the world to participate in the One Young World Summit 2019 from 22-25 October.
As the world demands more energy to fuel its rapid growth and lift people out of poverty, it also demands fewer emissions and a path to a carbon-neutral future. The UN's Sustainable Development Goals recognise the need for sustainable energy for all. Supporting the ambitions of the Paris Agreement, BP is determined to address the dual energy challenge: more energy with fewer greenhouse gas emissions.
This scholarship sought after young leaders who are focused on advancing the energy transition, creating low carbon businesses, and mitigating the impact of climate change.
Congratulations to the 2019 BP Scholarship recipients:
Abdelhadi Mohammad Hammad Hussein, Jordan
Mechanical Engineer
Pursuing a Master's Degree in Mechanical Engineering, Abdelhadi's current research focuses on biofuels in the transportation sector. He established the first student chapter for the American Association of Energy Engineers at the University of Jordan to promote scientific awareness of renewable energies; the chapter grew to be internationally recognised and engaged more than 5,000 students in Jordan.
Alejandra Plaza Limon, Mexico 
Grants Associate, The Nature Conservancy
Alejandra works in a project together with a Global Shapers team in the creation of an Observatory of Technological Innovation for the Energy Transition (OITTE), defined as a unifying platform to bring clean energy companies and environmental advocates together to collaboratively map out sustainable energy solutions. The project stages involve the research, development and dissemination of accurate information, specializing in finding financial opportunities that benefit clean energy transition projects. Alejandra currently works at The Nature Conservancy to achieve natural conservation and water security in Mexico and Latin America.
Ashiwin Vadiveloo, Malaysia
Postdoctoral Research Fellow, Algae R&D Centre, Murdoch University
Ashiwin completed his PhD on the 'The Efficient Use of Light for Cultivation of Microalgae"; his research work has resulted in the development of a carbon-neutral process for manufacturing biofuel from microalgae.  
Daniel Holod, USA
Graduate Researcher, University of Oxford
Daniel works with the United States Department of Agriculture and Tanzania's Ministry of Agriculture's Climate Resilient Farmers project, conducting research among farmers' perceptions of weather shocks. He also led a social enterprise in Malaysia providing solar-powered water pumping and filtration to isolated communities.
Denise Lee, Canada 
Co-Founder, Our Poles Our Planet
Denise is a co-founder Our Poles Our Planet, a nation-wide conference series dedicated to ensuring the sustainability of the polar regions.  She was named a 2018 Top 30 Under 30 Environmental Educator, and one of Canada's Top 25 Under 25 Environmentalists in 2017. Denise is currently pursuing her economics and environmental science degree at the University of Toronto where she is researching the scalability of the direct air capture industry.
Diana Teresa Maldonado Castro, Bolivia
Diana is an environmental engineer who has been working towards the diversification of the current energy matrix. With Energética, Diana has travelled around Bolivia distributing of third-generation photovoltaic systems to isolated communities and training residents in their use.  
Fagan Abdurahmanov, Azerbaijan
Advisor to the Chairman at The State Agency on Alternative and Renewable Energy Sources, Republic of Azerbaijan
As a civil servant in Azerbaijan, Fagan works to make his country more clean, sustainable, and efficient, aimed at a 35% reduction in emissions by 2030 as set out in the Paris Agreement. They are working to install solar and wind power plants which will generate a huge amount of clean energy to transmit via the country's energy grid.
Pratik Gauri, India 
India CEO, 5th Element Group and Chairman, India Needs You
In the past 10 years, Pratik has initiated various projects to create positive change in India. Most notably, through Project Ovanova, his team has educated 100,000+ homeowners about solar and renewable energy, and via the Rwanda / India Clean Water Campaign, they helped unlock $1.2M for clean water initiatives in those countries.
Gurleen Kaur, India 
PhD Candidate, Department of Electrical and Computer Engineering, National University of Singapore
Gurleen's doctoral research focuses on developing low-cost and high-efficiency solution architectures for industrial solar cells. She also works on screening low cost, biodegradable, novel material alternatives (organic PEDOT:PSS) in collaboration with the Solar Energy Research Institute of Singapore.  She along with her team has published over 12 journal articles, book chapters, and given over 20 talks at a variety of conferences, institutions, including International Energy Agency on Energy Efficiency and Standards and the Singapore-Asia Pacific Meet and public outreach events detailing her research in renewable energies. She is also the founder of 'Solisfix' aimed at addressing insurance and maintenance issues of solar products in South East Asia.
Jack Payne, United Kingdom 
As a PhD researcher at the University of Bath's Centre for Sustainable Chemical Technologies, Jack's has dedicated his work to finding clean energy solutions. His current research focuses on the catalytic upgrading of polyester (plastic) waste into value-added products, further promoting a circular economy approach. His previous research has focused on the development of a novel screen-printed biodegradable microbial fuel cell biosensor for water quality monitoring applications in developing countries. 
Jonah Messinger, USA
Undergraduate, Engineering Physics, the University of Illinois at Urbana-Champaign
Jonah has been a leader in campus sustainability at his university; he is one of few undergraduate members on the Illinois Climate Action Plan Working Group and the Illinois Sustainability Council. He serves as President of Illinois Solar Decathlon and Treasurer of the Student Sustainability Committee. He works as a researcher in the Braun Research Group at the Beckman Institue and has researched next-generation hybrid perovskite solar cell technology at the National Renewable Energy Laboratory in Golden, Colorado.
Juliana Rademaker, France
Co-Founder, Reload
Juliana's climate activism began at a young age, when as a teenager she chaired a conference on youth and climate change at the United Nations in Geneva. Since then, in 2018 Juliana worked with the municipality of Chamonix to enact a pollution reduction action plan in the Chamonix valley. More recently still, Juliana co-founded a startup, Reload, which aims at proposing recycled, reusable and recyclable aluminium bottles for cosmetic products (soap, shampoo, perfumes).
Justine Abuga, Kenya
Founder, Ecobora 
Justine is the founder of Ecobora, which recycles organic waste into affordable clean cooking pellets and equips rural communities with solar-powered kiosks through which they can access green energy products. 
Jose Luis Vilcahuaman Tovar, Peru
With Global Shapers and Strategic Energy World, Jose has worked to promote solar energy in rural Andean communities and led one of the largest electric transmission projects in Peru's history that benefits 5 million Peruvians. They implemented 887 kilometres of electric line transmission with 1917 towers through the desert and the Peruvian Andes. 
Kadija Simboro, Burkina Faso 
General Director,  Farafina Eco-Engineering
Kadija is the General Director of Farafina Eco-Engineering, a startup that providing products and services to accelerate access to energy. Through her 'Yeleen Cash' initiative, they have provided solar energy systems to over 1,000 people in Burkina Faso. She has implemented an ambassadorship programme to raise public awareness of the need to optimize water and energy consumption throughout schools, universities, associations, and businesses. 
Mahmoud Abouelnaga, Egypt 
Co-Founder, CAREforSeven
Mahmoud is an energy engineer and a co-founder of CAREforSeven, an initiative that has trained students in developing solar chargers from E-waste and sponsored sustainable energy programs in Nigeria. He is also part of the MENASource team, run by the Rafik Hariri Center for the Middle East at the Atlantic Council, that works on analyzing the socio-economic implications of climate change in the MENA region. He was part of the inaugural class of Obama Foundation Scholars at Harris School of Public Policy, the University of Chicago where he earned MA in international development and policy with a focus on energy and environmental policy. He now works as Solutions Fellow at the Center for Climate and Energy Solutions (C2ES)
Nabila Putri Salsabila, Indonesia
Student, Department of Chemical Engineering, University of Indonesia
Nabila published an innovative undergraduate research thesis that explored the development of a technically and economically feasible village model with an integrated renewable energy system for rural productivity zone (post-harvest cocoa processing) in Indonesia.
luliia Maskova, Russia
Specialist in Sustainable Energy Policy, Renewable Energy and Energy Efficiency in the international arena 
Iuliia has a long-standing experience as a promoter of responsible energy policy that works to invest in sustainable energy. Pursuing a Joint Master's Degree in Smart Cities and Communities, Iuliia's current research focuses on renewable energy technologies, smart grids, energy efficiency on buildings, and urban planning. Iuliia is a speaker at high-level international conferences (International Energy Forum, Series of conferences ECOLEADER and others) and a researcher with more than 10 articles on energy, climate, and sustainability issues. Currently, Iuliia is a member of the Core Group of Experts for the Organization for Security and Co-operation in Europe (OSCE) with a focus on threats of Energy and Environmental Dependency, Security and Efficiency. 
Fahd Zami, Morocco
Electrical Engineer
As an Electrical Engineer, Fahd works to promote renewable energy solutions, smart grids and access to reliable, affordable, and sustainable electricity. He oversaw a major rural electrification program in the Rhamna Province in Morocco. Through rounds of negotiations, he was able to nearly double the number of electrified villages reaching, ultimately 190 villages. Since many villages couldn't be connected to the grid, he managed to include them in a subsequent solar electrification project involving more than 2,000 solar panels. This allowed for 99.75% electricity coverage in the Province.
Oktoviano Gandhi, Indonesia
Co-Founder, Alva Energi
Oktoviano is the co-founder of Alva Energi, which works with student organisations, NGOs, and local governments to carry out rural electrification projects in Indonesia and Cambodia. In these villages, they build PV-battery nanogrids in the village to provide them with lighting and phone charging. In all of their electrification projects, they ensure they train villagers to operate, maintain, and troubleshoot the system. They also provide quality solar PV installations across Indonesia.
Olugbenga Olubanjo, Nigeria
Co-Founder, Reeddi
Olugbenga is the co-founder of Reeddi, an organisation innovatively providing clean, reliable and affordable energy to individuals living, and businesses operating in the energy-poor regions of the world. Since launching, they have received a number of awards including MIT's Clean Energy Prize for Innovative Energy Delivery, the Institute of Electrical and Electronic Engineering (IEEE) EBL Awards for Emerging Decentralised Energy Systems, the RBC Prize for Innovation and Entrepreneurship, and the HULT Prize Distinction Award at the University of Toronto.
Xiangkun (Elvis) Cao, China
Ph.D. Candidate, Sibley School of Mechanical and Aerospace Engineering, Cornell University
Elvis is a Ph.D. Candidate at Cornell working on converting CO2 into solar fuels. His thesis project is centred around "HI-Light", a solar-thermal chemical reactor technology for converting CO2 to fuels like syngas or methanol. The technology seeks to achieve a kind of artificial photosynthesis inside a factory or a power plant – combining sunlight, CO2 and chemicals to photocatalytically produce renewable fuels. Elvis was named to Forbes 30 Under 30 in Energy (2018), EarthX 30 Under 30 (2019), AACYF 30 Under 30 (2019), and was a Local Pathways Fellow (2019) by UN SDSN-Youth.
Ony Fy Nandrianina Andriambololona, Madagascar
Energy Consultant, WWF Madagascar
Ony is currently working to support the Barefoot College with an initiative where rural unschooled women are trained to become solar engineers and electrify their villages by themselves. She has previously conducted research about the danger of exposure to lead-acid batteries as well as regenerating batteries in order to reduce extraction of raw materials needed to produce new ones. She is also a board member of Ikala STEM, an association which aims to promote education and science and to raise the profile of Malagasy women in STEM.
Brackley Casinga. DRC
Founder, Kwanza Technologies
Since he was a young boy, Brackley has been building homemade appliances using scrap electronic components. He has since founded Kwanza Technologies, an electronics workshop which builds solar lamps out of plastic and e-waste.
Shaker Nairat, Palestine
Founder, Future Green Arabia
Shaker is the founder of Future Green Arabia, a solar energy startup based in Palestine, which hopes to lower the price of solar panels through local production and cutting-edge thermal silicon melting technology.  For the last two years, he has also led the largest network of youth volunteers in Palestine, the Access Alumni Network, which includes 13,000 volunteers from the West Bank, Jerusalem, and Gaza.
Unelker Maoga, Kenya 
Founder, Konservation
In 2017, Unelker founded Konservation, a community-based organization in western Kenya aiming to build environmental stewardship, empower women, and inspire young people to get involved in the sustainable development of rural communities. 
Uzoma Eleke, Nigeria
Co-Founder, Zeta Prime Tech
Uzoma is the co-founder of Zeta Prime Tech, building a solution for waste recycling and agricultural fertiliser manufacturing in Nigeria. They also act as a small consultancy providing information and help to small businesses, especially smallholder farmers, that are seeking alternative methods for energy generation.
Xu Liu, China
Graduate Researcher, Cornell University
Xu, pursuing her Master's Degree in Materials Engineering,  has led environmental outreach for students, joined international energy conferences, and given public presentations on the effects of pollution. She has first-authored two papers about hydrogen production from water splitting published in the International Journal of Hydrogen Energy. She also won the Top 100 Prize in the "Create the Future" Design Contest organized by NASA Tech Briefs in 2018.
Tracy Smith, Guyana 
Project Analyst & National Focal Point, Japan Caribbean Climate Change Partnership, United Nations
Tracy has combined her passions for gender equality, environmental protection, and education to work to promote a fairer, more sustainable world with the Japan-Caribbean Climate Change Partnership.
Ye Thu Win, Myanmar 
Project Development Manager, Myanmar Eco Solutions
In his position, his team is looking to develop a 28.6 MW solar power plant in Myanmar. He aims for this project to act as an example of bankable renewable energy in the region which could stimulate momentum for the development of other similar renewable energy projects.  
Image