In the last two weeks Afghanistan experienced a series of horrific incidents that have made us profoundly disturbed. We believe that, if world leaders act and lead collectively, the crisis in Afghanistan can be limited and civilians, mainly children and youth can still be saved.

With our hearts in our mouth, we have been watching a full scale humanitarian crisis unfolding in Afghanistan. We, members of the global Network of Former Youth Delegates to the United Nations, Advocacy Group for Afghanistan and youth leaders from across the globe are calling on the United Nations Secretary General to step in and mobilize global efforts to stop the continuation of this humanitarian crisis that will have implications on international peace and security.

Please join this call and add your name to the Open Letter to the United Nations Secretary regarding the humanitarian crisis in Afghanistan. If your organization is willing to endorse this letter, please email your organization's name and logo to: [email protected].
By One Young World Ambassador Ramiz Bakhtiar, Lika Torikashvili and Iván Martínez
Credit: US Marines via AP
Read the full letter below
Dear Mr. Secretary-General,
We, members of the global Network of Former Youth Delegates to the United Nations, former and current UN Youth Representatives from different countries, young leaders, youth-led organizations and the undersigned, write to express our deep concerns regarding the situation in Afghanistan and its implications on international peace and security. In the aftermath of a leadership failure, and the Taliban takeover, the humanitarian crisis in Afghanistan is stretching out faster and more dramatically than any other crisis on earth. The country is not on the edge of a catastrophe, it has been stuck in one. If abandoned and left behind, it will face imminent threats of another endless civil war, destruction, genocide and brutality with no respect for human rights and dignity. It may also become fertile ground for many other kinds of violations stretching beyond the borders of Afghanistan.
We, therefore, urge you as the leader of the UN, which was established "to save succeeding generations from the scourge of war", to fulfill a promise you made on 28 June 2021 during the UNSC debate where you stated: "There is no place for children in conflict, and we must not allow conflict to trample on the rights of children." We appeal to you to demand the protection of youth and children in Afghanistan and call on all parties to do everything at their disposal to halt violence and resume peace talks. We appeal to you to call on the parties to return to peace negotiations immediately, discuss the establishment of an inclusive government, and preserve the rights of women, girls, and ethnic and religious minority groups.
We are profoundly disturbed by the ongoing violation of human rights in Afghanistan as accounted for by multiple sources of mainstream media and rights organizations. On August 24, 2021, Ms. Michelle Bachelet, the United Nations High Commissioner for Human Rights, said that she had received credible reports of serious violations by the Taliban in Afghanistan, including "summary executions" of civilians and Afghan security forces who had surrendered. We strongly support the Afghanistan Independent Human Rights Commission's Call for a Fact-Finding Mission in Afghanistan, and appeal to you to take a stronger position in condemning war crimes and the violations of international humanitarian law in Afghanistan.
We wish to draw your attention to the fact that as always, young Afghan women and children are disproportionately vulnerable to and affected by multiple kinds of violence increasingly triggered by a humanitarian disaster: being banned from schooling and work, exposed to gender-based and sexual violence, forced into child marriages and deprived from their fundamental human rights. We strongly fear that literacy will dramatically drop and millions of children will be out of school. According to the United Nations Children's Fund an estimated 3.7 million children are already out-of-school in Afghanistan – 60% of them are girls. Stagnant economic development is raising the level of poverty even more, making living conditions in the country impossible during a deadly pandemic. The World Food Program warned on August 23rd, 2021 that Afghanistan could start running out of food by September of 2021. This is a giant step backwards, whereas we all need to be moving forward to implement the Sustainable Development Goals and Agenda 2030.
Mr. Secretary General, we endorse the Security Council emergency session on the situation of Afghanistan convened on 16 August 2021 and August 30 that adopted Resolution 2593, but call for immediate, strong and brave actions. We call for a UN Special Emergency Session, where international diplomacy (involving global civil society as much as possible) will decide the next steps to address this humanitarian catastrophe. We urge the United Nations to take the lead on ensuring that Afghan refugees are given safe homes outside the Taliban governed country. We urge the UN to ensure that the human rights of girls, women, children, ethnic, religious and social minorities are respected.
Your Excellency, we do understand that the "UN was not created to take humankind to heaven, but to save humanity from hell." Hell is exactly what is happening in Afghanistan as this letter is being read. The United Nations always highlights young people being on the "frontlines of the struggle to build a better future." Young people of the world are urgently demanding action, because according to the UN Security Council Resolutions 2250 (2015), 2419 (2018) and 2535 (2020), it is youth who have to be included in and contribute to the decision-making processes regarding international peace and security.
We are now advocating on behalf of our Afghan brothers and sisters - those furthest behind, who are abandoned in this battle to save their future - our future -, and who are only seeing the inaction of the International community. They are all asking for help, and we are addressing you on their behalf, because as young leaders from all over the world, we have a responsibility to embrace the Agenda 2030 principle of "Leaving no one behind". If they are left behind, rebuilding a safe and inclusive Afghanistan will not be possible.
We urge you to hear our voices and let us see that the United Nations and its partners are doing their best to ensure peace for all. We believe that the UN can and should do more, now, more than ever.
We strongly believe that the world can not afford a lost generation of youth. We will lose Afghan youth if they are governed by men with guns. There is a real chance in front of us to exercise collective leadership, utilize diplomacy, and take bold and transformative actions.
As young leaders committed to advancing and protecting human rights worldwide, we stand ready to work with you, Mr. Secretary-General, and other stakeholders through this crisis and to build together a world defined by the values enshrined in the UN Charter.
Yours sincerely,
Ramiz Bakhtiar, Former UN Youth Delegate of Afghanistan, One Young World
Ambassador Lika Torikashvili, Former UN Youth Delegate of Georgia
On behalf of Network of Former Youth Delegates to the United Nations Contributors:
Iván Martínez, Former UN Youth Delegate of Mexico
100+ signatories & 19 organisation endorsements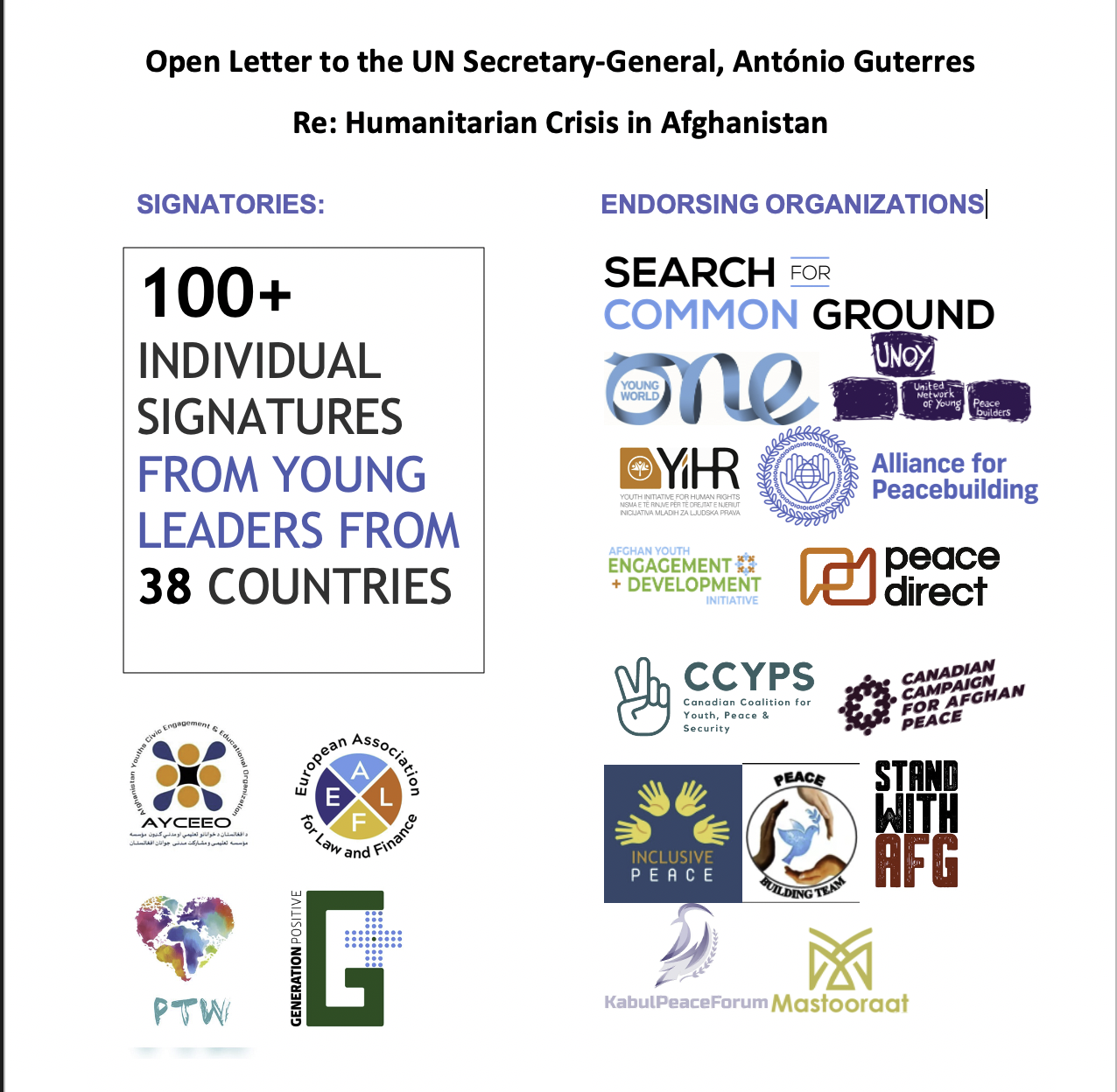 Ramiz Bakhtiar is a One Young World Ambassador and the Founder of Network of Former Youth Delegates to the United Nations. Ramiz initiated the Network with a mission to mobilize former and present UN Youth Delegates from around the world to work together and make a global impact. His vision is underpinned by a decade of experience in youth inclusion and participation, civic education and peacebuilding. With his passion and experience, he is in the trenches working toward that cause.
In 2018, Ramiz was selected as the first-ever Afghan Youth Representative to the United Nations. During his mandate, among other activities, he spoke at the United Nations Security Council, and the UN General Assembly. His journey towards youth leadership started several years ago, when he joined the Emerging Civil Society Leaders (ECSL), a network of aspiring community leaders from across Afghanistan supported by USAID's Afghan Civic Engagement Program, and the Friedrich-Ebert-Stiftung Young Leaders Forum, a multidisciplinary program on youth's social and political engagement at the national, continental and global levels.
Ramiz is a consistent speaker in conferences, events and round tables on the importance of youth participation, local peacebuilding and SDG16.
As youth activist, Ramiz wishes to engage with young leaders and decision makers around youth development discussions. Across these topics, he invites his fellow UN Youth Delegates, and policy makers to challenge him, to converse with him, and to slog through the mud with him.