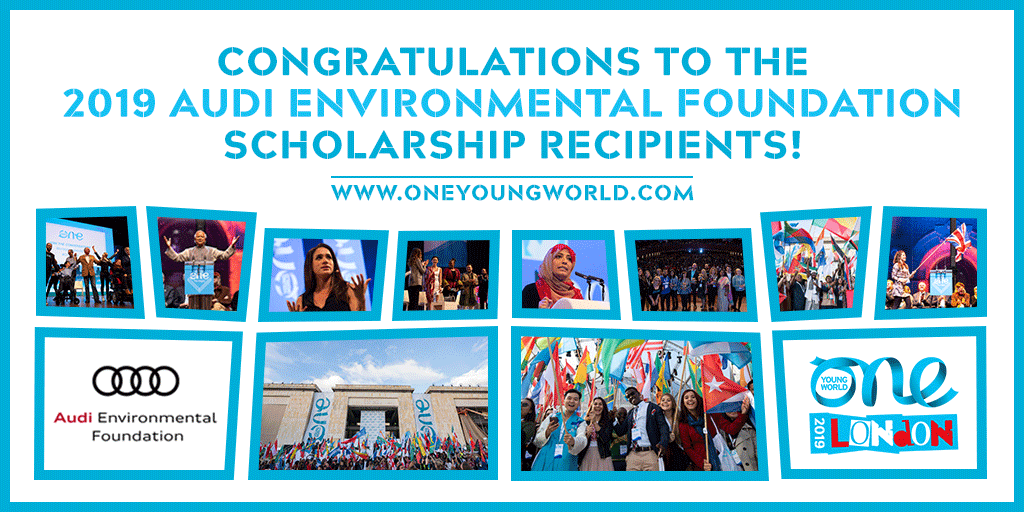 For the second year running, Audi Environmental Foundation is collaborating with One Young World to offer scholarships to 15 inspiring young leaders to attend this year's One Young World Summit 2019 in London.
The Audi Environmental Foundation actively supports research into new technologies and scientific methods for a liveable future. The Foundation aims to be a leader in environmental protection and to create and promote ways of behaving sustainably.
The Foundation focuses in particular on promoting and developing environmentally compatible technologies, educational programmes, and protecting the natural necessities of life for humans, plants, and animals. It was established in 2009 by AUDI AG as a 100-percent subsidiary.
Scarce resources, environmental destruction, climate change, and population growth – these are just a few ecological challenges influencing society, politics and business. With increased awareness of these issues, sustainability is becoming an ever-larger part of our global outlook on life. The challenges that confront us are increasingly complex, but by working with partners, we can develop solutions to successfully rise to these challenges.
In addition to participating in the One Young World Summit, the Scholars will join an exclusive pre-event where they will connect with fellow innovators from the programme as well as experts from the Audi Environmental Foundation. 
Congratulations to the 2019 Audi Environmental Foundation Scholarship recipients:
Adan Ramirez Sanchez, Mexico
Co-Founder & CTO, GREENFLUIDICS
Adan is the Co-Founder and CTO at GREENFLUIDICS, one of the first space biotechnology companies in the world. In this role, he coordinates, promotes and generates disruptive innovations for the aerospace and energy industry. 
Allen Mohammadi, Sweden
Founder & Managing Director, PlasticFri
Allen is the Founder of PlasticFri. The organisation has developed a plant-based, non-toxic, petroleum-free alternative to synthetic plastic. By substituting conventional plastic bags with PlasticFri bags, they are aiming to save 200 million tons of CO2 emission annually, save 100,000 marine-animals and 1 million sea-birds that are killed by plastic bags annually, and remove 2 million fossil-fuel based plastic bags every minute across the globe.
Emily Elhacham, Israel 
Environmental Researcher
As an environmental researcher, Emily utilises an interdisciplinary approach with advanced technologies to develop environmental solutions. Her current focus is sensing technologies, with emphasis on remote sensing and in-situ nano-systems. Emily has been recognised as one of 25 global high potentials in sustainable development by the German Government and listed on Forbes' Israeli 30 Under 30.
Ghislain Irakoze, Rwanda
Founder, Wastezon
With a vision of creating a waste-free world, Ghislain founded wastezon, a Rwandan Cleantech company that connects households with sustainable waste management services. He has been recognised as a World Bank Innovate4climate Pitch Hub Finalist and a COC Poster Prize winner.
Beatriz Araujo, Brazil 
Founder & President, Instituto Verdeluz
Beatriz founded Instituto Verdeluz in 2013 to help safeguard the future of the world's oceans. To date, her organisation has engaged over 10,000 people in over 200 ocean cleanups, conservation, and educational programmes. They are supporting the management of 9,200+ hectares of environmentally protected areas and have registered over 60 endangered sea turtles nests in our city, contributing to their conservation.
Minerva Valier, Mexico 
Co-Founder, BIOVATEC
Minerva is the founder of BIOVATEC, a biotech startup committed to the development of 100% biodegradable plastics made from cacti, fruit scraps, and other natural additives. BIOVATEC's ambition is for this new material to replace synthetic single-use plastic.
Albert Kure, Nigeria 
Co-Founder, Frontier Sciences Solutions
Albert is the founder of FrontierSS, an organisation committed to building for innovating sustainable scientific solutions to local and global challenges. FrontierSS is currently working on commercialising Coating+, an award-winning biocompatible and edible food preservation material made from shrimp waste.
Caritta Seppa, Finland 
Co-Founder, Tespack
As a Co-Founder of Tespack, Caritta is a global leader in mobile energy solutions. Tespack has been recognised as the EU's top energy startup, and Caritta has been shortlisted for Forbes' 30 Under 30 Europe. She is a returning Audi Environmental Foundation Scholar.
Prince Agbata, Ghana
Co-Founder COliba
As the co-founder of COliba, Prince and his team have launched the first-ever successful waste processing and collection program in Abidjan, Ivory Coast and Accra, Ghana through the use of the COliba mobile app. They have served nearly 20,000 households thus far.
Kelcie Miller-Anderson, Canada
Founder, Dandelion Project 
Born and raised in Alberta, innately tied to the oil and gas industry, Kelcie understands the critical role that industry will play in building a sustainable future. She is the founder of The Dandelion Project, aimed at empowering youth to create social impact through innovation.
Lalit Gautam, India
Founder, Sensegrass
Lalit is a social entrepreneur, environmental leader and founder of Sensegrass, a startup focused on agricultural sustainability. He has worked in social development for the last 8 years. He was also selected as a Fellow at Arctic Expedition by Dr. Robert Swan.
Dr Lyubov Artemenko, Ukraine
Co-Founder, Go To-U
Lyubov is the co-founder and COO of Go To-U, an innovative platform that connects businesses and electric vehicle (EV) drivers to charge their vehicles and patronise partner businesses. They have taken part in accelerators run by EIT, EU Horizon2020, European Bank for Reconstruction and Development, and the European Union.  
Nathan Thomas, USA
CEO, All We Are 
Nathan is the CEO and Founder of All We Are, a nonprofit organisation bringing sustainable and renewable energy solutions to schools and health centers in East Africa and beyond. They collaborate with Rotary Clubs on their initiatives.
Oluwafolajimi Adesanya, Nigeria
Co-Founder, Clean City Initiative 
Oluwafolajimi serves as Co-Founder and Managing Director of the Clean City Initiative, an environmental-tech startup that produces affordable eco-furniture from plastic waste. To date, they have impacted over 12,000 people, trained over 100 youths, and recycled 700kg of plastic waste.
Sanjna Malpani, India
Founder, Jal Jyoti
Sanjna has dedicated her career to sustainable and equitable energy. At 19, Sanjna launched Jal Jyoti, an award-winning non-profit that provides lighting in urban slums in Mumbai. After working for a number of energy storage software companies in San Francisco, she then moved to Nairobi where she focuses on commercial account management and marketing for the smart metering company, SparkMeter.
Image