On 6 February, One Young World (OYW) and Chartered Accountants Worldwide (CAW), in collaboration with the South African Institute of Chartered Accountants (SAICA), launched Finance and Business (FinBiz) 2030 in Johannesburg, South Africa, hosted by Investec. FinBiz2030 is an initiative to unite and mobilise the finance and business community to achieve the Sustainable Development Goals (SDGs) by 2030. Finance professionals from various sectors will come together as a force for change and make a commitment to tackle some of South Africa's most pressing issues.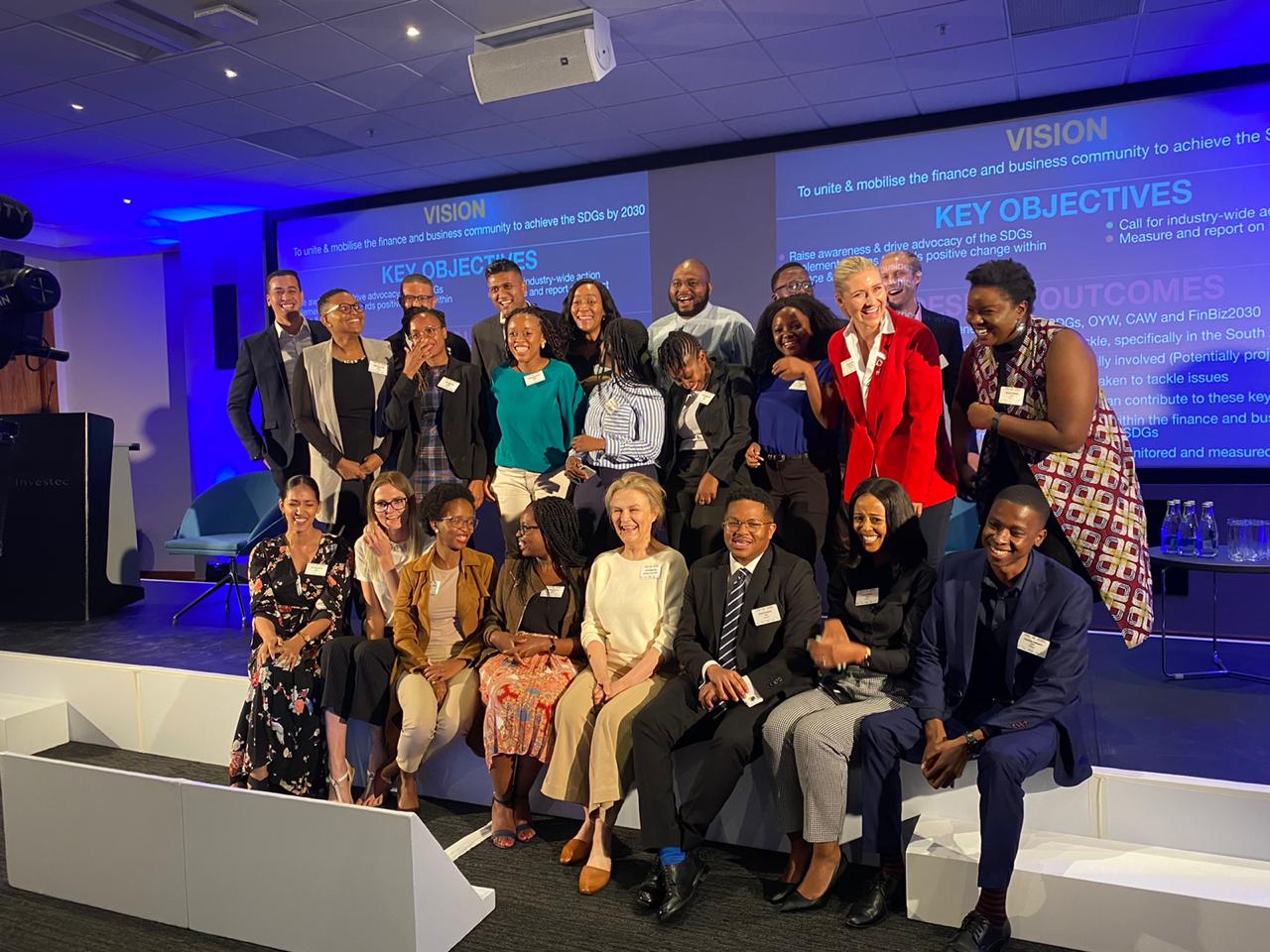 The event provided a platform for young leaders across industries to learn from senior stakeholders, forge collaborations and address the key challenges and opportunities related to climate action, reducing inequalities, creating decent work and economic growth, and providing quality education.  
After a series of engaging keynotes and panels from senior leaders, attendees broke off into group discussions to identify accountability measures around the SDGs, key actions that could be taken in the South African context, and how leaders can meaningfully contribute. Each discussion was followed by a feedback session, where a designated speaker per table would summarise the findings from their group. 
"Delivery is the business of the day" - @OneYoungWorld Co-founder @kateatoyw introduces #FinBiz2030 from #Johannesburg, calling on young leaders within the #finance industry to drive action for the #SDGs now. With thanks to @CharteredWW @saica_ca_sa & @Investec pic.twitter.com/WKFsX2KoS3

— One Young World (@OneYoungWorld) February 6, 2020
Speakers at the event included:
Kate Robertson. Co-Founder, OYW

Ruth Hidalgo. Head of Operations, CAW

Tanya Dos Santos. Head of Sustainability, Investec

Tracey Davies. Executive Director, Just Share

Shirley Machaba. CEO, PwC South Africa

Sizwe Nxasana. Founder, Future Nation Schools

Lyle Malander. Director at Malander Group. OYW Ambassador & Member, FinBiz2030 UK Task Force

Chantyl Mulder. Executive Director: Nation Building, SAICA

Andile Khumalo. CEO, Kumalo.co
At the end of the event, attendees pledged to actions they would commit to taking. In addition, a core task force was formed, comprised of committed individuals who can develop and implement an action plan. By launching FinBiz2030 in Johannesburg, it will mark the start of a movement towards a finance and business community that is more active and engaged in addressing these core issues mentioned above. 
Freeman Nomvalo. CEO, SAICA:

"If ever there was a compelling need for responsible leadership in South Africa it is now. South Africa needs to grow its economy to meet the needs of her people. Such growth, however, should not be at the expense of future generations. It is thus appropriate for SAICA in partnership with OYW and CAW to host the launch of FinBiz2030. The telling feature of this engagement is that it brings together young South Africans  to deliberate on the SDGs and chart the way forward. Amongst these SDGs, the focus for FinBiz2030 in South Africa is climate change, reducing inequality, decent work and economic growth, as well as quality education. We are grateful to Investec for sponsoring the event."

Michael Izza. Chairman, Chartered Accountants Worldwide & OYW Counsellor:

"The world is changing and the global financial and business community has a great opportunity to play a major role in meeting the economic and social needs of future generations. Following the successful launch of FinBiz2030 in London last year, I am delighted that Chartered Accountants Worldwide, in partnership with the inspirational One Young World and one of our key member institutes, SAICA, are hosting an inaugural FinBiz2030 event in Johannesburg that aims to harness the brightest minds and talents in our industry to drive forward the initiatives to tackle the priorities for South Africa. It is our responsibility to ensure changes are made now to secure the future for generations to come."

Kate Robertson. Co-Founder, One Young World:

"The socioeconomic climate in South Africa demands that an initiative like FinBiz2030 to exist. Together with Chartered Accountants Worldwide and SAICA, we are expanding this movement beyond London to ensure the world's most influential institutions are doing their part in addressing the biggest challenges of today. It is clear they can only do so with the drive and energy young leaders bring to the table. The inaugural FinBiz2030 event in Johannesburg will mark the start of tangible actions that will shape a better future in my home country."  

More about FinBiz2030
FinBiz2030 is a joint initiative between OYW and CAW to establish an active and engaged finance and business community globally to drive positive change.  CAW is a global family of 14 Chartered Accountancy bodies representing over 1.8 million members and students in 190 countries.  
In April 2019, OYW, CAW and the City of London launched the inaugural FinBiz2030 event hosted at Mansion House. Supported by the City's Lord Mayor, Rt. Hon. Peter Estlin, it was attended by over 120 young professionals representing more than 70 businesses, focused on identifying the core issues affecting their industries and opportunities to achieve long-term goals.  To leverage the enthusiasm and commitment demonstrated at the event, a UK Task Force has formed to drive forward action for change. The Task Force's key objectives are focused on driving impact within companies and externally on climate action and decent work and economic growth. Young professionals part of the group represent institutions including Grant Thronton, JP Morgan, Barclays, HSBC, Rcapital and NIBC among others.
Further FinBiz2030 events are being launched throughout 2020, including in Dublin with Chartered Accountants Ireland, and New York City with the International Federation of Accountants.
Some more highlights from the day:
"The status quo is not a place anyone of us want to live." @TashmiaI talking about the struggles of unemployment and the challenges our young people face when trying to enter the work force. @saica_ca_sa @OneYoungWorld pic.twitter.com/l2mkLAECLO

— Investec (@Investec) February 6, 2020
@saica_ca_sa @CharteredWW @OneYoungWorld attending the #FinBiz2030 all the way from Botswana .. the main. Agenda is creating a connection of the 4 SDGs , goals 13, 10, 8 and 4 with Finance and Busines professionals and how we can serve communities for a better world pic.twitter.com/qLt4XurOBD

— nelly (@onexnells) February 6, 2020
Our @OneYoungWorld Ambassador Community gathering at the launch of #FinBiz2030 in #Johannesburg 🇿🇦today - an initiative to unite & mobilise the #Finance & #Business community to achieve the #SDGs by 2030. @CharteredWW @saica_ca_sa https://t.co/kgdXIl148Z

— One Young World (@OneYoungWorld) February 6, 2020
=====
Special thanks to Chartered Accountants Worldwide, SAICA, Investec and the OYW team: Geneve Kroutz, Mandy Muchnick and Levern Ramshubby.