One Young World is proud to announce the 2020 Global Goals List, in partnership with Vanity Fair, has now been published. The annual list celebrates young leaders, Nobel Laureates, heads of government, Olympians, business leaders, and celebrity humanitarians who are building a better world.
The article features in the 2020 March edition of Vanity Fair UK and pays homage to some of the incredible One Young World Ambassadors and Counsellors working to achieve the United Nation's 2030 Agenda for Sustainable Development.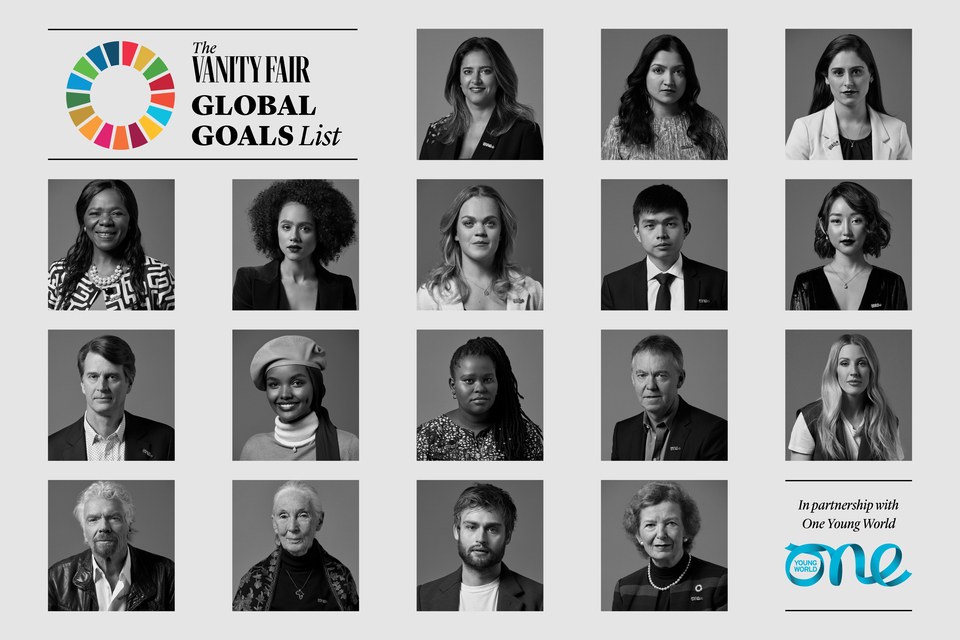 The photoshoot took place during the annual One Young World 2019 Summit in London, UK from 22 - 25 October. The photographs were taken by Philip Sinden.
The honourees included in the Global Goals article are:
SDG 1 Zero Poverty: First Lady of Colombia, Maria Juliana Ruiz
SDG 2 Zero Hunger: Co-founder of SNAP, Anisha Godha
SDG 3 Good Health and Well Being: Founder of Bioana, Andrea Siller
SDG 4 Quality Education: Professor Thuli Madonsela
SDG 5 Gender Equality: Actor and Activist, Nathalie Emmanuel
SDG 6 Clean Water and Sanitation: Paralympic gold medallist, Ellie Simmonds OBE
SDG 7 Affordable and Clean Energy: Oktoviano Gandhi, Co-founder of Alva Energi
SDG 8 Decent Work and Economic Growth: North Korean Defector and Human Rights activist, Yeonmi Park
SDG 9 Industry, Innovation and Infrastructure: CEO of Niantic, John Hanke
SDG 10 Reduced Inequalities: Supermodel and activist, Halima Aden
SDG 11 Sustainable Cities and Communities: Founder of Eco Tiles, Hope Wakio Mwanake
SDG 12 Responsible Consumption and Production: Sky CEO, Jeremy Darroch
SDG 13 Climate Action: Ellie Goulding
SDG 14 Life Below Water: Sir Richard Branson
SDG 15 Life on Land: Dr Jane Goodall
SDG 16 Peace, Justice and Strong Institutions: Actor and UNHCR supporter, Douglas Booth
SDG 17 Partnership for the Goals: Chair of the Elders and former President of Ireland, Mary Robinson
Read & share the full article here.