Saba Nafees is a One Young World Ambassador at the forefront of the student entrepreneurship efforts at Tech, helping lead the Texas Tech Innovation Mentorship & Entrepreneurship program and involved in the entrepreneurship development company, 3 Day Startup. In the past year, she was one of 32 young leaders selected to serve in the first cohort of E3! Ambassadors at the White House Initiative for Asian Americans & Pacific Islanders and was also invited to be a panelist at the first WHIAAPI Summit and for the Youth Summit held at the White House.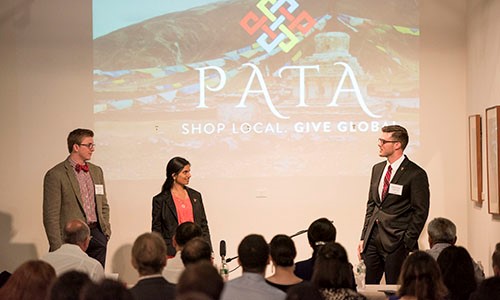 "All beings tremble before danger and death. Life is dear to all. When a man considers this, he does not kill, or cause to kill." -His Holiness, The Dalai Lama, in the film 7 Years in Tibet
Watching the film was like living through Tibet and living with Tibet, with all its wisdom, its peace, its beauty, its soul...
It was a mid-March night, a serene one. I found myself watching this film in the company of a man who is intrinsically my hero: my father. When I heard Kundun's aforementioned words, I felt fast tears rolling down my cheeks. It was the beauty of water and the beauty of wisdom that struck me. I told my father that evening that although I don't know any Tibetan, I pray and have made a promise to myself to do anything in my power to help the peaceful people of Tibet.
You can call it a prayer heeded, a coincidence, a venture that was meant to be, but one week later, as I scrolled through my Texas Tech University email, I saw an announcement of the Tibetan Innovation Challenge, a business plan competition put forth by the University of Rochester. I found myself in tears once again. I could not believe it! Was this real? In my confusion, I called University of Rochester and exclaimed my excitement about potentially participating in the competition.
One month later, I found myself engrossed in deep conversations with my assigned Tibetan mentor, Tsewang Rigzin la. We discussed at length the Tibetan plight, the struggles that the Diaspora community faces in India and Nepal, and how uncertain their future seems to be as they continue to toil away their lives in exile from Tibet. Their inability to continue to practice their traditions freely, their handicraft market dwindling in profits and with that the loss of tradition they continue to experience with each passing generation…
Little did we know, the first seeds of the idea behind Pata were being sown. A month later, our team was formed, comprised of four of my good friends, two scientific researcher students and two visual and media/marketing students. Though we all had uniquely different backgrounds and skills, one aspect united us all. Somewhere in the course of our lives, we had developed a worldwide perspective, a need to understand and serve our fellow human beings, especially those in underserved nations. For me, this perspective was broadened after being inspired by my fellow One Young World delegates and ambassadors and all of the impeccable work they're doing around the world.
So we began our work, researching everything about Tibetan handicraft, their current market, and how to develop a feasible business plan that would allow them to utilize novel and innovative (relative to them) strategies to market their handicraft in order to gain appreciable profit. Upon the direction of our phenomenal mentor, without whom most of our ideas would have no direction, we decided to focus on one product in the handicraft market. The Tibetans are phenomenal carpet weavers and for hundreds of years have woven the most beautiful carpets, intertwining them with and undying culture and unremitting beauty.
Part of the profit gained from marketing the finely woven carpets and other handicraft products would be funneled towards developing a makerspace which can function as a hub for Tibetans in exile to come together and invent, weave, develop, etc. The idea of a makerspace and of a fablab has been implemented in many countries, including underdeveloped ones, around the world. Currently, I'm in the process of developing such a space, Ubiquitous Labs or ULabs, with local entrepreneur, Leen Borno, in the small city of Lubbock in West Texas. Many of our ideas about the development of such a space stemmed from ULabs itself. The current Pata business plan ensures that a certain amount of profit is directed towards the development of these hubs in the Tibetan settlements in southern India and in Nepal. Not only will the customers in the western world be enticed to buy a beautifully handcrafted carpet but, employing the one-for-one strategy, they can be assured that money is directed towards the educational and social development of the Tibetans in exile.
We hope that Pata will be a catalyst for the Tibetans in exile to overcome the many socio-economic shortcomings they face everyday and for them to utilize it as a springboard to continue to innovate and develop novel ways to transform their communities. In general, the international community is familiar with the plight of the Tibetans, especially after what followed in the late 1950's. But, young leaders and global advocates must realize that without enabling the Tibetans in exile to become economically stable, the overall Tibetan plight cannot be resolved.
In the near future, the Pata team plans to visit the Tibetan settlements in India and Nepal to do market analysis and work with the coops there to transition them into leading Pata. Stay tuned for updates.
Image