The Hollywood actor, social entrepreneur and activist Rosario Dawson is to become a One Young World Counsellor and will address delegates at the upcoming 2018 Summit in The Hague. She'll be joined by Abrima Erwiah, with whom she co-founded the Studio One Eighty Nine social enterprise.
Ms Dawson's stellar acting career includes roles in Men in Black II, Chris Rock's comedy Top Five, Tony Scott's thriller Unstoppable, Quentin Tarantino movies Grindhouse and Death Proof, Oliver Stone's epic Alexander and Spike Lee films 25th Hour and He Got Game. She plays nurse Claire Temple in the Marvel comics series and put in an award-winning performance in the film adaptation of the Broadway musical Rent. The American actor, who is of Puerto Rican, Afro-Cuban, Irish and Native American descent is also a noted women's rights and environmental activist.
Abrima Erwiah has more than 16 years experience in the fashion and luxury industry, formerly working as global marketing and communications executive for Bottega Veneta. She serves as a Mentor for AFRIpads, a Ugandan based organisation that makes affordable, washable sanitary products for young girls to help tackle period poverty. She also works in partnership with the UN International Trade Centre Ethical Fashion Initiative to support the rising generation of fashion talent in Africa to grow their brands and connect with international fashion houses.
Together Ms Dawson and Ms Erwiah founded the Studio One Eighty Nine social enterprise, which is based in Ghana and the United States and supports artisan produced African and African-inspired content and clothing.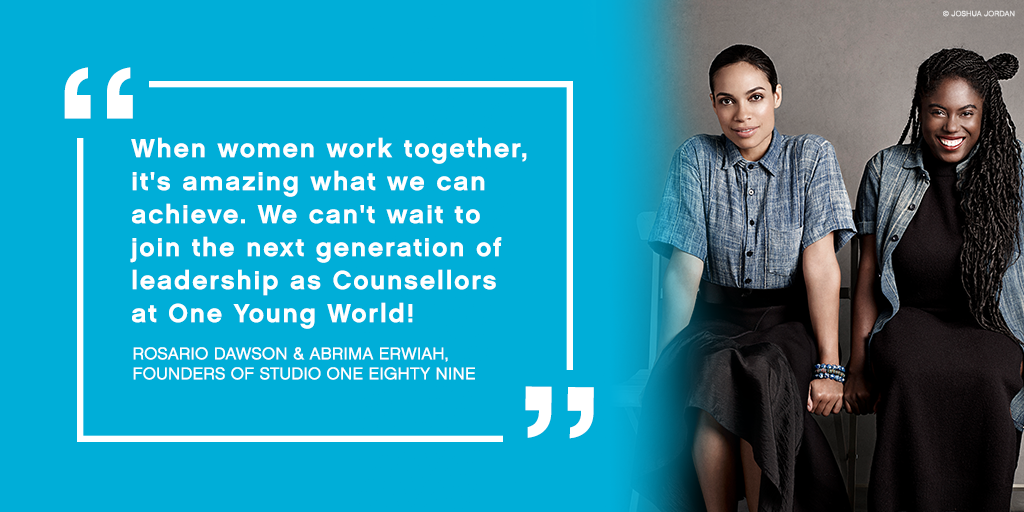 They will address One Young World delegates during a session focused on United Nations Sustainable Development Goal 8, dedicated to "Decent Work and Economic Growth". According to the United Nations Development Programme there were 193 million people without jobs in 2017. Youth unemployment, at 13 percent, is three times higher than the rate for adults.
They will describe their work with Studio One Eighty Nine, which operates as an e-commerce site and has stores in Accra and New York City. The social enterprise supports job creation and skills training in artisanal communities that specialize in traditional African craftsmanship techniques, including hand-batik and kente weaving. The organisation has won numerous awards, including the Martin Luther King Jr Social Justice award, the Design Miami Visionary award and the CFDA Lexus Sustainable Fashion Initiative award.
It opened its first store last year in New York City's Lower East Side, the neighbourhood where Ms Dawson grew up. Her family lived for part of her childhood in a squat, which she described in an interview with The Guardian as "a place with a huge, gaping hole in the ground and plastic for windows". She said: "I saw the stress on my parents. We were the only children in the building for years, because no one else was that crazy. But we had a wonderful childhood because of it."
Growing up in such circumstances taught her about self-sufficiency and she was inspired to activism by her mother and squatter neighbours. "It doesn't take away from my acting or art to be an activist, and it doesn't hurt my activism to be an artist. For me, it's part of a well-rounded life," she said in an interview with The Progressive magazine in 2016.