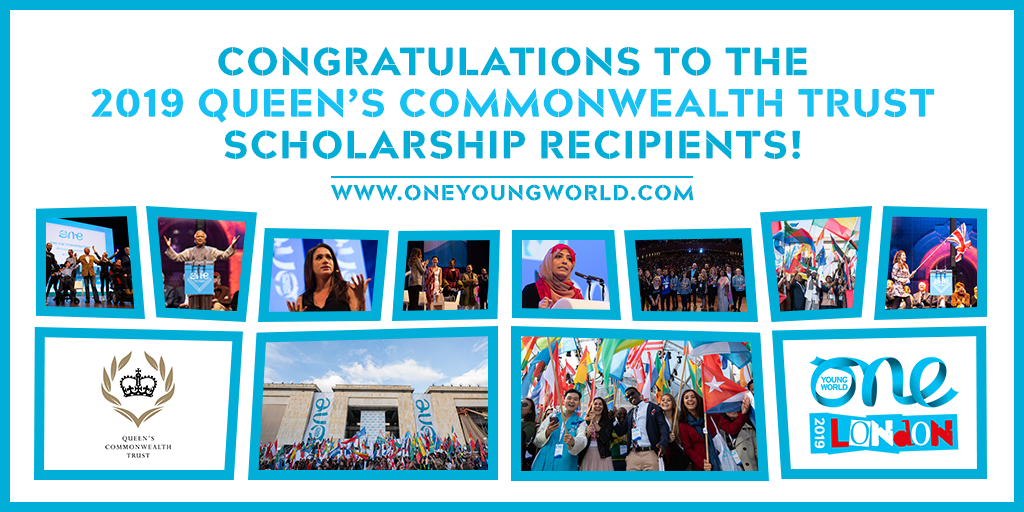 The Commonwealth is a family of nations and people, built around shared language, institutions, challenges, aspirations, and values. With a combined population of 2.4 billion, the 53 countries comprising the Commonwealth are home to nearly a third of the world's population, 60% of whom are under 30.  From Antigua & Barbuda to Zambia, young people across the Commonwealth are at the forefront of positive change in their communities, countries, and world at large.
With the 2019 One Young World (OYW) Summit 'coming home' to the UK, OYW was delighted to offer this scholarship in partnership with the Queen's Commonwealth Trust to connect young leaders driving positive social impact in the Commonwealth with the opportunity to attend OYW Summit from 22-25 October 2019.
The Queen's Commonwealth Trust (QCT) is an organisation which exists to champion, fund and connect young leaders who are working hard to change the world. QCT uses its platform to amplify the voices of young change-makers across the Commonwealth, sharing their stories and experiences. They work in partnership with a network of organisations and individuals who share their belief in young people, to make small grants to those leading their own not-for-profit organisations or short-term projects that solve long-term problems.
OYW is proud to have been working with The Queen's Commonwealth Trust since 2018. The Duchess of Sussex, a One Young World Counsellor, was named vice-president of QCT earlier this year, while the Duke of Sussex, Prince Harry, is President. Her Majesty The Queen is the charity's Patron.
The QCT Scholarship in particular sought to support 53 young leaders who are active in one of the following areas:
Achieving change through sport

Preserving and protecting the environment

Creating healthier communities

Increasing access to quality education
One Young World received over 5,000 scholarship applications for the Scholarship.
Congratulations to the 2019 QCT Scholarship recipients:
Adeline Ng, Malaysia
Founder, Bumi & Co.
A social entrepreneur from Kuala Lumpur, Malaysia, Adeline founded Bumi & Co., an organisation that works to create environmental awareness through education in schools and corporations.
Alice Sparks, United Kingdom
Head of Invisible (Manchester)
Alice runs Invisible (Manchester), a social enterprise that trains people who have experienced homelessness to become walking tour guides of their city.
Amanda Scott, Grenada
Founder, Fireflies
Amanda is the founder of Fireflies, an women-led organisation dedicated to the empowerment of girls.
Anael Bodwell, Seychelles
SYAH Seychelles, Co-Founder
Anael has spent the past 10 years educating young people about their sexual and reproductive health.
Benedict Bryan, Trinidad & Tobago
Chair, Humanitarian Association of the Republic of Trinidad & Tobago
Benedict is a human rights leader in Trinidad & Tobago, focusing his efforts on LGBTQ+ rights, refugee rights, and youth development.
Cedric Paniel, Vanuatu
Founder, The Gender Equality Network
Cedric recently launched The Gender Equality Network, a space to gather people from different backgrounds to discuss gender issues.
Christaneisha Soleyn, Barbados
Program Creator, The Caribbean Youth Leadership Retreat & United Youth Leaders of Barbados
A clinical psychologist specialising in care of marginalised populations, Christaneisha created of two of the most impactful youth civic participation programs in Barbados, The Caribbean Youth Leadership Retreat and The United Youth Leaders of Barbados.
Costase Ndayishimiye, Rwanda
Co-founder, Strive for Health-Rwanda
Costase is the principal co-founder of Strive for Health-Rwanda, a youth-led NGO that has empowered over 200,000 Rwandese people to take action for sexual and reproductive health.
Daniel Nyabadza, Mozambique
Computer programmer
Daniel, who has extensive volunteering experience at coding bootcamps, is currently developing payment systems aimed at equitable access to resources, such as basic necessities for living, at highly competitive pricing.
Dentrecia Blanchette, St. Kitts & Nevis
Founder, Sugar for Your Heart
As the founder of Sugar for Your Heart, Dentrecia actively works to mental health and wellness support networks for young women.
Eber Ravariere, Dominica
President, SOUL Multi-purpose Cooperative Society
Following the devastating hurricanes in Dominica, Eber launched a mission to plant a million new trees to regenerate the island's agriculture and self-sufficiency.
Eman Borg, Malta
Founder, LGBTI+ Gozo
Eman founded the first LGBTI+ organisation on the island of Gozo. Under his leadership, LGBTI+ Gozo holds educational sessions, social events and works to create and foster a diverse community.
Felix Richard Manyogote, United Republic of Tanzania
Founder, MAMA Plus
Using low-cost technology, Felix founded MAMA Plus, a mobile health education service providing accessible and sound medical advice to pregnant women and new parents.
George Quadina, Nauru
From the of Nauru, George has worked tirelessly to promote fitness and healthy living both in his native island and across Oceania.
Glenn Stein, South Africa
Managing Director, Aweza
Glenn Stein is Managing Director of Aweza, an award-winning tech initiative seeking to bridge the language barriers that hinder communication in different social sectors.
Gulnahar Mahbub Monika, Bangladesh
Co-founder, Deshi Ballers
Gulnahar plays Basketball for her National Team and also represented her country in the International Olympic Academy. She is working to promote sports as a manner of women empowerment and breaking barriers.
Hafiz Usama Tanveer, Pakistan
Co-founder, PakVitae.org
Hafiz is the co-founder of PakVitae.org, a clean water initiative that has impacted over 11,000 people thus far.
Hopolang Jonase, Lesotho
Co-founder, Butha-Buthe Athletics & Career Hub
Hoplolang founded an athletics and career centre in his district to foster holistic development for youth through sport and wellness.
Innocents Yeboah-Num, Ghana
Founder, Madonna Sporting Club
Innocents is the founder of Madonna Sporting Club, that trains talented footballers from underprivileged communities in Ghana.
Jacqueline Mutumba, Uganda
Founder, Digihealth Mobile
Jacqueline is a Chemical Engineer turned entrepreneur who co-founded the healthtech company Digihealth Mobile, which works to ease data management for community health workers.
Jasmine Duncan, Saint Lucia
Environmental Scientist
Jasmine gave up her studies as a lawyer to become an environmental scientist, where she has committed her expertise to the challenge of waste management for island nations like St. Lucia.
Jason Ricketts, Jamaica
Public Relations Officer, Jamaica Visually Impaired Cricket Association
Working with the Jamaica Visually Impaired Cricket Association, Jason has worked to promote athletic opportunity for visually impaired people and aimed to challenge public perceptions of blind and visually impaired people.
Jubilanté Cutting, Guyana
Founder, Guyana Animation Network
Jubilanté founded the Guyana Animation Network Inc., which has provided hundreds of Guyanese students with digital and creative skills-training.
Kaene Disepo, Botswana
Social Entrepreneur
A social entrepreneur and sustainable development advocate, Kaene has represented Botswana in over 15 international forums, given TEDx talks, and been recognised as a Young Future Leader.
Kaveto Tjatjara, Namibia
Co-founder, Worldview Technology
Kaveto is a 2018 Mandela Washington Fellow, and the co-founder of Worldview Technology, which builds innovative, waterless toilets to provide access to adequate sanitation in every home.
Kirkland McIntosh, Bahamas
Staff Associate, Young Life
An educator by profession, Kirkland has been recognised as a National Youth Leader in the Bahamas by the Ministry of Youth, Sports, and Culture.
Lance Copegog, Canada
Deputy Youth Chief, Beausoleil First Nation
Lance has been recognised throughout Canada for his advocacy for opportunity for Indigenous and non-Indigenous youth alike.
Lezli McCulloch, Belize
Health advocate
Lezli McCulloch has travelled throughout Belize in support of comprehensive sexual and reproductive health education, working closely with the Belize Family Life Association.
Lisa Rapley, Australia
Co-founder, Yuludarla Karulbo
In 2016, Lisa co-founded Yuludarla Karulbo, an Indigenous youth and community led human-centred design platform, which brings Indigenous youth and communities together to share culture with schools and organisations through interactive workshops and technology.
Lisepa Paeniu, Tuvalu
Volunteer Legal Advisor, Fusi Alofa Association
Working with Tuvalu's first organisation for disabled people, Lisepa has drafted a disabled persons' bill of rights, worked to challenge stereotypes, and promoted equal economic opportunity.
Maria Kola, Cyprus
International Relations Coordinator, Young Cyprus Greens
In her work with the Young Cyprus Greens, Maria has advocated tirelessly for environmental issues, including participating in a highly successful campaign to reduce single-use plastics.
Matthew Lam Joar, Kenya
Athlete, Refugee Olympic Team
As a refugee from South Sudan living in Kenya, Matthew has participated with the Refugee Olympic Team and sponsored athletic programs for children in refugee camps.
Megan Iha, Papua New Guinea
Project Officer, CARE PNG
A project officer for CARE PNG, Megan oversees advocacy efforts for gender equality and reproductive health & rights in remote communities.
Melusi Simelane, Eswatini
Founder, Eswatini Sexual & Gender Minorities
As the founder of Eswatini Sexual & Gender Minorities (ESGM), Simelane works passionately to raise awareness of the struggles faced by the LGBTQ+ community and minority groups in Swaziland.
Millicent Barty, Solomon Islands
Social entrepreneur
In addition to holding various entrepreneurial roles, Millicent utilises the structures of the traditional oral storytelling practices (Kastom Stories - KS) of Solomon Islands to bridge a gap in communication between development projects and rural communities where 80% of adults are illiterate.
Muhammed Touray, The Gambia
Co-founder, No Health Without Mental Health
Muhammed is one of The Gambia's most prominent mental health advocates, working to destigmatise mental health issues and provide support networks.
Noriah Katungwe, Malawi
Founder, Moringa Women Project
Noriah is the founder of Moringa Women Project a women-led social enterprise in Malawi that has trained 90 women as out-growers and processors of the Moringa plant.
Pania Newton, New Zealand
Co-founder, SOUL Campaign
In 2015, Pania and her cousins established the SOUL Campaign, leaving behind her career in law and health to dedicate her life to the preservation of Ihumaatao – a rare cultural, historical, and ancestral landscape.
Patu Ndango Fen, Cameroon
Founder/Managing Director, Closed-Loop System Ventures
As the founder of Closed-Loop System Ventures, Patu has dedicated her career to the goal of zero waste through the development of innovative recycling, repurposing, and upcycling measures.
Prabhath Mannapperuma, Sri Lanka
Founder, STEMUp
Prabhath created a unique volunteer-based organization called STEMUp to inspire students to become interested in pursuing STEM careers and becoming innovators and problem-solvers.
Queenie Chong, Brunei
Social Entrepreneur
Queenie advocates for sustainable and ethical funerary practices in Brunei, working to destigmatise end-of-life care and build affordable, eco-friendly solutions.
Rickisha Terry, Antigua & Barbuda
President, Rotaract Club of Antigua
Rickisha has dedicated her advocacy to building platforms and awareness of disability education in her home country, particularly focused on dyslexia.
Rinesh Rajesh, Fiji
Co-founder, IG Distributors
Rinesh has pioneered hydroponic farm systems in Fiji, lending employment opportunity for a number of young agricultural workers and providing consulting services to local farmers.
Ruth Stowe, Saint Vincent and The Grenadines
Lawyer and Educator
Trained in law and international trade, Ruth strives passionately for equitable access to education and opportunity for all people, regardless of background.
Samantha Miyanda, Zambia
Programme Director, Young Change-Maker+ Project
After representing Zambia as IOC young ambassador at the 2014 Youth Olympic games, Samantha developed a girls mentoring programme in Zambia empowering young women in her country through sport and leadership education. 
Sandra Ajaja, Nigeria
Founder, Fempower Africa
Sandra is the founder of Fempower Africa, a social enterprise that has provided over 2000 women with technology education, internship opportunities and learning resources.
Sarvesh Lutchmun, Mauritius
Founder, Grand River South East Youth Circle
Sarvesh is the founder of Grand River South East Youth Circle, a youth-led NGO working on four main pillars: education, environment, sports and culture.
Sebastian Hoe Wee Kiat, Singapore
Social Work Practitioner
Sebastian has spearheaded a number of mental health awareness and support campaigns in Singapore, including an art jamming initiative, as well as advancing social justice through asset-based community development. Creating an inclusive and sustainable community. He serves as a youth ambassador bridging peace and goodwill, particularly in ASEAN and Asia-Pacific.
Seutatia-ia-Noue, Samoa 
Seutatia's passion is providing safe and nutritious food for her island home. Her family's farm – Purpose Plantations – strives to make fresh and healthy food affordable, as well as providing their workers and other youths in the community with the guidance to run their own #ChemicalFreeFarms.
Siddhant Sarang, India
Founder, Youth Frontliners
Siddhant was inspired to found Youth Frontliners following a visit to flood-devastated areas of India; his organisation works to combat social and climate injustice.
Siosaia Tuineau Mataele, Tonga
Co-founder, Navigators of Success
Hoping to promote equality for Maori and Pasifika communities, Siosaia co-founded Navigators of Success, an initiative to support and empower Islander communities through the power of storytelling.
Tanana Bakoa, Kiribati
Administrative Officer, Kiribati Public Service
As a member of the administrative cadre in the Kiribati Public Service Tanana provides administrative support to the Ministry, working to build educational and economic opportunity for the youth of Kiribati.
Yasmine Ibrahim, Sierra Leone
Founding Director, Girl Up Vine Club Sierra Leone
In addition to her entrepreneurial ventures, Yasmine is the Founding Director of the Girl Up Vine Club Sierra Leone, where she advocates for increased opportunity and equality for women and girls.
Image